The portraits of former First Lady Michelle Obama and President Barack Obama are finally in Los Angeles, on view at LACMA!  They made their way from Washington, D.C., so that people across the country could see the iconic portraits. My name is Akane Okoshi, and I am an art historian and museum educator. I write about visual culture, representation, and histories of museum collections. I think the Obama portraits inspire rich and complex conversations around race and representation. 
Barack Obama was the first African American president. Artist Kehinde Wiley, who grew up in South Central Los Angeles, painted his portrait. Wiley and artist Amy Sherald are the first Black artists to be selected to paint a portrait of the President and a First Lady for the National Portrait Gallery.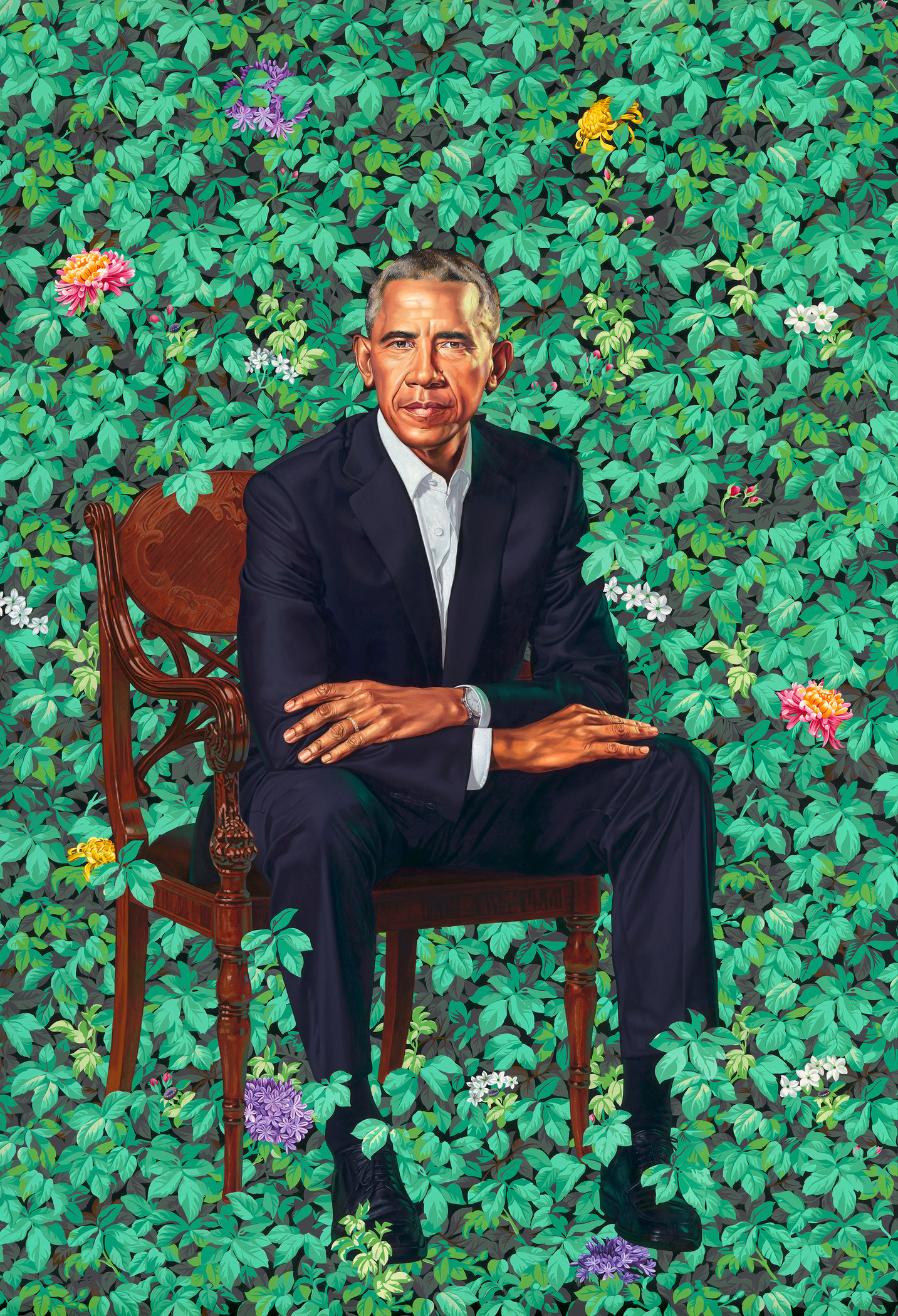 When I look at this portrait of President Obama, I am immediately drawn to the lush plants and vibrant floral colors. Chrysanthemums, the official flower of the City of Chicago, represent the time President Obama spent there, which is also where Michelle Obama grew up! In bloom, chrysanthemums smell like a mix of sweetness and earth. When I look at a painting or photograph, I like to imagine the smells and sounds if everything in it were to come alive. What would a mixture of the flowers smell like? President Obama's glistening skin looks like a moment captured on a beautiful summer day. How would the rustling of jasmine, lilies, and ivy leaves sound on a sunny day? 
Do you have any photographs of yourself that you like? What are some of the smells and sounds that the photograph reminds you of?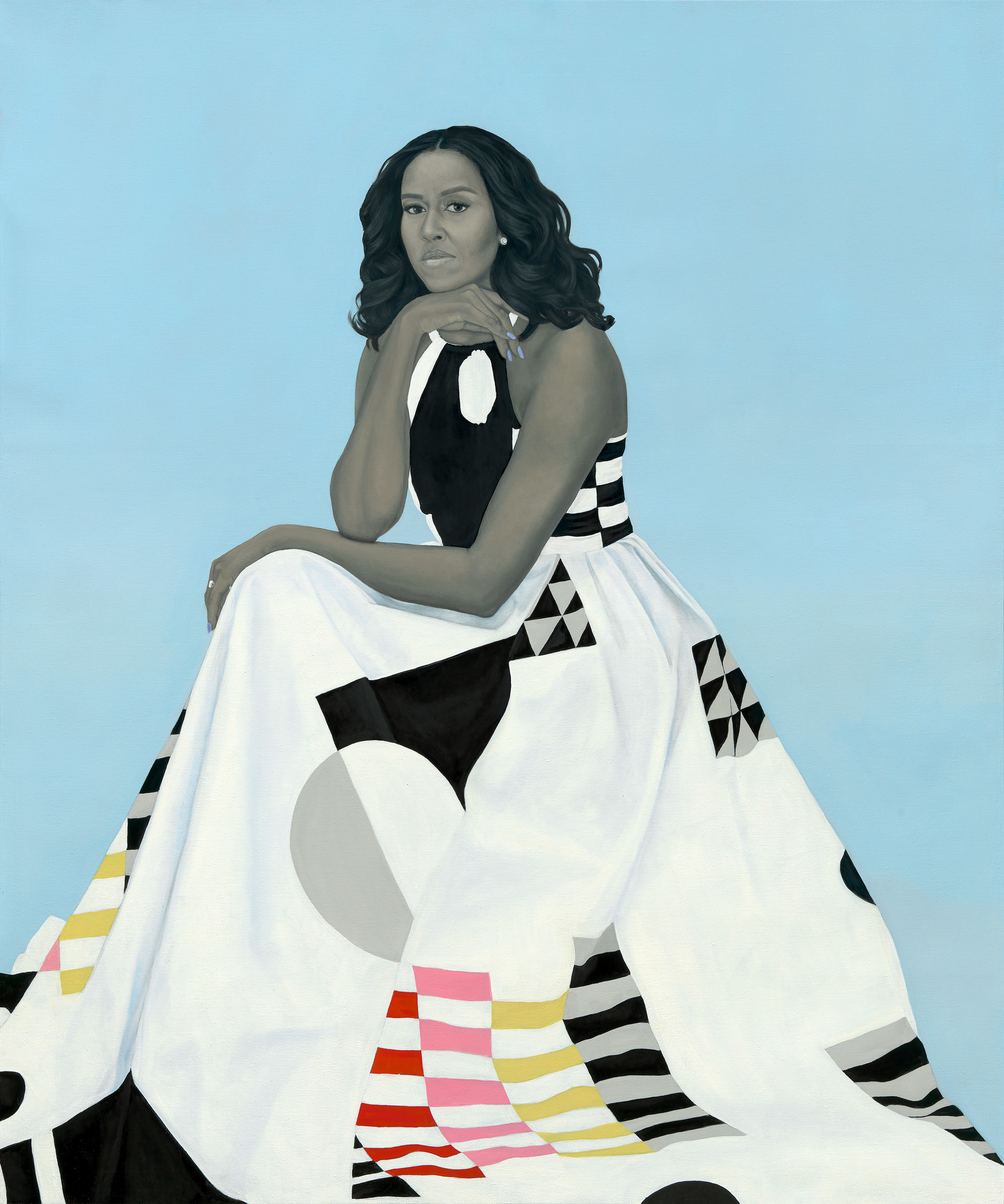 Let's take a look at Michelle Obama's portrait by Amy Sherald. For Sherald, the entire painting is meant to tell a story. Every detail is important. Michelle LaVaughn Robinson Obama's gaze exudes grace, perseverance, and contemplation. Sherald uses gray for Black skin tones to illustrate the inner beauty and the humanity of her subjects. Notice how Michelle and her dress fill the frame. It looks like she is perched on a mountain high enough that if she were to speak, her voice would echo! I especially love how the dress cascades down, gracefully, like ice cream. The texture of the dress brings gorgeous geometric patterns, with pink, mustard, red, and black, to life. The energy these patterns bring resembles vibrant historic African American quilts such as Gee's Bend quilts from Alabama.
When talking about the day Michelle Obama's portrait was unveiled, Sherald said it was the Blackest Black History Month. Can you recall a memorable day you celebrated your heritage?
LACMA is the only museum exhibiting the Obama portraits on the West Coast. Book your tickets to see these stunning portraits. If you are a resident of Los Angeles County, your visit might be free. And make sure to check out LACMA's NexGenLA program for kids under 17 who live in L.A. County. 
If you share your artwork on social media, tag us at @lacma! We love seeing your art!
Check out other Andell Family Sundays Anytime activities on YouTube and Unframed.