Each of these visually stunning but difficult-to-process works will be included in the upcoming exhibition Women Defining Women in Contemporary Art of the Middle East and Beyond, opening at LACMA in 2023. This exhibition will present the work of artists who are women and were born or live in what can broadly be termed Islamic societies. Largely perceived as voiceless and invisible, these artists are neither. While they work under varying conditions of creative and social freedom, each through her unique artistic vision is not only fashioning her own definition of self but is helping to redefine and empower women everywhere, inspiring a younger and specifically female audience, especially those who feel themselves marginalized because of their gender, faith, ethnicity, or race. Femicide, the killing of a woman or girl on account of her gender, along with sexual violence, inequity, and discrimination, are not exclusive to one society, region, or culture but rather are global issues impacting all women. Focusing on artists from Islamic societies, the exhibition, which is largely drawn from LACMA's permanent collection, will challenge still-persistent stereotypes and create a new narrative of womankind. These artists depict a breadth of inventively and often ideologically conceived imagery, meditations on the female state ranging from pride, sentimentality, and gentle humor to cynicism, revolutionary zeal, and outrage against violence.
Kezban Arca Batibeki 
Feud, 2020
Kezban Arca Batibeki's work explores the female struggle against disempowerment. Drawing upon pop imagery and inspired by pulp fiction, her strongly narrative yet enigmatic scenes are dominated by women. Here, a pair of armed, muscular figures, in clothes embellished with sequins and beads, face off against one another, the tension of the moment captured in their taut posture and echoed in their wild, dark hair. They reflect the dilemma of living in a violent, patriarchal society, which diminishes and shakes their self-confidence so at times the battle is within the woman herself.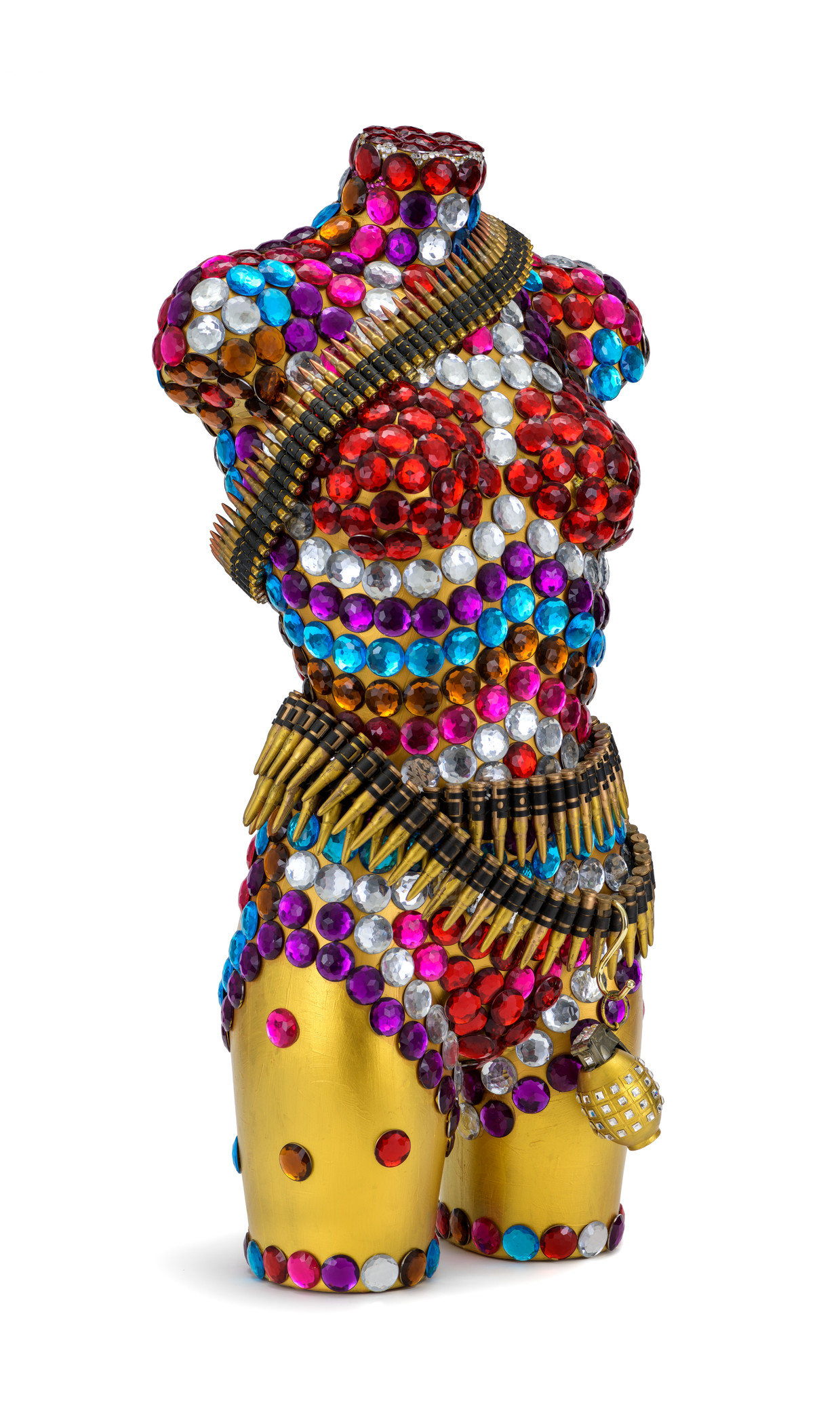 Laila Shawa
Disposable Bodies 4 (Shahrazad), 2012 
Laila Shawa's penetrating series "Disposable Bodies," in which brightly painted mannequin torsos are bedecked with large, colorful rhinestones, or black lace or peacock feathers, and weapons or ammunition, references but is not meant to glorify violence. Rather, combining sensuality and the aura of threat, it suggests the value(lessness) of feminine lives in a patriarchal society that demands purity and conformity of women. In a more universal sense, the artist has created an intentionally provocative work that captures the notion of male dominance over female sexual agency.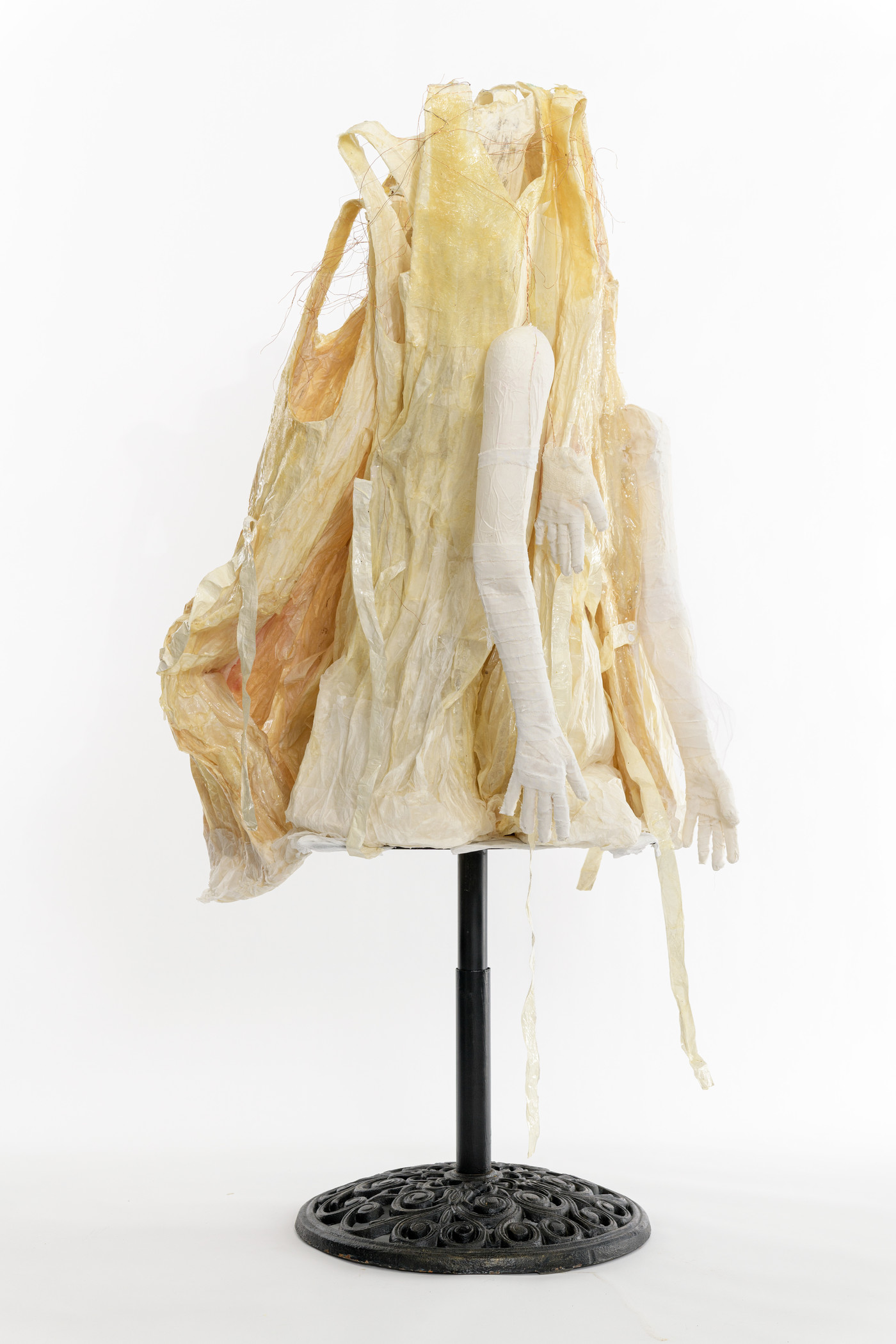 Azade Köker
Deconstruction (Venus), 2021
Azade Köker's latest sculptural works focus on sexual violence and domestic abuse, especially femicide, which are still rarely treated as serious crimes in the artist's Turkish homeland and elsewhere. In Deconstruction (Venus), the over life-size figure has already begun to unravel into multiples of a woman clothed in a gossamer sleeveless gown with deep pleats reminiscent of Classical sculpture. Her headless torso and detached and dangling arms and hands suggest some form of unspeakable violence deliberately contradicting the traditional notion of the goddess of love.
During our 36th annual Collectors Committee Weekend (April 22–23, 2022), members of LACMA's Collectors Committee generously helped the museum acquire nine works of art spanning a breadth of eras and cultures. We'll be sharing information about these acquisitions throughout the week here on Unframed.