The creative work of Los Angeles–based designer Michael Schmidt has been worn by music artists such as Tina Turner, Madonna, Cher, Dolly Parton, Janet Jackson, Rihanna, Beyoncé, and Lady Gaga, and has been photographed by renowned photographers such as Annie Leibovitz, Herb Ritts, Steven Meisel, and Francesco Scavullo. His designs have been included in numerous publications, album covers, music videos, and major motion pictures. Known for his imaginative use of innovative materials and techniques, Schmidt made history in 2013 by creating the world's first articulated 3-D digitally printed gown, designed exclusively for his friend and muse Dita Von Teese, a burlesque star and model.
The design template for his one-of-a-kind digitally printed gown was the golden ratio mathematical theory developed by the 13th-century Italian mathematician Fibonacci (c. 1170–1250). Fibonacci's golden ratio spiral sequence explains many recurring patterns in nature—the precise arrangements of the petals of a rose, the curl of an ocean wave, the spiraling of the galaxy—and is believed to quantify ideal proportions of beauty. This theory inspired Schmidt to adapt the formula to a 3-D digitally printed gown that is wearable and flowing when animated by a human body.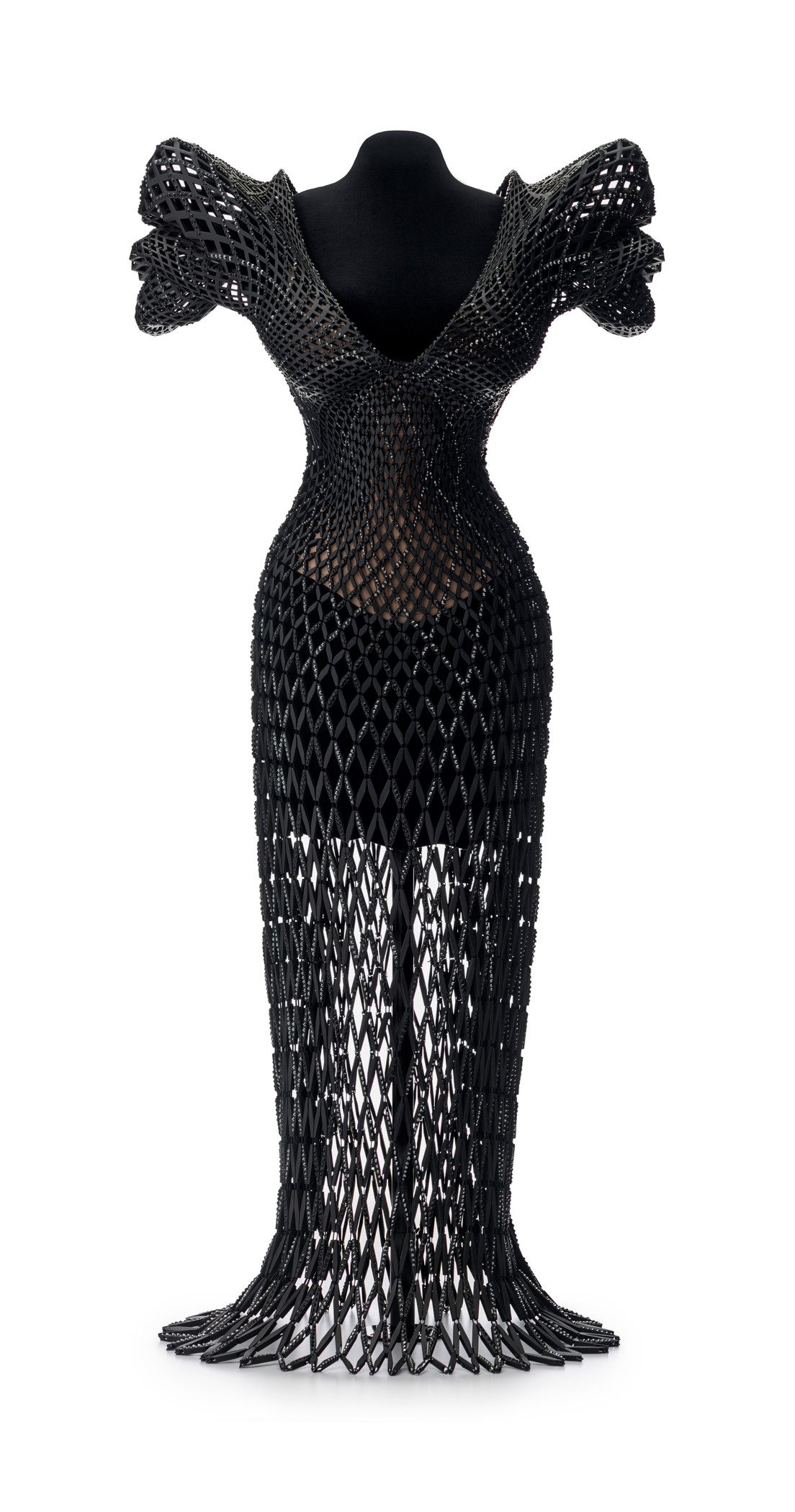 Drawings of Schmidt's conceived digitally printed mesh gown were handed to computational designer and architect Francis Bitonti, who digitally rendered the network of non-articulated parts for the upper body, and the articulated parts for the lower body that gradually increase in size as the skirt reaches the floor. The computer-aided design (CAD) file was then uploaded to 3-D printing experts at Shapeways to print using nylon powder and selective laser sintering (SLS). Seventeen sections of 3-D digitally printed mesh, with a total of over 3,000 articulated joints were delivered to Schmidt, to be hand-dyed black and meticulously assembled into the groundbreaking couture gown. 
Finished with over 12,000 hand-applied Swarovski jet and jet-hematite crystals, the embellished gown sparkled as it expanded, contracted, and swayed like silk when sensually animated by Von Teese at the grand finale of a 2013 technology symposium during New York Fashion Week. The debut of the first articulated 3-D digitally printed gown received worldwide acclaim in international media outlets with readerships totaling well over a billion. The gown that revolutionized fashion through the use of digitally printed technology was highlighted in the exhibition Out of Hand: Materializing the Postdigital, which was organized by the Museum of Art and Design (MAD) in New York City and later traveled to the Powerhouse Museum/Museum of Applied Arts and Sciences (MAAS) in Sydney, Australia. Now that it has been acquired, the world's first articulated 3-D digitally printed gown will be featured in LACMA's upcoming major exhibition Fashioning Fashion, 1900–2022.
During our 36th annual Collectors Committee Weekend (April 22–23, 2022), members of LACMA's Collectors Committee generously helped the museum acquire nine works of art spanning a breadth of eras and cultures. We'll be sharing information about these acquisitions throughout the week here on Unframed.