Last week's news of the U.S. Supreme Court's draft opinion that threatens to overturn Roe v. Wade has not only urged many of the country's artists and activists to take to the streets in protest, but has also emphasized the power of art to channel the outrage and anxiety in the ongoing battle over abortion and women's right to choose. Two works currently on view at LACMA—one by Edward Kienholz, made before Roe v. Wade, the other by Barbara Kruger, made several decades after—both remain relevant as ever.
Edward Kienholz's The Illegal Operation was created in 1962, a decade before the 1973 decision which legalized abortion in the United States. The gritty tableaux, which draws from the experience of Kienholz's then wife's own "illegal operation," depicts a makeshift operating room strewn with bedpans, rusty medical instruments, and dirty rags. There is no body in this scene, only a ripped sack of cement, its contents spilling onto a chair through an oozing gash.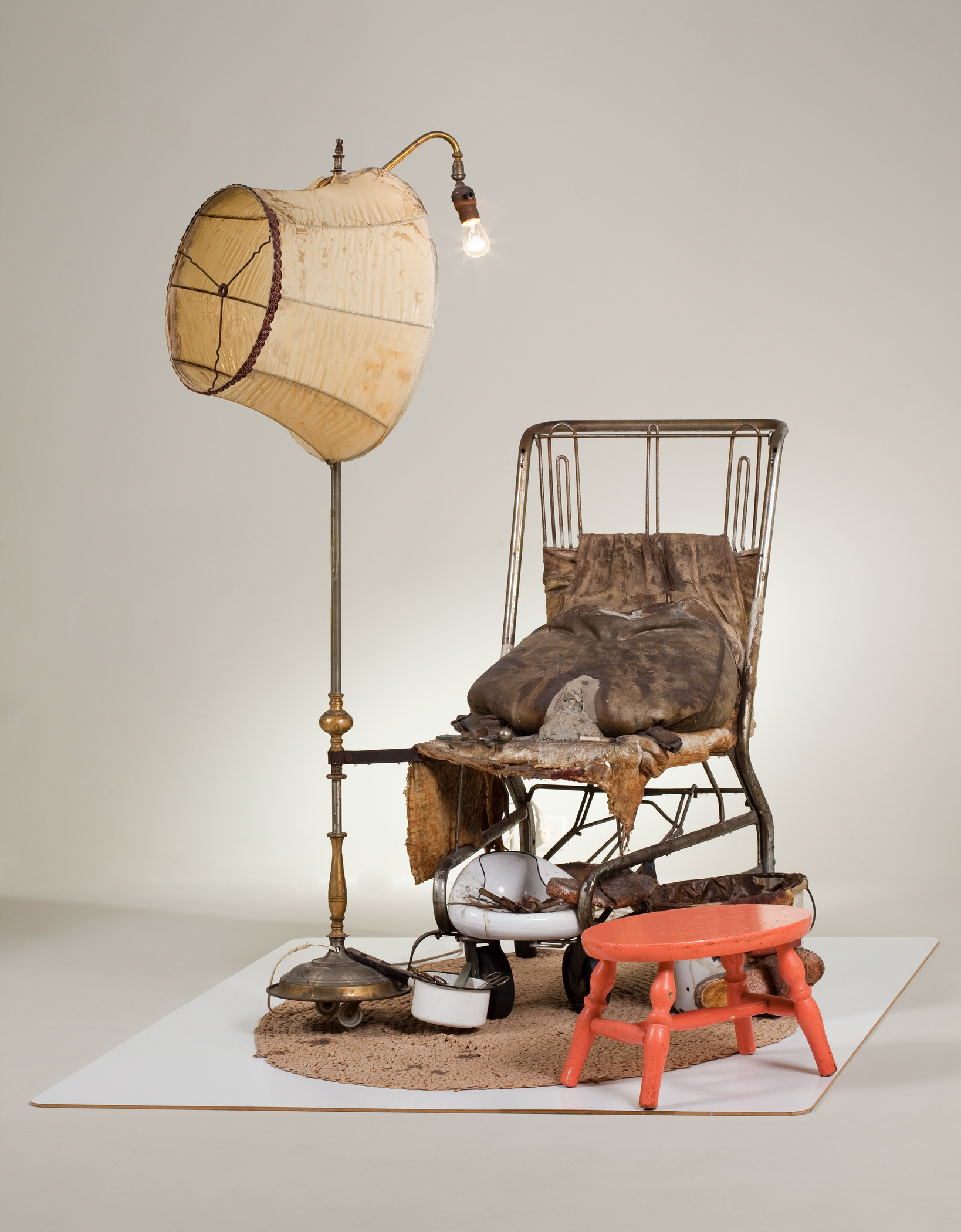 The assemblage confronts the viewer with a sense of tangible horror, its silence and stillness conveying the brutal pathos of backstreet abortions performed under desperate circumstances. "Ed once told me that if he ever made a piece of art, that was it," said Monte Factor, the Los Angeles art collector who acquired the piece shortly after it was made.
Kienholz has a long history with LACMA. In 1966, his mid-career survey sparked such strong reactions among local politicians that they threatened to shut down the museum. In addition to The Illegal Operation, the museum's collection includes important works such as Back Seat Dodge '38 and History as a Planter. 
"This was one of the most important postwar sculptures [in an L.A. private collection], and it really belonged at the museum," said Stephanie Barron, Senior Curator and Department Head, Modern Art, when LACMA acquired the piece in 2008. "It still has the same ability to make us uncomfortable as it did when it was created. It's hard to think of works of art that continue to deliver that wallop." 
Almost three decades after Kienholz created The Illegal Operation, abortion had long been legalized in the United States, but in the late 1980s a new wave of anti-abortion laws had begun to undermine Roe v. Wade, leading to a resurgence of protests and demonstrations. It was in this context that Barbara Kruger created Untitled (Your body is a battleground), which was produced for the March for Women's Lives in Washington, DC, in support of legal abortions, birth control, and women's rights.
"At that point in 1989, I think I had been to two previous huge marches in DC to protect women's reproductive rights," Kruger has said about feeling the need to make the piece. "We thought we had done this in 1973, and here it was in 1989 and it was still happening."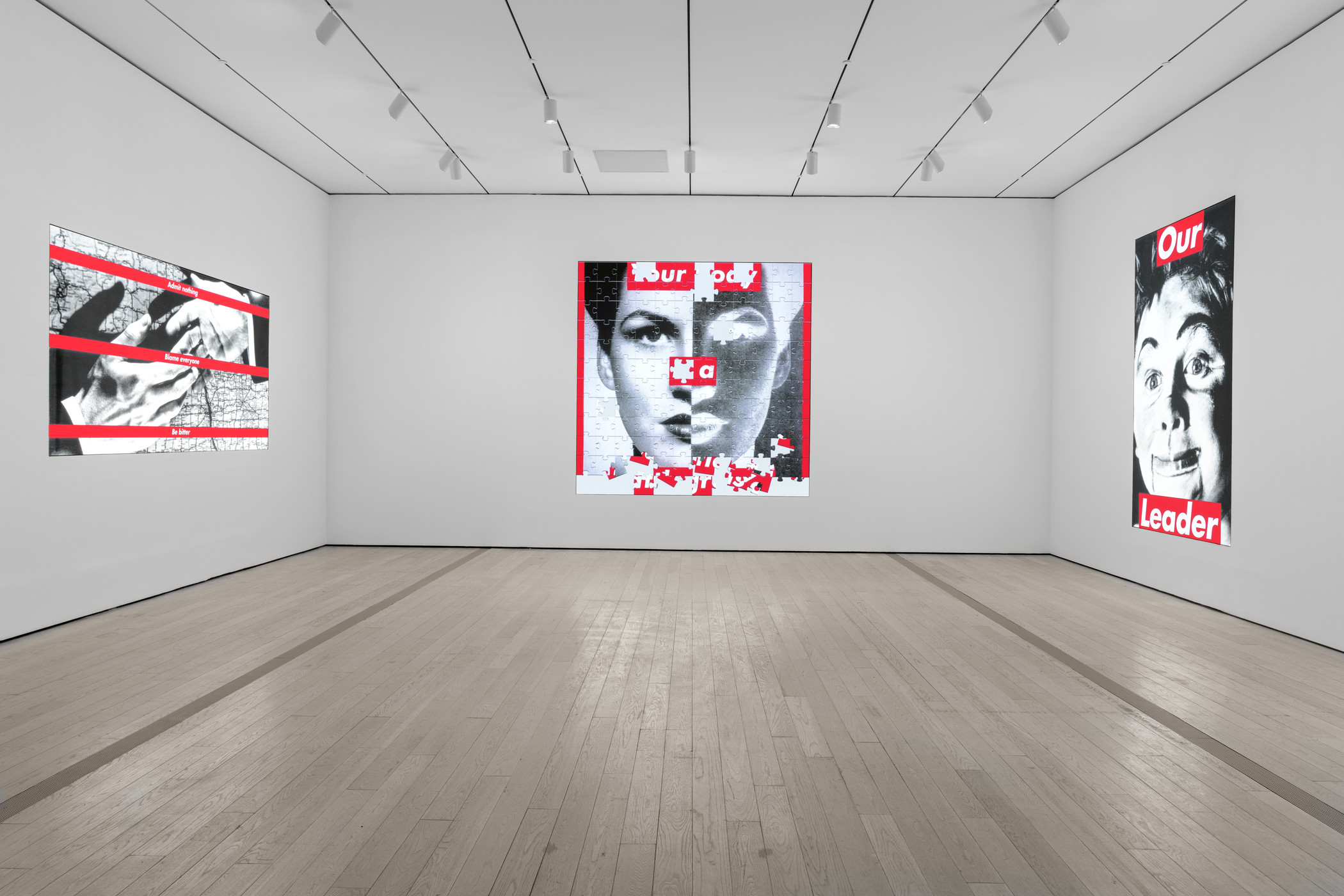 The image, part artwork and part political declaration, shows a woman's face split in two, its positive and negative halves marking a sharp divide. The words "Your body is a battleground," pasted on top in the artist's signature graphic style, both obscure the subject and implicate the viewer, reminding us that almost any "body" has the potential to become a casualty of political decisions at a moment's notice.
The piece has had many iterations, transformed into posters and billboards around the world. The most recent version is included in the exhibition Barbara Kruger: Thinking of You. I Mean Me. I Mean You., where viewers can find a 2019 video which reworks the original and turns it into a jigsaw puzzle. Though the origin of Untitled (Your body is a battleground) is tied to a specific moment over 30 years ago, it continues to stare us right in the face today.
"It would be kind of good," Kruger recently said about the lasting relevance of her art, "if my work became archaic."
Barbara Kruger's Untitled (Your body is a battleground) is on view as part of the exhibition Barbara Kruger: Thinking of You. I Mean Me. I Mean You. in BCAM, Level 2, through July 17.
Edward Kienholz's The Illegal Operation is on view in the Modern Art Galleries in BCAM, Level 3, ongoing.