"Food is the ultimate ice breaker, food has a story," said Maite Gomez-Rejón, founder of ArtBites: Cooking Art History, when we sat down to chat about recipes inspired by Archive of the World: Art and Imagination in Spanish America, 1500–1800. Alongside the exhibition, which is on view through October 30, 2022, Gomez-Rejón will be teaching us how to make a traditional Mexican dish. On Wednesday, July 20, Gomez-Rejón will be leading a virtual cooking demonstration of a recipe for manchamanteles, a stew-like dish featuring a variety of spices and chicken, and to tell a story of international cuisine and early feminism in 17th-century Mexico. This is part of the quarterly series Cooking with LACMA, which has previously featured Maite Gomez-Rejón.  
Gomez-Rejón draws from a historical recipe by the famed 17th-century nun and writer Sor Juana Inés de la Cruz to make this dish. Born in 1648 in the hacienda of Nepantla (a town that is now known as Nepantla de Sor Juana Inés de la Cruz) near modern-day Mexico City, Sor Juana grew up in a time in which the convent was one of the only options available for an intellectually-inclined young woman to continue her studies. In a well-known portrait of Sor Juana by Miguel Cabrera, she wears a badge with an image of the Virgin of the Annunciation. Painted badges were worn by certain orders of nuns in the 17th and 18th centuries as part of their habits. The nun's badge by Francisco Martínez featured in the exhibition also depicts the Annunciation; this devotional image of the Virgin Mary was common among religious orders whose members wore nun's badges. More badges like this can be viewed in Archive of the World.
Many of Sor Juana's writings have been published as great works of poetry and philosophy, but aspects of her more personal life such as her collection of 36 recipes continue to fascinate fans of history and the culinary arts alike. It is from this collection of recipes that Gomez-Rejón takes direction for her interpretation of manchamanteles.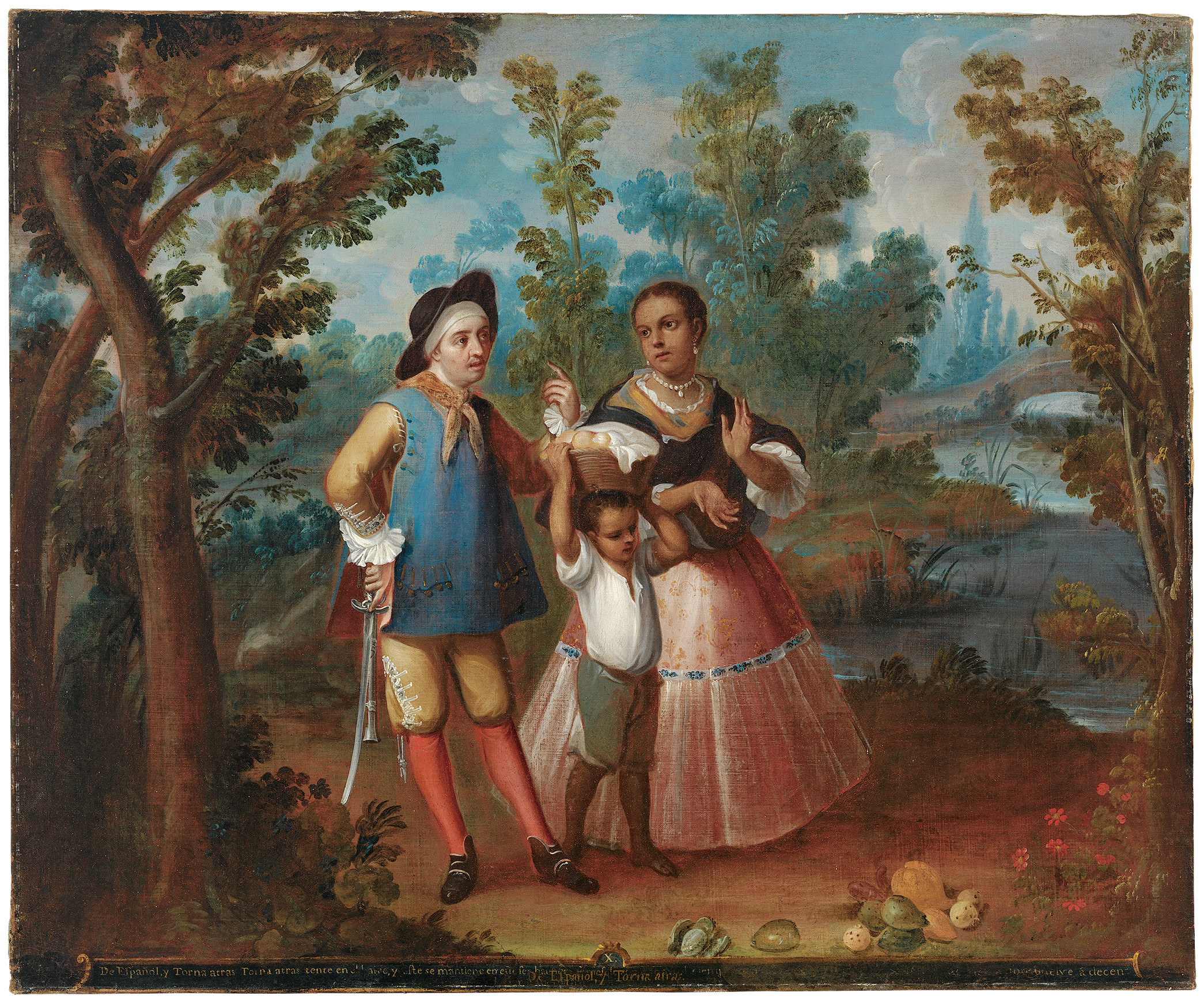 Gomez-Rejón was also inspired by the depiction of the flora in the Americas that is present in paintings such as Juan Patricio Morlete Ruiz's From Spaniard and Albino Woman, Return Backwards, on display in the exhibition. This painting is part of a set of casta (caste) paintings, a genre that portrays individuals of different races and their children in New Spain. Morlete Ruiz's painting also illustrates fruits and nuts available in Mexico, pointing to the status of the Americas as an area of the world with abundant natural resources. 
The ingredients that Sor Juana would have used a century earlier to make a manchamanteles, such as cloves, black pepper, and cinnamon, came from all over the world to the Americas. These spices paired with local fruits, such as pineapple, make this dish truly global. Gomez-Rejón is excited to share the origins of these ingredients and more: "[I will] talk about the recipes [Sor Juana] left and how it was during this time period that Mexican cuisine as we know it is a complete mix of ingredients from all over the world. Asia, Africa, Europe, just a mix of everything." 
Join us online on July 20 at 6 pm PT to learn about the fascinating history behind Sor Juana, this traditional Mexican dish, and the art now on display in the exhibition Archive of the World: Art and Imagination in Spanish America, 1500–1800 at LACMA. RSVP here to ensure a spot in what is sure to be a riveting and delicious exploration of culinary art history.
Manchamanteles 
"Chiles desvenados y remojados de un día para otro, molidos con ajonjolí tostado y frito todo en manteca, echarás el agua necesaria, la gallina, rebanadas de plátano, de camote, manzana y su sal necesaria." ["Devein the chiles and soak overnight, grind with toasted sesame seeds and fry all together in lard, adding as much water as needed, the chicken, slices of banana, sweet potato, apple and salt as needed."]
—Sor Juana Inés de la Cruz
Ingredients
For the chicken: 
1 pound skinless, boneless chicken breasts 
1 bay leaf 
3 cloves garlic 
1 teaspoon salt 
For the manchamanteles: 
4 ancho chiles, stems and seeds removed 
1/2 cup sesame seeds, plus more for garnish grapeseed oil or lard 
1/2 onion 
2 cloves garlic, peeled and smashed 
3 Roma tomatoes 
1/4 cup raisins 
1 ripe plantain, peeled and sliced 
1 sweet potato, peeled and cubed 
1 apple, cubed 
2 slices pineapple, cored and cubed 
1/2 teaspoon ground cloves 
1/2 teaspoon ground cinnamon 
1 1/2 teaspoon black pepper 
2 1/2 cups chicken broth 
2 tablespoons sugar
Salt 
Instructions
Poach the chicken. Arrange the chicken in a pot. Add the bay leaf, garlic, and salt. Cover with water by an inch or so. Bring to a boil over medium-high heat. As soon as the water comes to a bowl, reduce the heat to low, cover, and simmer. The chicken is cooked through when opaque through the middle and thermometer inserted into the thickest part of the meat registers at 165° F. Depending on the thickness of the meat, it will be cooked through in 10 to 14 minutes. 
Transfer the chicken from the poaching liquid to a cutting board. Slice and cover to keep warm. Skim the froth from the poaching liquid and set aside.
Make the manchamanteles. Stem and deseed the chiles and place in a bowl. Cover with boiling water. Let sit until fully rehydrated. 
In a dry skillet set over medium heat, toast the sesame seeds until lightly browned and aromatic. Be careful not to burn them. Place in a blender. (If using toasted sesame seeds, omit this step.) 
In the same dry skillet, brown the garlic, onion and tomatoes. Add to the blender.
Place the sweet potato in a saucepan with water. Bring to a simmer and cook until almost tender, 5 to 7 minutes. Add the apple and cook another 2 minutes or so. Drain and set aside. 
Heat oil in a skillet and fry the sliced plantains until golden brown. 
Place the rehydrated chiles in the blender. 
Add half of the sweet potato, apples, plantains, and pineapple to the blender. Set the other half aside. 
Add raisins, cloves, cinnamon, salt, pepper and broth to the blender. Puree until smooth. 
Heat about 2 tablespoons oil in a Dutch oven and carefully add the puree. Bring to a simmer, add the sugar and simmer for about 10 minutes. Taste and add more salt or sugar as needed. Add the remaining sweet potato, apple, plantains, and pineapple. 
To serve, place the sliced chicken breast on a plate and top with the manchamanteles. Garnish with sesame seeds and serve warm. Serves 4. 
Recipe adapted from Sor Juana en la cocina by Mónica Lavín and Ana Benítez Muro. 
Further Reading
Katzew, Ilona, ed. Archive of the World: Art and Imagination in Spanish America, 1500–1800. Exh. cat. Los Angeles: Los Angeles County Museum of Art; and New York: DelMonico Books 2022. Cat. nos. 19–23, and 40–42 (entries by Ilona Katzew).
Alexander, S. Tiernan. It Stains the Tablecloth: The Persistence and Evolution of Manchamanteles. 2014. University of Delaware, Master's Thesis. ProQuest.