Artists have long been drawn to ceramics, one of the earliest and best preserved areas of artistic production across the globe, not only for the medium's physical properties but for the opportunities its longevity provides to connect with and comment on the past. 
Conversing in Clay: Ceramics from the LACMA Collection, now on view at LACMA, examines how artists working today relate to artistic traditions of the medium, both through deliberate references to the past and by engaging with the aspects of clay's materiality that have inspired makers over the centuries. The exhibition places historical pieces in dialogue with contemporary works to illuminate resonances across time and space. Drawn exclusively from the museum's collection, it presents 14 case studies that juxtapose historical and contemporary works to illuminate symbolic meanings, technical achievements, and other connections between them, with examples from China, France, Greece, Japan, Hungary, Korea, Mexico, the Netherlands, the United Kingdom, and the United States.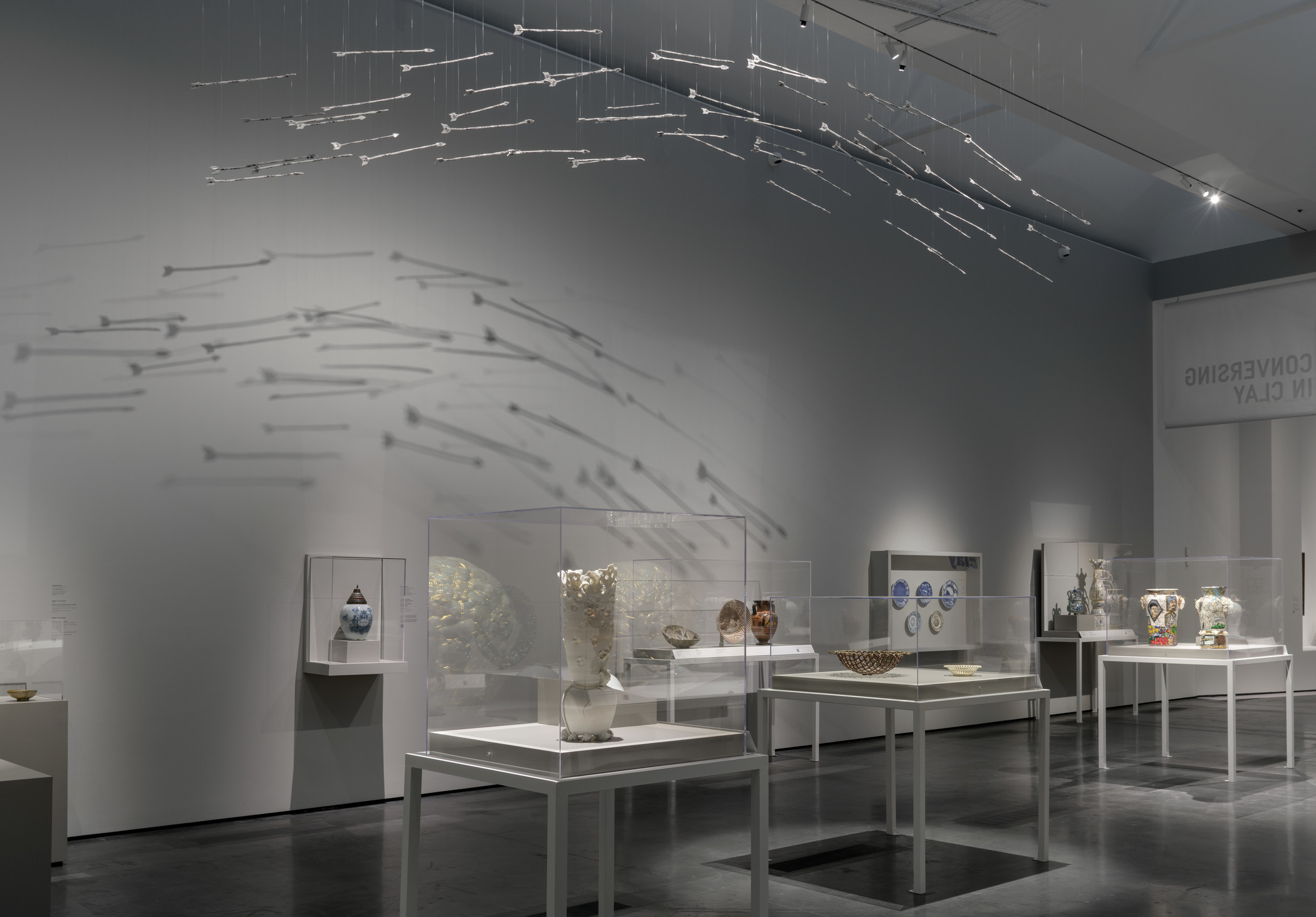 "As curators, we are often drawn to contemporary works for their resonance with earlier works or techniques, and to historical works for what they might illuminate about the present," said Rosie Mills, The Rosalinde and Arthur Gilbert Foundation Associate Curator, Decorative Arts and Design, and Staci Steinberger, Associate Curator, Decorative Arts and Design. "What makes this exhibition unique are the groupings, which bring historical works from different centuries and continents together with an international selection of works produced in the 21st century to show how museums can both inspire and create connections."
In many cases, these pairings highlight not just how artists have updated or built on traditional methods of art-making, but raise questions about identity and representations of history. For example Nicholas Galanin's I Dreamt I Could Fly (2013), a dramatic installation of 60 porcelain arrows suspended in mid-flight, is a poetic commentary on the challenges Indigenous people face in the pursuit of sovereignty. It is juxtaposed with an 18th-century Dutch tobacco jar depicting Indigenous North American stereotypes to emphasize how ceramics have long played a role in normalizing Indigenous oppression. You can hear Galanin, who is of Tlingit and Unangax̂ descent, speak more about his powerful work in this video. 
Roberto Lugo responded to the Century vase (c.1876), created by Union Porcelain Works to commemorate the American centennial, with a series of works that question the iconic vessel's celebratory depiction of American independence and colonization. In LA: A Century of Gangsta (2018) and From My Cold Dead Hands: A Century of Gun Violence (2018) the artist presents American history from his perspective as a person of color, honoring Black political and artistic achievements and calling to attention to pervasive racism and violence.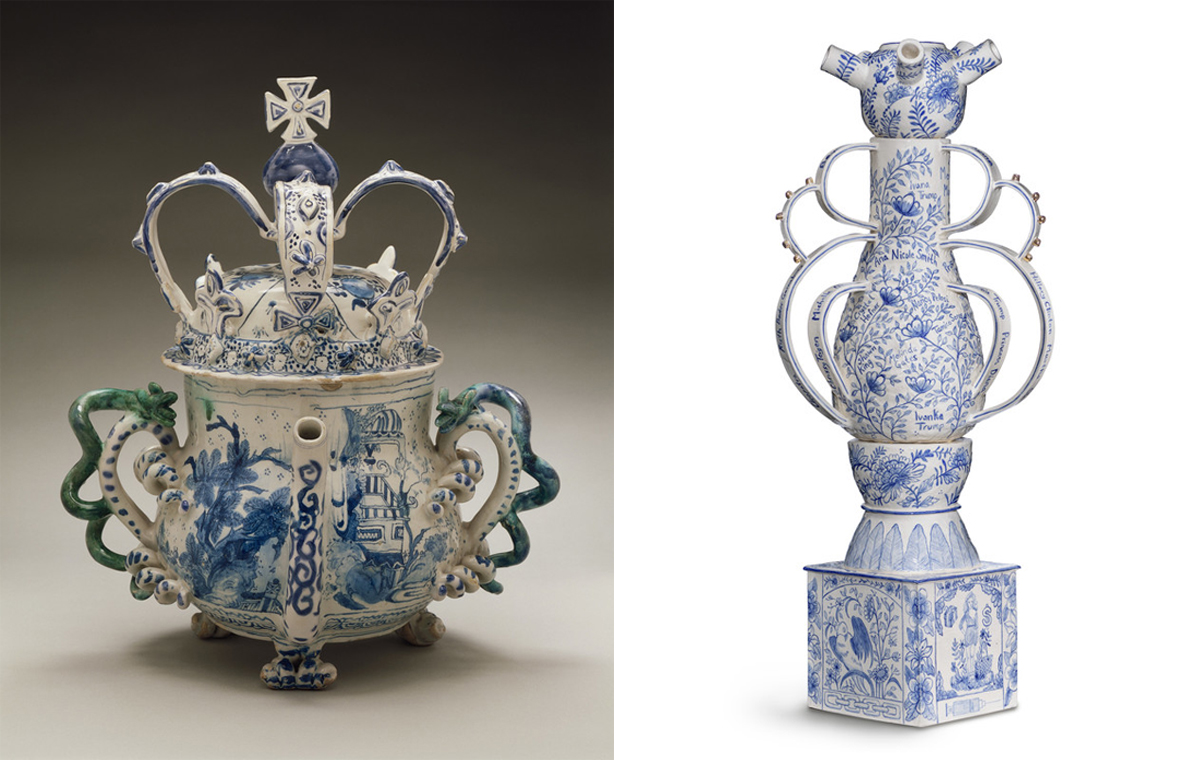 Meanwhile, Elyse Pignolet's sculpture Trophy Wife (2019) appropriates the familiar decoration of blue-and-white pottery—like the 17th-century English Posset Pot it is displayed alongside—to confront misogynistic stereotypes, invoking the names of prominent women and criticizing the contemporary overemphasis on women's appearance and marital status. Short videos about Pignolet and four other featured artists are available online.  
Visitors can explore these and more pairings now at Conversing in Clay: Ceramics from the LACMA Collection, on view in the Resnick Pavilion through May 21, 2023. The exhibition will also be accompanied by a three-part series of online talks, Conversing with Collections: New Spins on Ceramics. You can RSVP here for the first talk led by Los Angeles–based artist Gerardo Monterrubio on Tuesday, September 6, at 12 pm.