As the longest-running education program at LACMA, Evenings for Educators continues to see dedicated K–12 teachers year after year. Each Evenings for Educators session consists of a variety of engaging and hands-on activities for participating teachers, including lectures, gallery discussions and activities, artist-led workshops, and a yummy dinner reception. Teachers also get standards-aligned curricular packets; as I dug around in the archive, I came across the very first one from 1977 for an exhibition on King Tut. In 1981, Evenings for Educators became a regular in our teacher programs, and, by 1984, we were offering eight sessions per year. Today, the program is held four times a year as a place for teachers to come together, learn, and become a student again. There are so many stories from participants throughout the years, from several generations of teachers in the same family to teachers finding their partners at the event! With this in mind, I wondered: what is it that draws teachers back year after year?
Meet Melinda S. Weathersby, artist, art educator, art historian, and art teacher at John Burroughs Middle School, situated just over a mile from the museum. She is one of the museum's greatest advocates and has been visiting LACMA for over 40 years.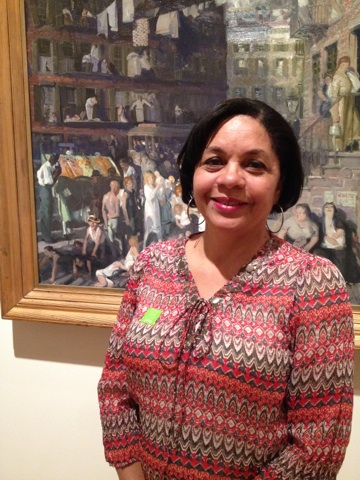 I sat down with Ms. Weathersby at our café, C+M, and chatted about what has kept her inspired and looking forward to the next 30 years of Evenings for Educators. Here is a snippet of our conversation:
How long have you been visiting LACMA? What are some of your earliest memories?
"I have been coming here for at least 40 years; I lived not that far away [when I first started coming to the museum]. This would have been the primary museum, because I can't think of any other at the time that I started coming. MOCA wasn't around; the [California] African American Museum wasn't around. I remember when the buildings were built, and it has changed a lot over the years. It's great. Before the Petersen [Automotive Museum] was here, there were department stores. I used to go shopping there." 
Where do you work and what subject do you teach?
"I have been at John Burroughs Middle School for 21 years. [I teach] American Images; what's nice about that class is the visual arts as it relates to history and culture."
How did you learn about Evenings for Educators? What are some of your earliest memories?
"I was teaching elementary school and I learned about the program through visiting the museum. There was no website at that time—it was in the '80 s. I learned about it the first year I started teaching. I was thinking about art and art lessons.
When I first came, I didn't know what to expect. I was impressed with every step. First I checked in, everything was organized, my name was on the list, and admission was something like $10. I remember getting the folder [curricular packet]. You know, it used to be more times per year. Every month during the school year, eight times, and I went almost every month. I even took them for LAUSD salary points. The packet I loved, it had slides, the slides I loved. I remember the lecture; I never wanted to miss the lecture. The lecture was instrumental."
How have you seen the program change through the years?
"I did see a lot of change. It went from eight evenings to four. The packets went from slides to CDs. The format is similar, because it's working. Evenings for Educators has elevated the quality of the themes and highlighted exhibitions over the years. I've seen the transition into new modalities of art, like installation art, performance art, digital art, use of technology in art and with art."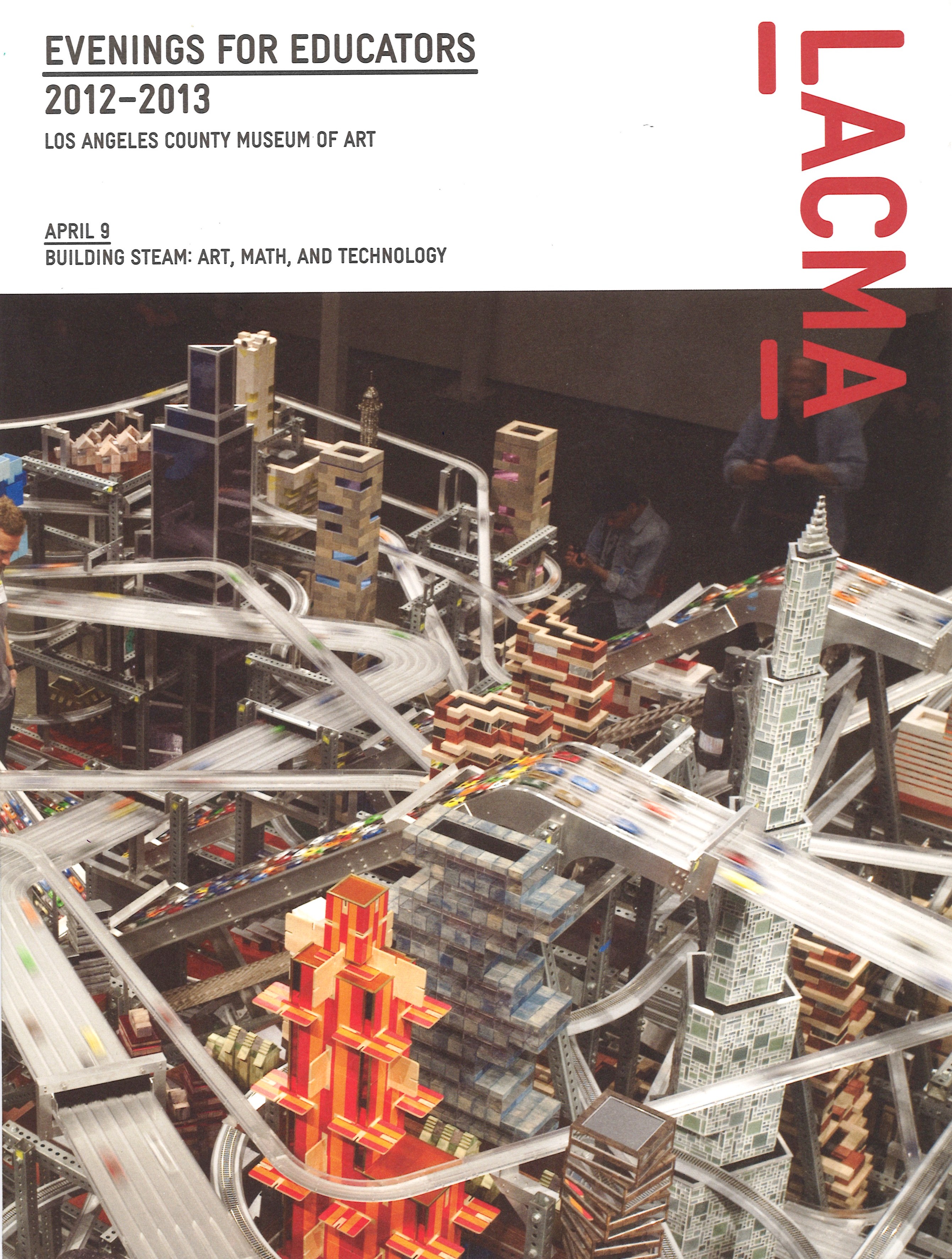 When asked about how the program has impacted her teaching over the years, Melinda shared that she was particularly inspired by the program Building STEAM: Art, Math, and Technology from April 2013, and used Chris Burden's Metropolis II as the basis of an architectural lesson in her classroom.
"Students made a vertical city. This one [below] is tempera paint on cardboard. They used Metropolis II as a source of inspiration. They are learning architectural features; I showed them buildings in Los Angeles, the Chris Burden piece; I took several photos when I was here and put them on a slide show for students. His piece has a variety of architecture."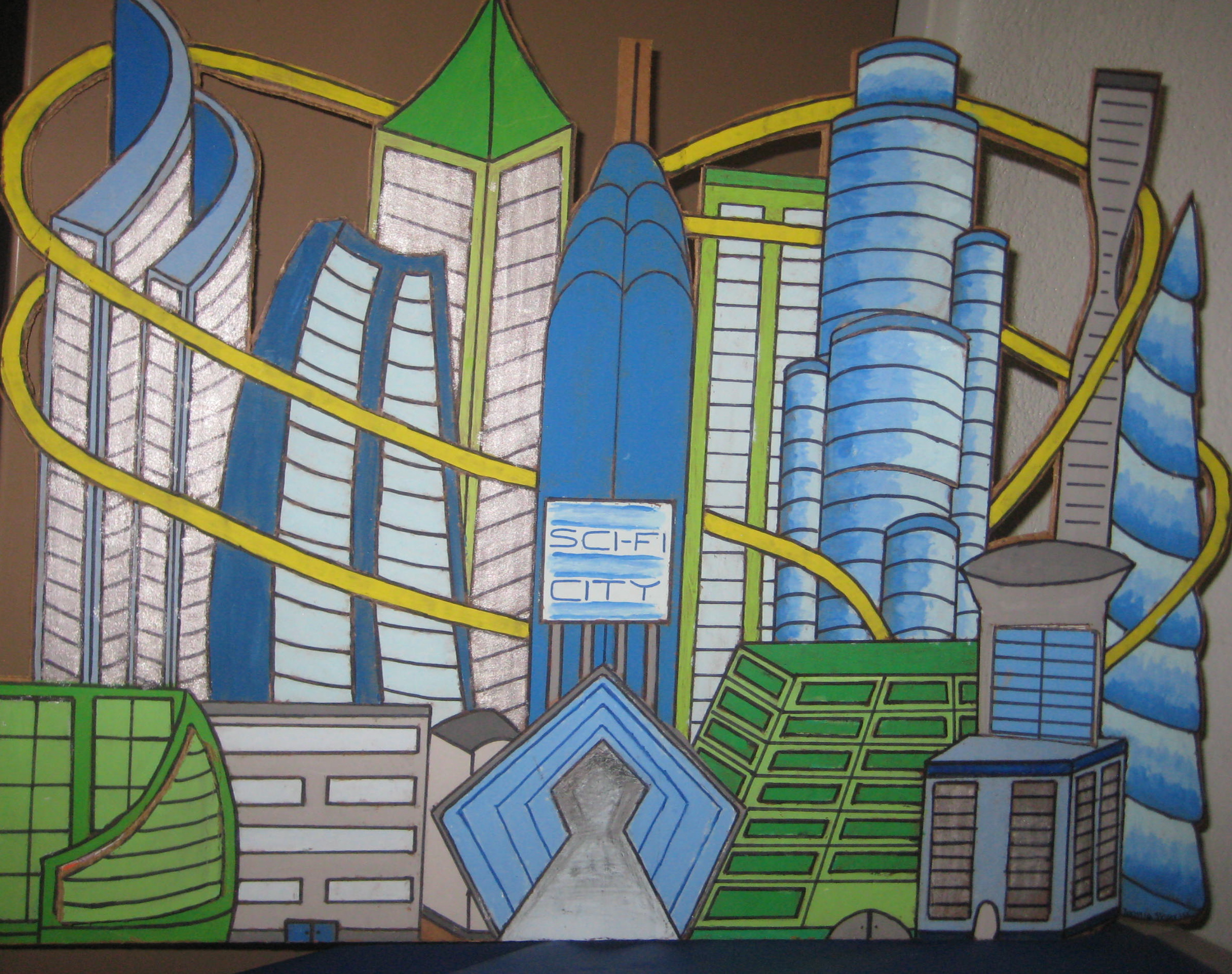 Have you made any friendships over the years? 
"What I like about LACMA are the professional artists and art educators that I have come into contact with; I have become friends with them. That is unique. The people that I met through the years, we get together and the museum has become our comfort zone. We come to the museum to see special exhibitions together." 
What do you look forward to most for the next 30 years?
"In person, primary sources, the people, the variety! I look forward to the themes and quality of exhibitions that are part of the evening, the quality of the workshops and presenters, and a range of experiences, that's what will keep me coming back. The give-aways are always nice, but not expected all the time. The dining experience is helpful, what they call 'food for the soul.'"
Ms. Weathersby is just one of the many loyal teachers who participate in Evenings for Educators on a regular basis. As we reflect on the last 34 years, we can't help but look forward to the future. There is an exciting lineup of future programs in the 2015–16 season, including sessions highlighting New Objectivity: Modern German Art in the Weimar Republic, 1919–1933; Frank Gehry; and Reigning Men: Fashion in Menswear, 1715–2015. 
Don't miss out! Buy your season pass now for only $55.
Have you been attending Evenings for Educators for several years? We would like to hear from you! Share your unique story as a comment here on Unframed or email hgillette@lacma.org.