The conservation wing is one part science lab, one part hospital, and one part artist's studio. Its imposing doors nearly span the wall, ceiling to floor, but inside, it's perhaps one of the quietest portions of the whole museum. The department works on a micro level—taking samples, analyzing them, cleaning dirty pieces, or repairing damaged works. 
In the microscopy lab, Charlotte Eng, one of LACMA's team of conservation scientists, is looking at a dull gray metallic piece of cutlery. It has prongs like a fork, but it's shaped like a spoon, and it's ornate and plain at the same time—decorated with simple swoops that make it look like a leaf. She holds it up proudly and shares how she cracked the code.
The fork is an odd color—not quite silver, not quite gold. She says Lily Doan, a former Andrew W. Mellon Fellow in Objects Conservation, was preparing the objects for exhibition and grew concerned when one of the cutlery pieces of this set started to corrode, developing mysterious orange blotches. So, the question: what's causing it to corrode?
Closer inspection revealed striations: the telltale signs of 3D printing. A step in the right direction, but that wouldn't explain the corrosion. A major clue came from even closer inspection. "You see?" she says, zooming in to the breadth of about five hairs' width on the digital microscope. "See the silvery spots there and the golden spots right next to it? Combining the microscopic examination with X-ray fluorescence analysis, we found that actually the cutlery is made up of steel and bronze together. You normally never see those two together. It's either a copper/tin or iron alloy, never together in patches like this."
This cutlery was printed with steel powder coated with plastic, the melted plastic holding each layer together. Fragile to say the least. To make it more durable, the final process filled the gaps between the steel and the plastic with bronze. Thus the strange coloring.
"When you have two opposing metals like that next to each other, in high humidity conditions, one will kind of 'protect' the other. So, in this case, the steel protects the bronze and starts to corrode, thus developing the orange rusty patches that the conservator noticed. If we were to display and store these pieces, they would have to be in very low humidity."
"It took about one or two months to confirm this finding," she says, "but at a place like LACMA, you have to be a really good multitasker." She takes that as her cue to show the three other projects she's working on: two wooden figures from Easter Island need dating; a Maya ceramic pot needs classification; and Urban Light needs new environmentally friendly light bulbs.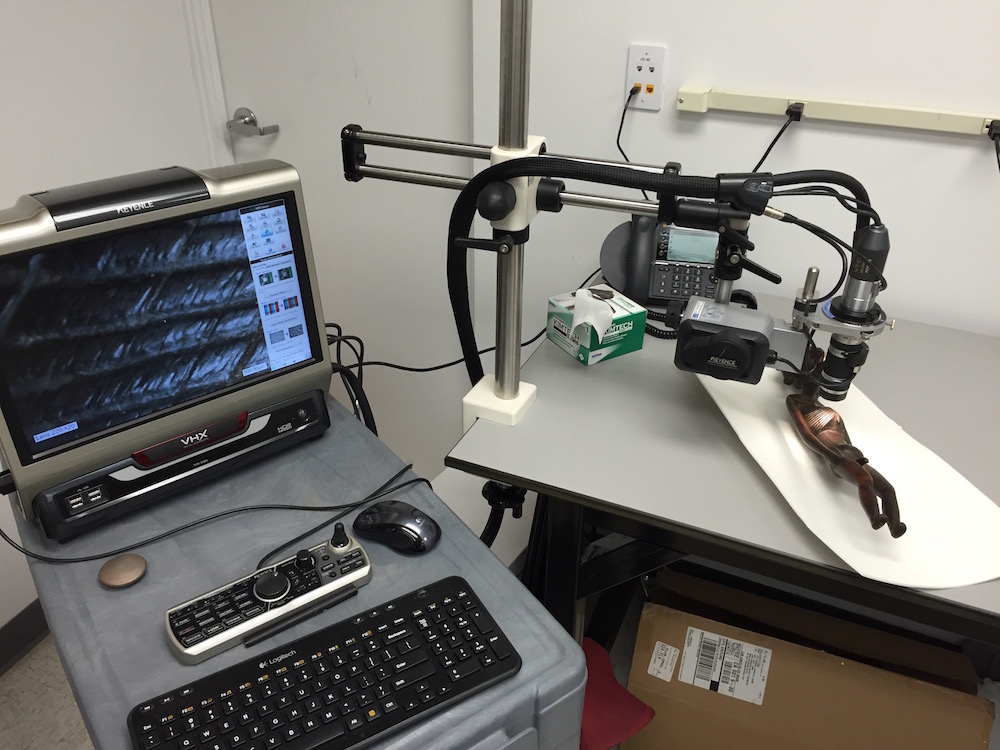 Charlotte's work differs from the conservators'. She determines the needs of the artwork, chemically and physically, through methods of discovery and diagnosis. The work is collaborative—the curators or conservators have a question about a work, Charlotte and the conservation science team seek the answer, and from there the conservators either go forward with their restoration or defer to the curators.
"It really begins with a conversation—determine [the curators' or conservators'] goals, what they're looking for, and then based on that we go ahead with our analysis." Like the corroding cutlery; a conservator posed the question, Charlotte sought the answer. The first steps are all visual—examining the object with the naked eye, photographing the object under different conditions, putting it under the microscope, and scanning it with the X-ray fluorescence analyzer to determine elemental composition.  
"If these methods don't provide an adequate answer, we would have to use 'destructive' methods, which require tiny samples or removing a bit from a painting or an object and that would then go for testing. Usually, our samples are small, so unless you have an eagle eye, nobody would notice. In other situations, we might need a lot of sample. For example, if we want to do carbon dating, it's not so easy to take a small sample; you actually need a sizeable sample you can actually see. In those cases, we try to take samples from discrete areas where visitors are not bound to notice."
When she tells me about carving out small pieces of the work for sampling and analysis, I ask Charlotte if it ever makes her nervous, being the one to have to touch priceless artwork.
"Oh, yes. Yes," she says, nodding emphatically. "It's—you have to not think about that and just be calm and quiet. Whenever I need to take a sample, I always want to do it by myself. In a quiet room. You have to hide out in our microscopy room and just be in a zen state to take your little sample. It's sometimes nerve-wracking."
The cutlery didn't require much interference, but it did require significant research. Urban Light, however, will require far more considerations: glass or plastic globes? The museum would prefer energy-efficient bulbs. Would LED bulbs work? How and when to change them? What LEDs approximate the warm glow that Chris Burden would have wanted?
She shows me around the lab, pointing out everything that scans and examines and analyzes. She holds up an imposing X-ray fluorescence analyzer gun and cradles it lovingly, without realizing. "This is what we use to scan materials," she says. "We have an upcoming jewelry show and we've been using this to determine what materials the pieces are made of. You know, some of these pieces are things the artists made thirty years ago and they don't remember what materials they used. That's where we come in."
She points out the liquid analyzer, a four-tier machine with various bottles and tubes resting on top. She shows me the infrared microscope and pulls out a colorimeter. "We test the works with this before they go on display," she says, unwrapping it, "and again when they come back. That way we can analyze what happens to the works and determine whether they can go out again or recommend that they should be put away for a while."
If a work changes too much while on display, conservation scientists merely advise the curators. "It's really a curatorial decision as to whether they want to put it away for a while so it will be in a presentable state the next time it's shown or if they want to display it again. It's not like when you put an object away it gets better, so it's about extending its exhibition life for future generations."
She leads me into the main objects conservation lab, where the actual detail work is done. She shows me an ancient American statue that conservators Silviu Boariu and Jena Hirschbein are working on and says, "When this was pulled out of storage, the foot was actually cracked and detached. So they've been working on putting it back on. And, to a layman, you just can't tell. They do such an amazing job." Over on the other side of the room, three conservators are conversing over a cornice from the Damascus Room. "When they brought that in, it was covered with such a thick layer of dust. They had to clean it off so carefully."
In the corner, a magnificent glossy cabinet is being restored by conservator Don Menveg. Indeed, to the layperson, there's nothing wrong with it. "He's fixing some of the fittings and putting in missing inlays." I get up close and look at the painstaking work. It's completely detail-oriented. "It takes a lot of patience to be a conservator," Charlotte laughs.
Conservation science is a rare field, one that takes a particular sort. The field shares more with forensic science than one might think—and that's where Charlotte started off.
"I was dead set on going into forensics, but I found this position and I thought, well, I won't be looking at dead bodies, but art is much, much prettier. So I decided to come here. I fell in love with this new career. So I ended up sticking around for almost ten years."