Patrick Heilman is LACMA's gallery media manager, who installs and oversees all of the media hardware you see in the galleries, including Diana Thater: The Sympathetic Imagination. He has a long history with the artist, having been involved with setting up knots + surfaces at Dia Beacon when it was installed there 15 years ago. I sat down with Patrick to ask him what it's like to install such a media-heavy show.
So, Patrick, how big is this show? 
It's big! In the Art of the Americas Building there are 11 different works, and in BCAM there are five. Because of the nature of Diana's work, it's a ridiculous amount of media hardware compared to the average exhibition: 70 monitors, 35 projectors, 44 video players, and 2 custom PCs!
Tell me about the hardware setup.
The biggest volume of hardware is probably in the stacked or mounted monitors, what Diana calls video walls. The Art of the Americas Building space has three stacked walls. Six-Color Sun, right as you enter, is made up of six digitally controlled CRT monitors, and knots + surfaces in the next room has 16. These are black cube monitors that are harder and harder to find. We needed a lot of them, so we ordered those early from Minnesota to have time to adjust them and make them look the way they were intended. For the Delphine video wall, they're actually old stock parts that have been brought back to life in modern enclosures.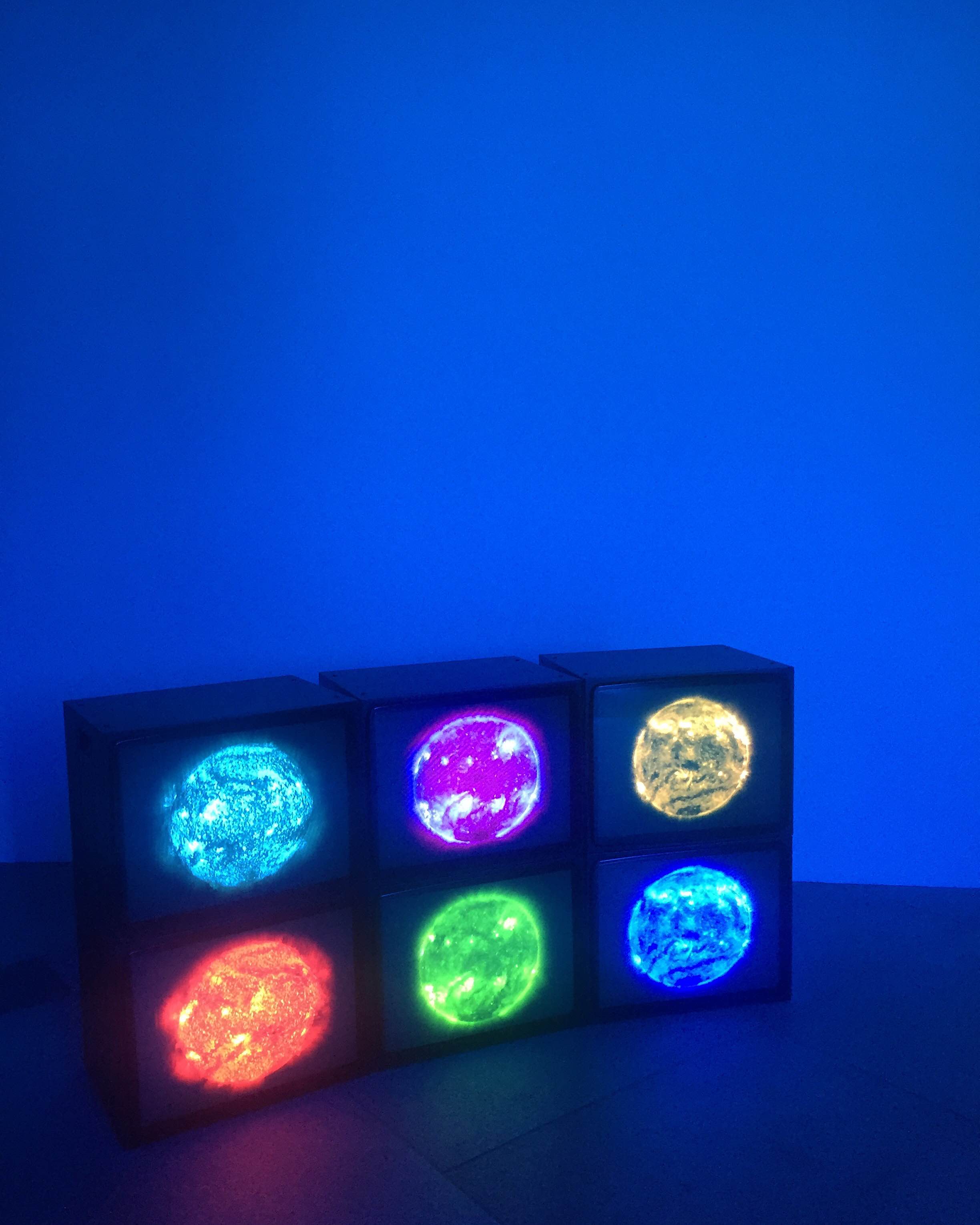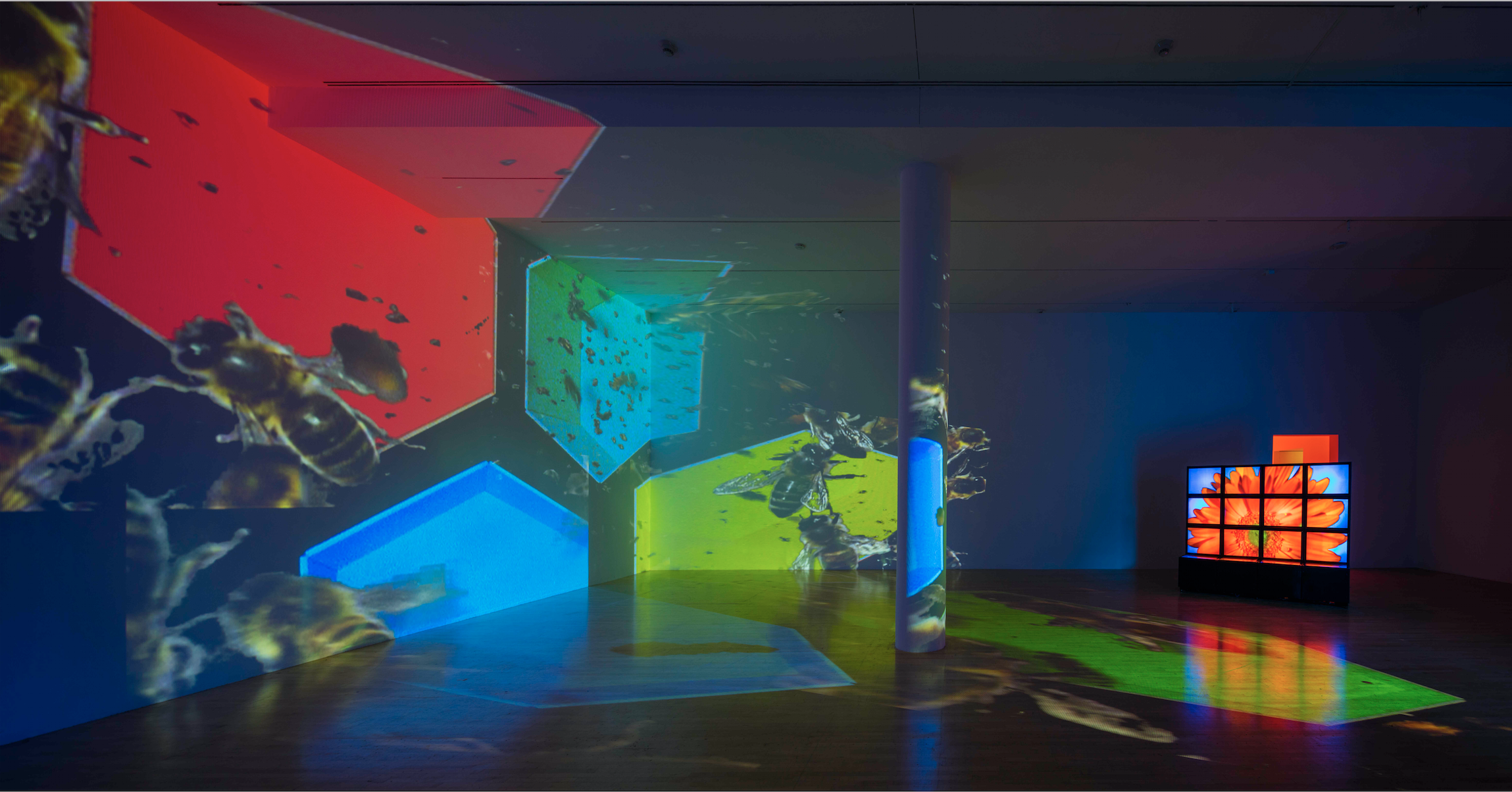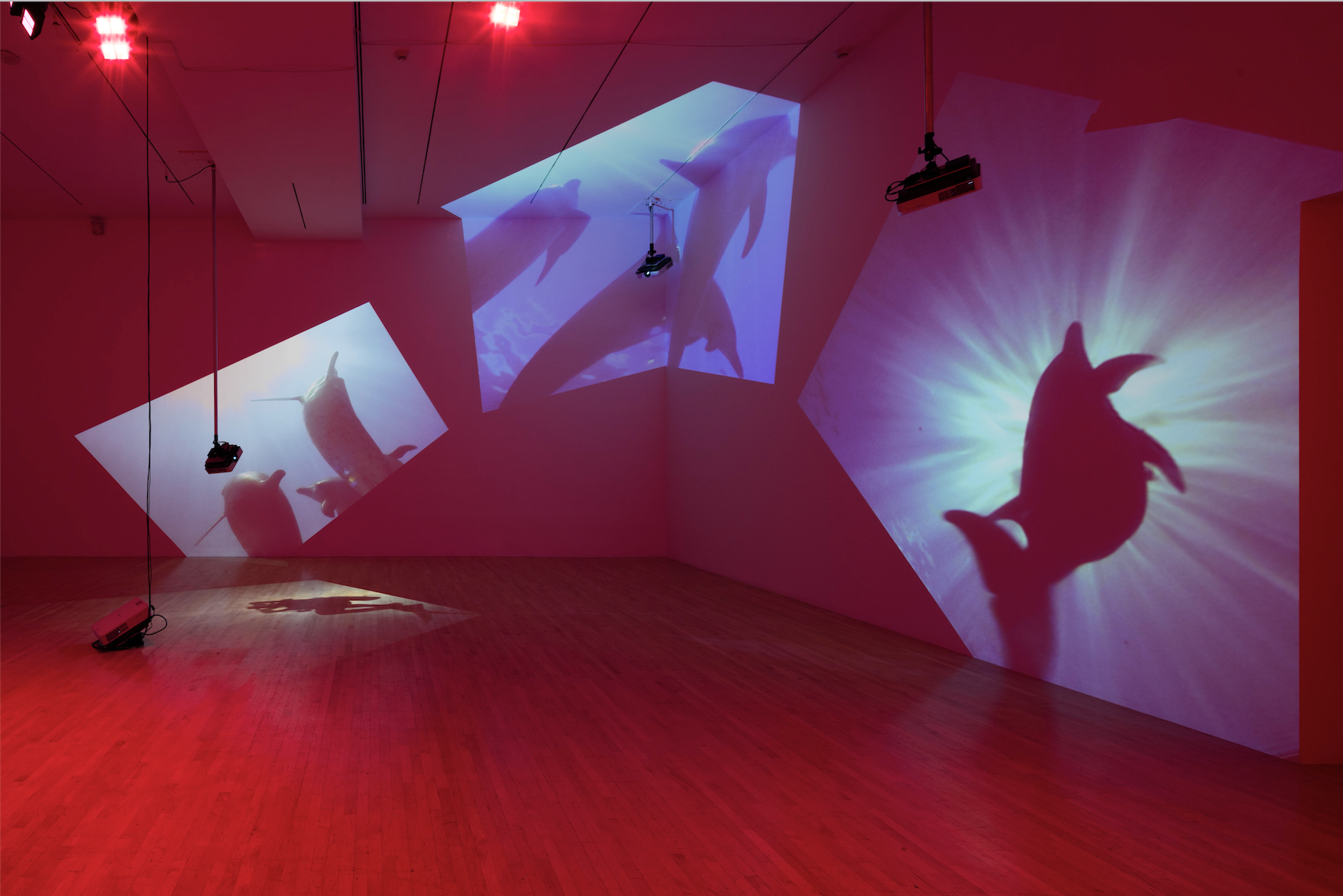 For the wall-mounted video walls, like the Day for Night series, we are using a variety of LED monitors, and the point there is to have as thin a bezel as possible so that the space between each panel in the grid is as minimal as can be. The trick with those is to align them carefully on the wall. It's an iterative process. As you mount the monitors on the wall, you get one part right, and then something else is off. You just keep fine-tuning until you end up with as flat and level a plane as possible.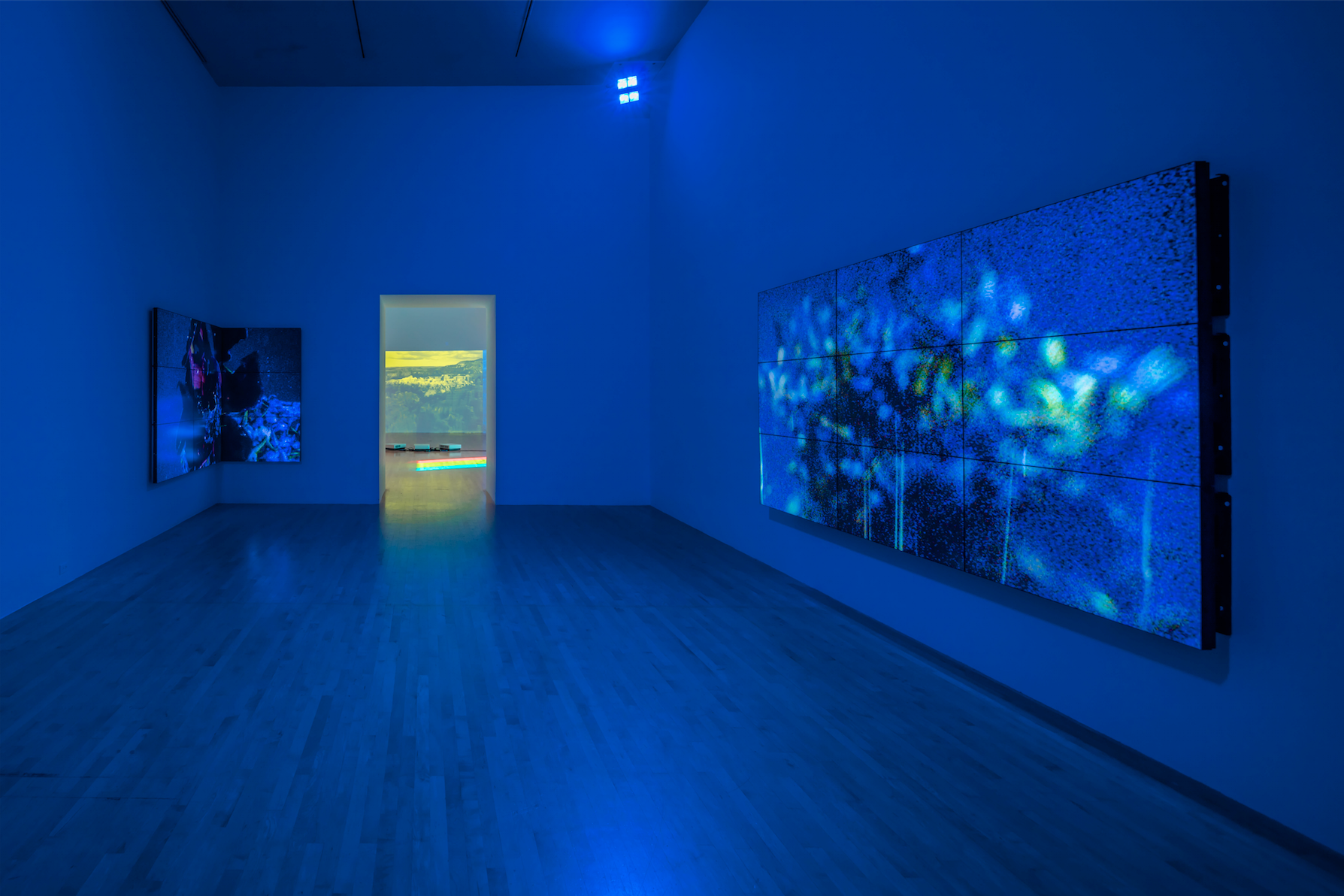 Diana's works change technologically over time, so where the original installation manual for a piece may have indicated a projector with a certain number of lumens, she will update the work to be played back on the contemporary equivalent. She updated several works from needing heavier DVD players and synchronizers to digital players, which are much smaller and could be attached to the projector mounts by aluminum plate, instead of on the floor. Traditional projector mounts are designed to be pretty flat, so they would not allow for the range needed for the way Diana tilts her images. Instead, each one is mounted on a special, heavy-duty camera tripod system.
What about color and calibrating her original creation to the display settings?
It's often a challenge to translate the artist's intent. In our case, we were lucky to have her here to guide the process. She has a clear vision of what she wants the works to look like in this space, how the color-saturated galleries complement or compete with one another. These works have been installed in many different environments, and she accommodates those changes.
Then, it's just a matter of translating how she wants it to look in a particular space. She'll say, "Okay, let's really beef up the contrast on this. Let's over-saturate it." These changes are being made after the work is installed. We're making adjustments with the projectors, the panels, or the monitors. 
Were there any challenges with installing any works?
The big challenge, and the one I was the most worried about during planning, was A Cast of Falcons in BCAM. It's a four-projector video work that started from a series of smaller pieces that were the source for this new work in our exhibition. The wall it's projected on is 100 feet long and just over 20 feet tall, with a glass ceiling above.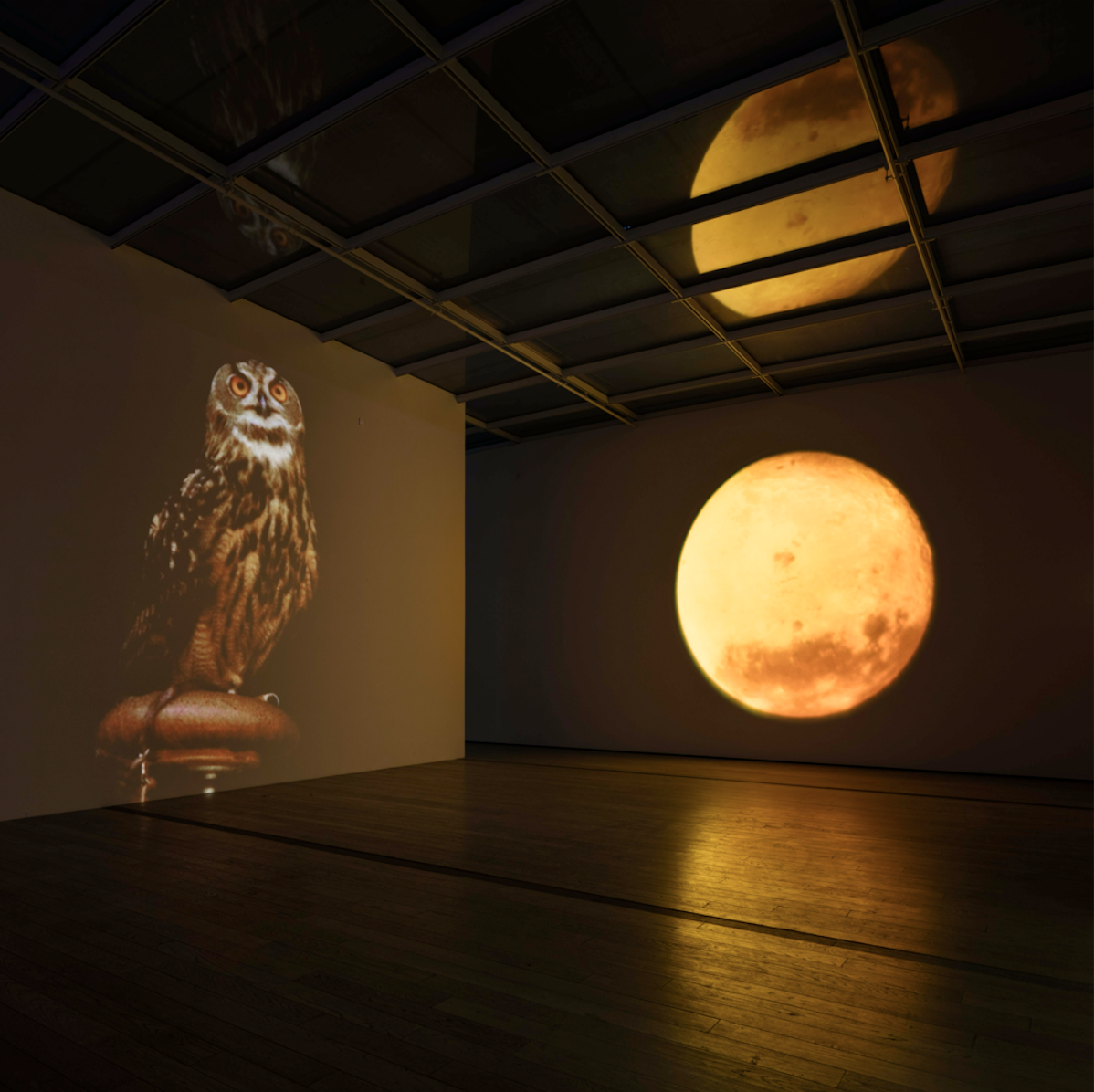 Diana designed the work to have large-scale video moving slowly across the entire flat surface. It's four projectors but the computer has to stitch the image across as it pans, so they have to be very precisely aligned. 
I didn't know for a long time if we would be hanging projectors with custom mounts from the ceiling, or if we would be mounting projectors from the back wall. The concern was finding a solution that didn't jeopardize the roof, which would obviously be a problem. Aside from that, there could have been a fair amount of motion from the ceiling that translates down to the projectors, which would cause a wobble. With the set-up of the work, it would be very obvious if something was moving unintentionally. We ended up changing our lens strategy and projecting from the back wall, and that has proven to be rock solid. I'm happy we came up with a good solution! 
And finally, what was it like working with Diana?
It's been a pleasure working with her throughout this entire process. She knows what she wants, but she's adaptable to things that come up in the process, and is able to get the results one way or another. It's pretty ideal to work with someone with such a clear vision, who is able to either do it themselves, as she often is, or work with others to produce the desired results. I love Diana's work, and it's a dream project to install, so I'm thrilled that it's up!
Diana Thater: The Sympathetic Imagination is on view through April 17 (Part 2 closes on February 21). Visit the Reading Room for the exhibition brochure.