LACMA has been given an unexpected opportunity to host an additional exhibition this year: Royal Hawaiian Featherwork: Na Hulu Ali'i proved to be an irresistible temptation, even though we had a short eight weeks to plan and install it! 
The exhibition consists of over 70 brilliantly colored cloaks, capes, mahiole (headdresses), kahili (standards), and lei crafted from hundreds of thousands of feathers from indigenous Hawaiian birds. We also added selections from LACMA's new collection of photographs from Polynesia to enlarge the story of the Hawaiian monarchy and their remarkable featherwork regalia.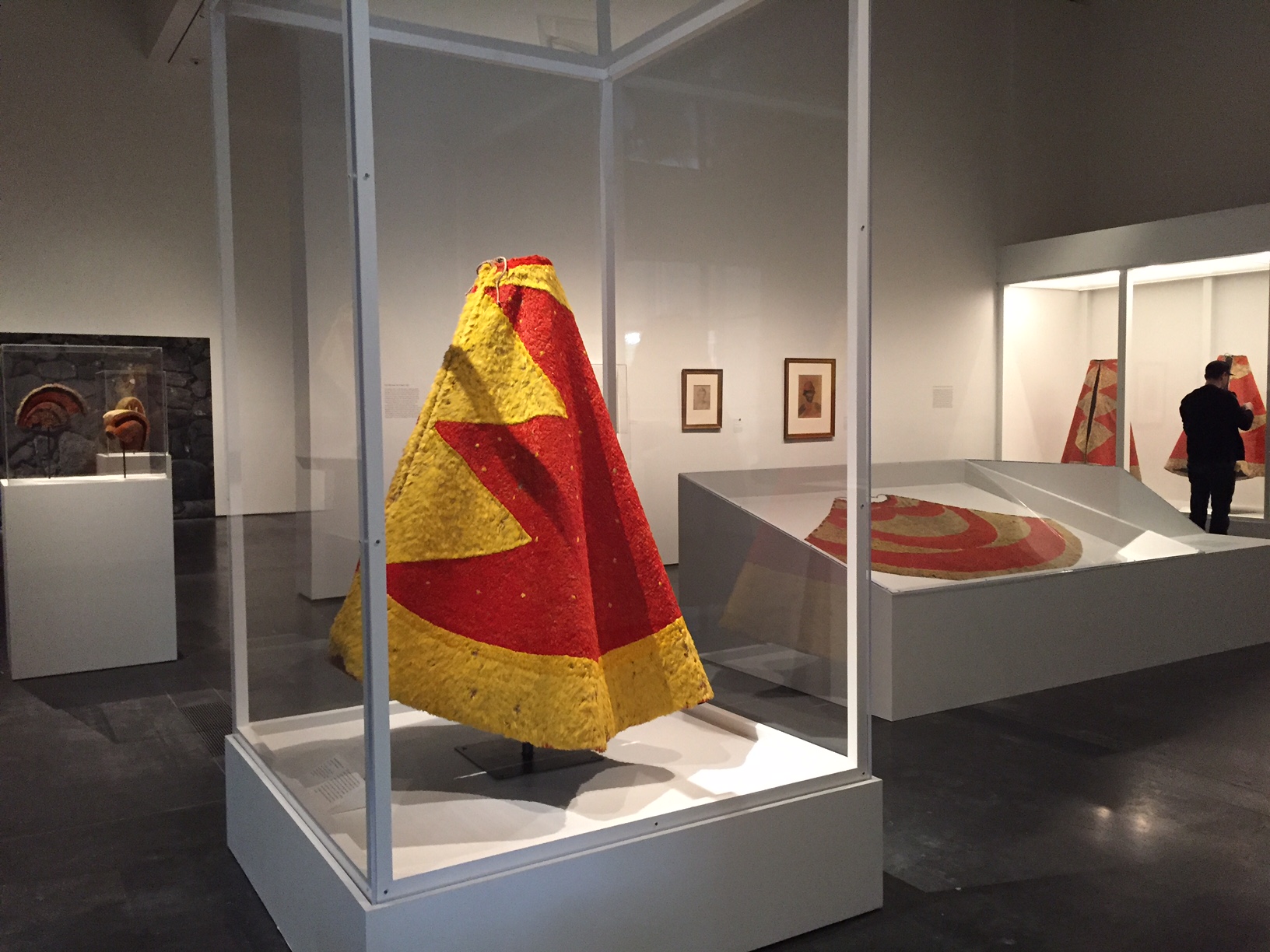 Part of the challenge of presenting significant historic material from a relatively nearby indigenous community is that proper protocol dictates that the objects be "welcomed" by the local indigenous people—in the case of the Los Angeles basin, representatives of the Tongva/Gabrieleno peoples. We arranged for this initial protocol to take place May 9, the day staff began installing the exhibition, and to repeat the welcome for a wider audience on May 22, the exhibition's public opening.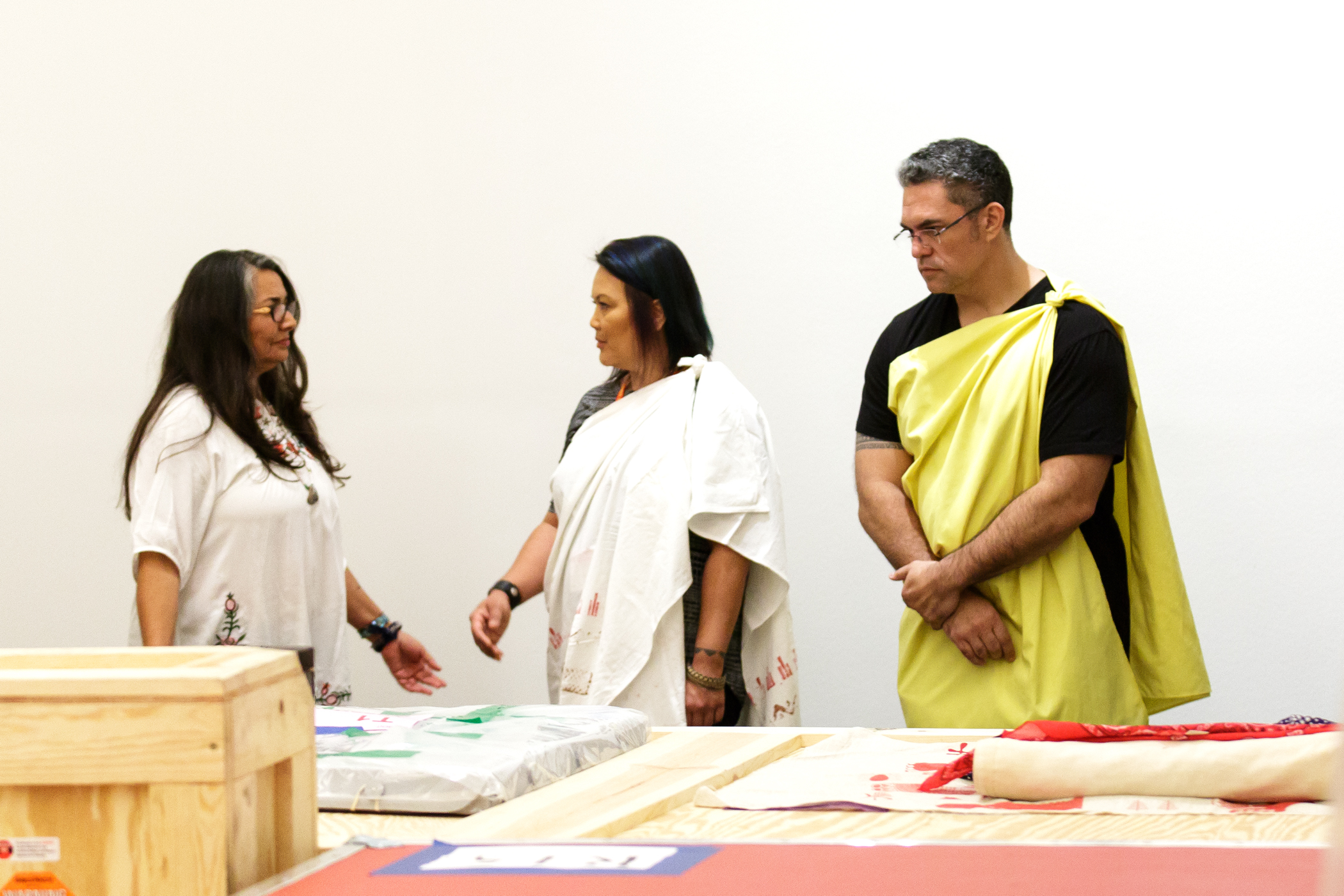 Cindi Alvitre of the Ti'at Society served as the representative of the Tongva peoples, and was joined by Kamalu du Preez, representing the primary lender, the Bishop Museum, and Kama Moiha, of the Mainland Association of Hawaiian Civic Clubs.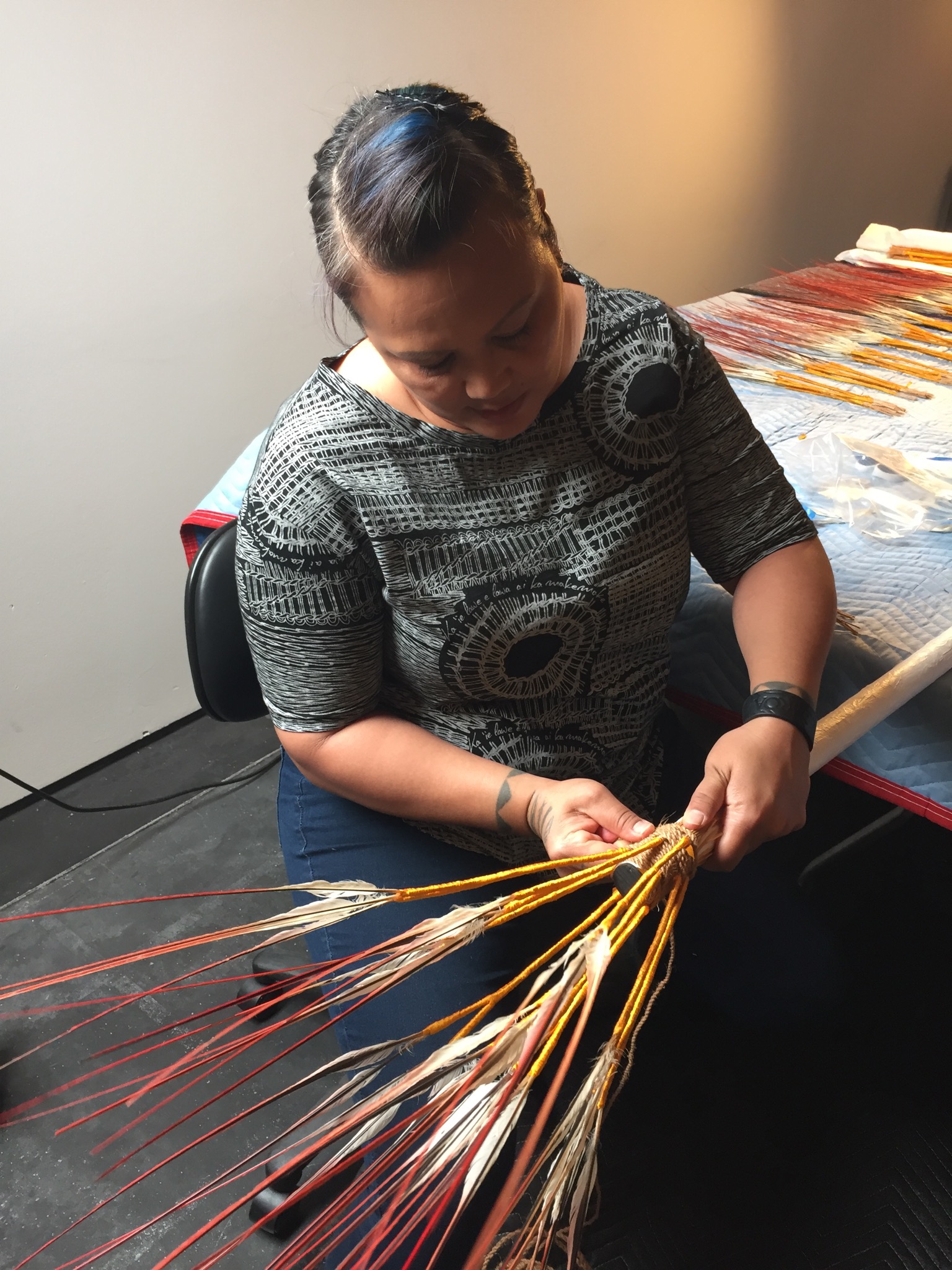 Installation of the exhibition proceeded with great care. LACMA conservators, registrars, and preparators collaborated with representatives from the Bishop Museum to unpack and position the works. Below, Kamalu and LACMA's associate objects conservator Silviu Boariu examine a wonderful cape that once belonged to Kaumuali'i, the chief of Kaua'i, dating to the late 18th century.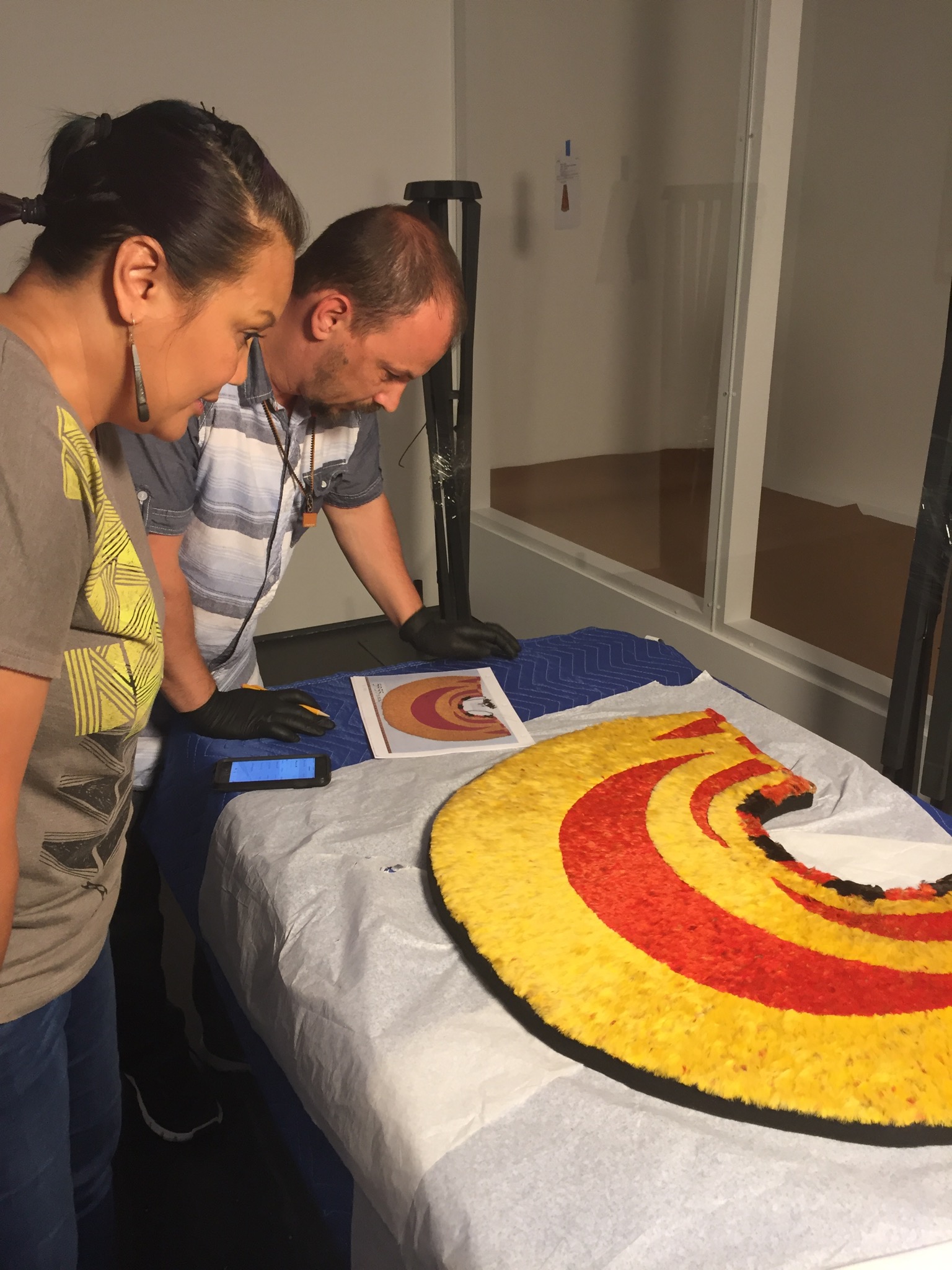 The works had been packed and traveled with substantial care. The multiple examples of lei hulu, delicate feather leis, were packed suspended in individual fabric "hammocks" that allowed them to move freely during transit and avoid unnecessary friction from packing materials.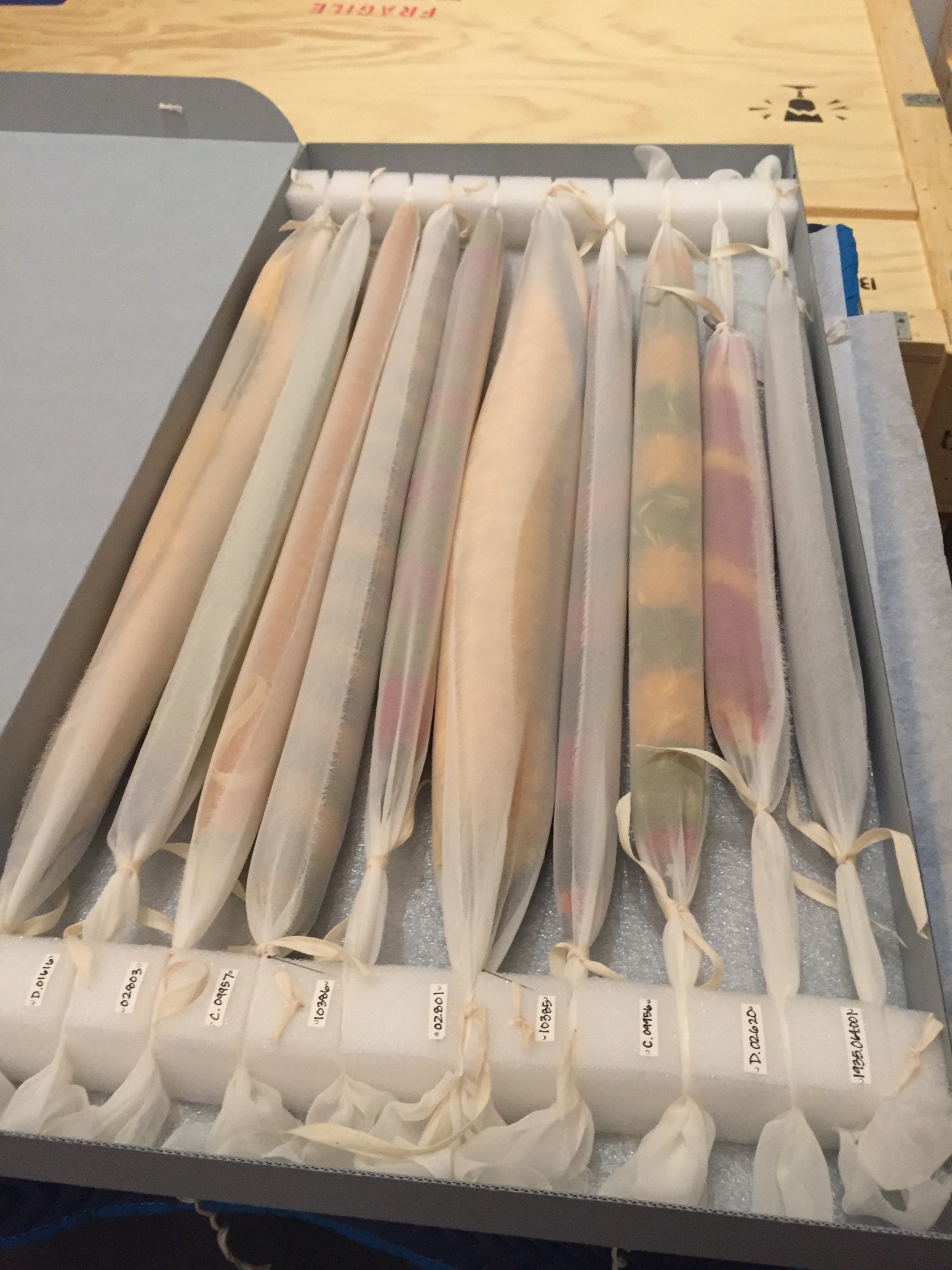 On Sunday, May 22, we officially welcomed the collection to LACMA with a public ceremony, again beginning with the representatives the Tongva peoples, led by Chief Anthony Morales of the Gabrieleno/Tongva San Gabriel Band of Mission Indians and Cindi Alvitre. Representatives of LACMA, the Bishop Museum, and the de Young Museum of San Francisco attended, as well as members of the Mainland Association of Hawaiian Civic Clubs. Male dancers from the renwoned Hula Halau 'O Lilinoe, Na Pua Me Kealoha, led by Kumu Hula Sissy Kaio and Lilinoe Kaio performed a Kahiko (ancient hula). Members of the Mainland Hawaiian Civic Clubs from Southern California led a procession to the galleries to open the exhibition. 
Dance to welcome Hawaiian Featherworks from LACMA on Vimeo. 
In the month of July, bring your family to Andell Family Sundays, which will feature programs dedicated to art-making, performance, and storytelling of the Pacific.
Royal Hawaiian Featherwork: Na Hulu Ali'i is on view at LACMA through August 7.