In preparation for the upcoming exhibition Guillermo del Toro: At Home with Monsters, LACMA is holding a very specific book drive on Sunday, June 19, 2016. We want copies of Mary Shelley's Frankenstein, Charles Dickens's Bleak House, books written by Edgar Allan Poe, and books written by H. P. Lovecraft, for possible inclusion in the exhibition. The first 500 book donors will each receive one complimentary general admission ticket to be used that same day, on Sunday, June 19 (this does not include admission to the exhibition, which opens on August 1). Already a LACMA member? In addition to receiving your general admission member benefit that day, LACMA members who participate in the book drive will receive another general admission ticket for June 19.
Here are the details of the book drive:
What: Your Frankensteins, Bleak Houses, Poes, and Lovecrafts in any edition, any language, paperback or hardcover. You can donate as many books as you like, provided they meet the guidelines. 
When: Sunday, June 19, 2016, from 10 am to 5 pm. But come early—we'll wrap up the book drive once we have enough!
Where: Drop off your books on LACMA's BP Grand Entrance (behind Chris Burden's Urban Light). Look for our team of volunteers stationed at a table ready to accept your donation. 
Please note: Only in-person donations will be accepted—please do not mail books to us! We'll ask you to fill out a book donation release form, which transfers the books' ownership to us; whether we use the books in the exhibition or not, we are unable to return the books to you.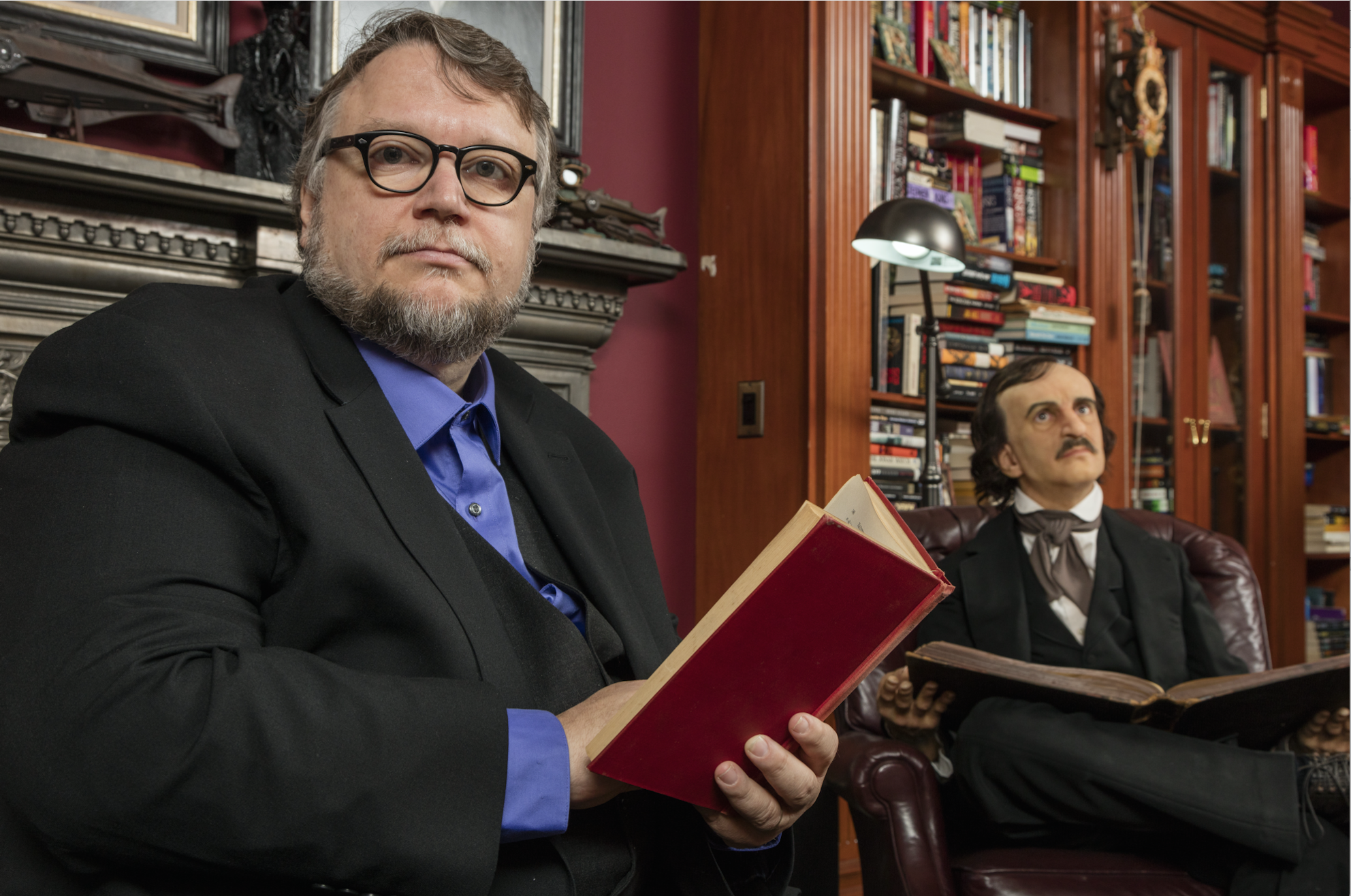 Literature is an important source of inspiration for del Toro, who has been an avid reader since childhood. His home, Bleak House, is named after Dickens's 1853 novel and, like the Victorian original, del Toro's Bleak House is "one of those delightfully irregular houses where you go up and down steps out of one room into another, and where you come upon more rooms when you think you have seen all there are, and where there is a bountiful provision of little halls and passages."
Del Toro's affection for Edgar Allan Poe also dates to his youth. "When I was a kid," he recalls, "one of my favorite writers was Edgar Allan Poe. He has that beautiful tale, 'The Fall of the House of Usher.' Essentially, Crimson Peak [del Toro's 2015 film] is a cross between a classic gothic romance, like 'Jane Eyre' or something like that, and 'The House of Usher.' I tried to capture the dark spirit that gothic romance has."
Frankenstein, by Mary Shelley, is a spiritual touchstone for del Toro, who encountered the 1818 novel after seeing the classic 1931 James Whale film version starring Boris Karloff. In the novel, he finds a powerful analogy for creativity, for his urge as a filmmaker to create something noble from used, discarded, and diverse source materials. Moreover, Frankenstein's monster "touches on the fundamental questions of why we are here, why we exist. It's a monster conceived as a universal symbol: It is man."
Del Toro has been attempting for years to make a feature-length adaptation of H.P. Lovecraft's 1936 novella At the Mountains of Madness. He greatly admires Lovecraft (whose works initially appeared in pulp magazines) for his contributions to the horror and science-fiction genres: "Lovecraft did something very interesting with the traditional gothic and horror narrative. He brought a scientific and existential point of view to it. Both notions were supposedly modern, but his phobia for most everything was very primitive. He encapsulates the cosmic horror and methods of madness—which is the insignificance of man in the cosmic symphony—by disguising it as a science fiction/horror narrative. But the conclusion he always arrives at is that on the other side of perception—real perception of the world—lies madness."
We can't guarantee that your books will end up in the exhibition, but we hope you'll return to LACMA when it opens on August 1 to find out! Members-only advance ticketing begins July 20; join now to reserve your free ticket. Follow #GDTatLACMA on all social media—we'll also post updates about the book drive on Twitter on June 19.