Royal Hawaiian Featherwork: Nā Hulu Ali'i showcases rare, exquisite feather-covered objects made for Hawaiian royals in the late 18th to late 19th centuries. As we prepared for the exhibition and paged through the catalogue, we found a trove of words for everything from extinct species of honeycreepers to traditional Hawaiian gods. Read through these excerpts from the glossary, and take a mental trip to Hawai'i's vivid past: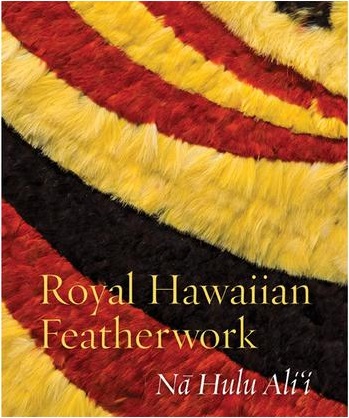 'Ahu 'Ula – Royal cloak. Cape or cloak made of feathers, usually yellow from the 'ō'ō bird and red from the 'i'iwi bird, as well as other colors from other birds, attached to a netting of fibers; once worn by kings and high chiefs.
'Akialoa – Extinct, endemic Hawaiian honeycreepers with olive and yellow green feathers and large, sickle-shaped bill.
Akua– 1) A divine being, such as a god or goddess; 2) a physical representation of, or receptacle to be inhabited by, a god, made of feather, wood, or stone.
Akua Hulu – Feathered-god image; usually a rigid fiber structure, covered with feathers, in the shape of an anthropomorphic head. The images are considered to be receptacles for gods such and to possess their spiritual power.
Ali'i – Members of the chiefly and royal class.
Aloha – Love, affection, sympathy, regards.
Artificial Curiosities – a term used in the late 18th and early 19th centuries to describe ethnographic human-made objects (as opposed to natural curiosities) collected by early European explorers of the Pacific.
'Aumakua – A god exclusive to an individual or family.
Axillary – A feather found underneath a bird's wing, between its wing feathers and body. The Hawai'i 'ō'ō had the largest axillary feathers of all 'ō'ō species, making it easy to identify in featherwork.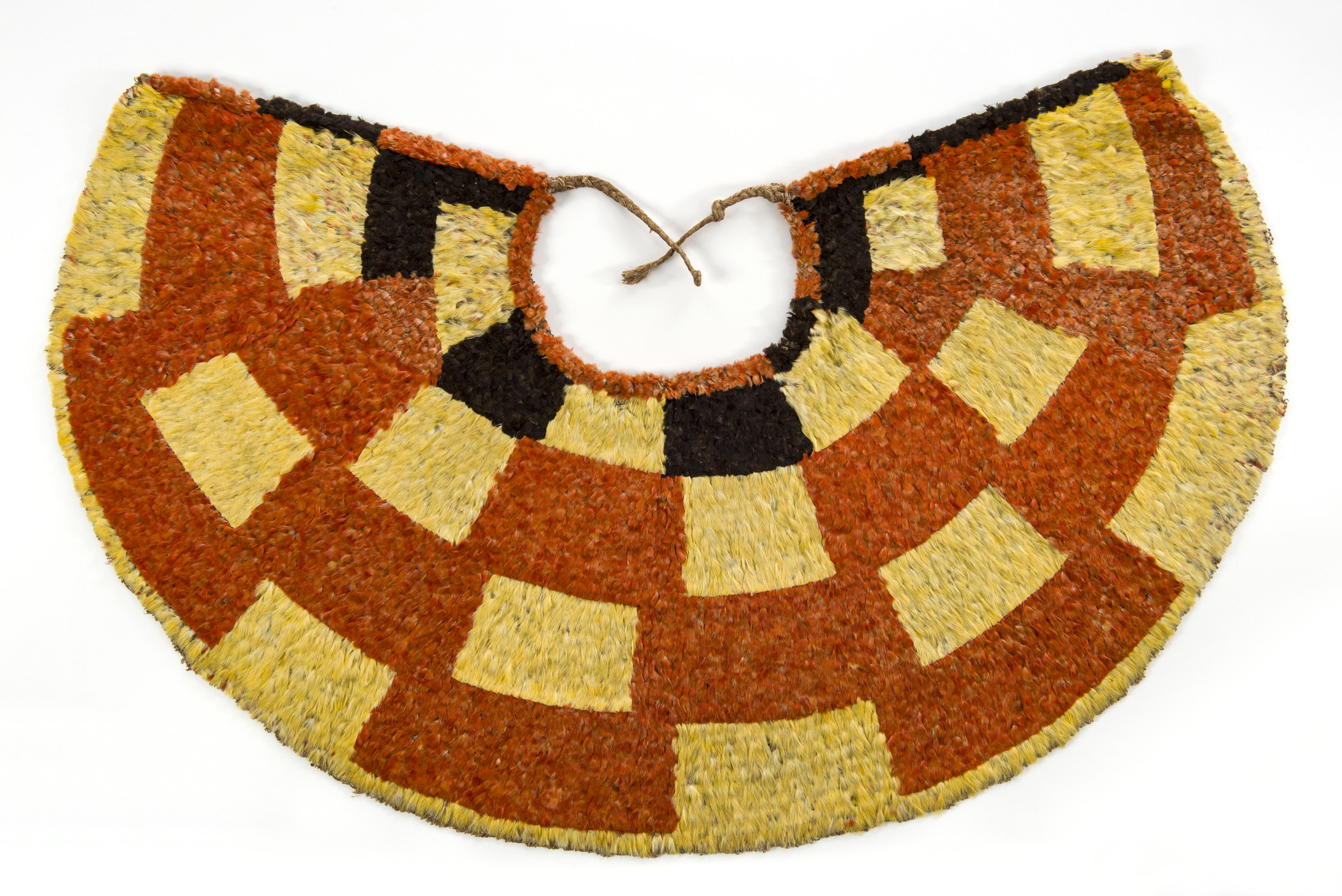 Ha'ina – 1) A statement; 2) An answer to a riddle.
Hanai – Foster child, adopted child; the custom of informal adoption in Hawaiian and other Polynesian cultures.
Haole – 1) A foreign person; 2) something of foreign origin.
Heiau – A traditional Hawaiian structure where worship took place.
Hilo – To braid or plait; one of the methods used to fabricate featherwork.
Hulu – 1) Feather; 2) allegorically, an esteemed object or person.
Hulu o nā manu – Bird feathers.
Humu – To stitch, or bind; one of the methods used to fabricate featherwork.
'I'iwi – Endemic Hawaiian honeycreeper with vermillion red feathers and a coral-colored down-curved bill.
Kāhili – A feather standard or staff, symbolic of royalty, usually composed of a cylindrical head of feathers attached to a wood pole or handle.
Kāne – The paramount Hawaiian god of creation and the ancestor of humans; a god of sunlight, fresh water, and forests, to whom no human sacrifices were made.
Kaona – Concealed allegorical or double meaning, usually in the words of a song or poem.
Kapu – A prohibition or taboo; something sacred, or forbidden.
Kapu System – The traditional Hawaiian system of religion and social behavior that dictated acceptable practices for all members of society, ending in 1819 during the reign of Kamehameha II (Liholiho).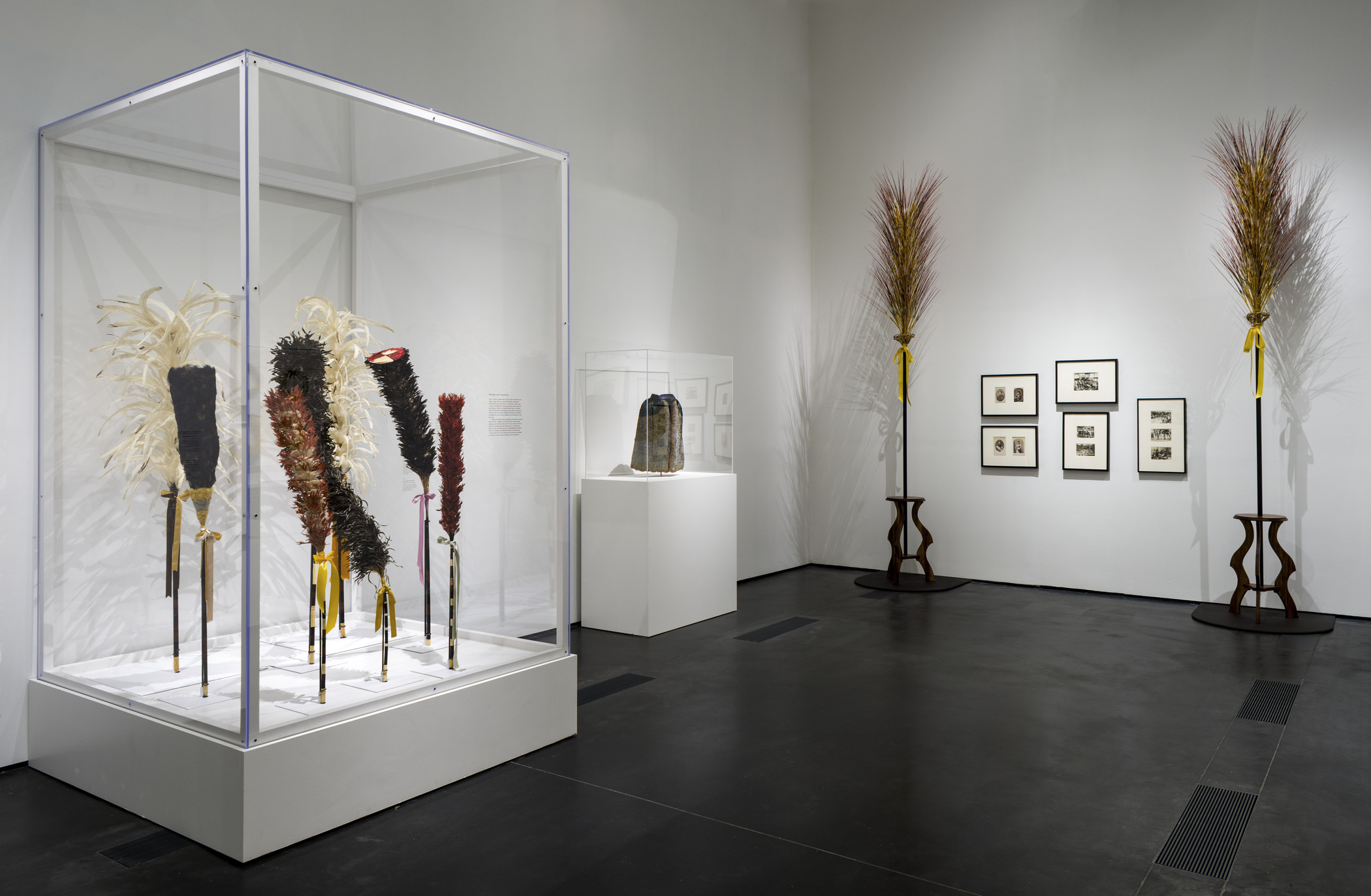 Ka'upu – Large indigenous seabird (black-footed albatross), with nearly all black feathers.
Kī – Polynesian-introduced woody plant. The broad leaves were used for house thatch, food wrappers, sandals, and rain capes for kia manu (bird catchers).
Kia Manu – 1) The specialized profession of bird catching, which is no longer practiced; 2) the process of bird catching using glue-like substances spread on branches where desired birds would alight.
Kino Lau – The many forms or physical manifestations assumed by supernatural beings.
Koa – Large endemic tree of the bean family valued for its timber, used to build voyaging canoes; among the principal canopy trees in wet to semi-wet native forest bird habitats.
Kῡ – A god representing male procreative power, often paired with Hina, his female counterpart. He is best known as a god of war.
Kumu – 1) Teacher; 2) a specific source of knowledge or practice; 3) stem or handle, as of a kāhili.
Kupuna – 1) Relative of one's grandparents' generation; 2) ancestor; 3) source.
Lani – 1) The sky, the heavens; 2) a high chief, royal.
Lei – 1) A garland or necklace that can be made of many different materials, worn on the head or around the neck; 2) figuratively, a beloved one.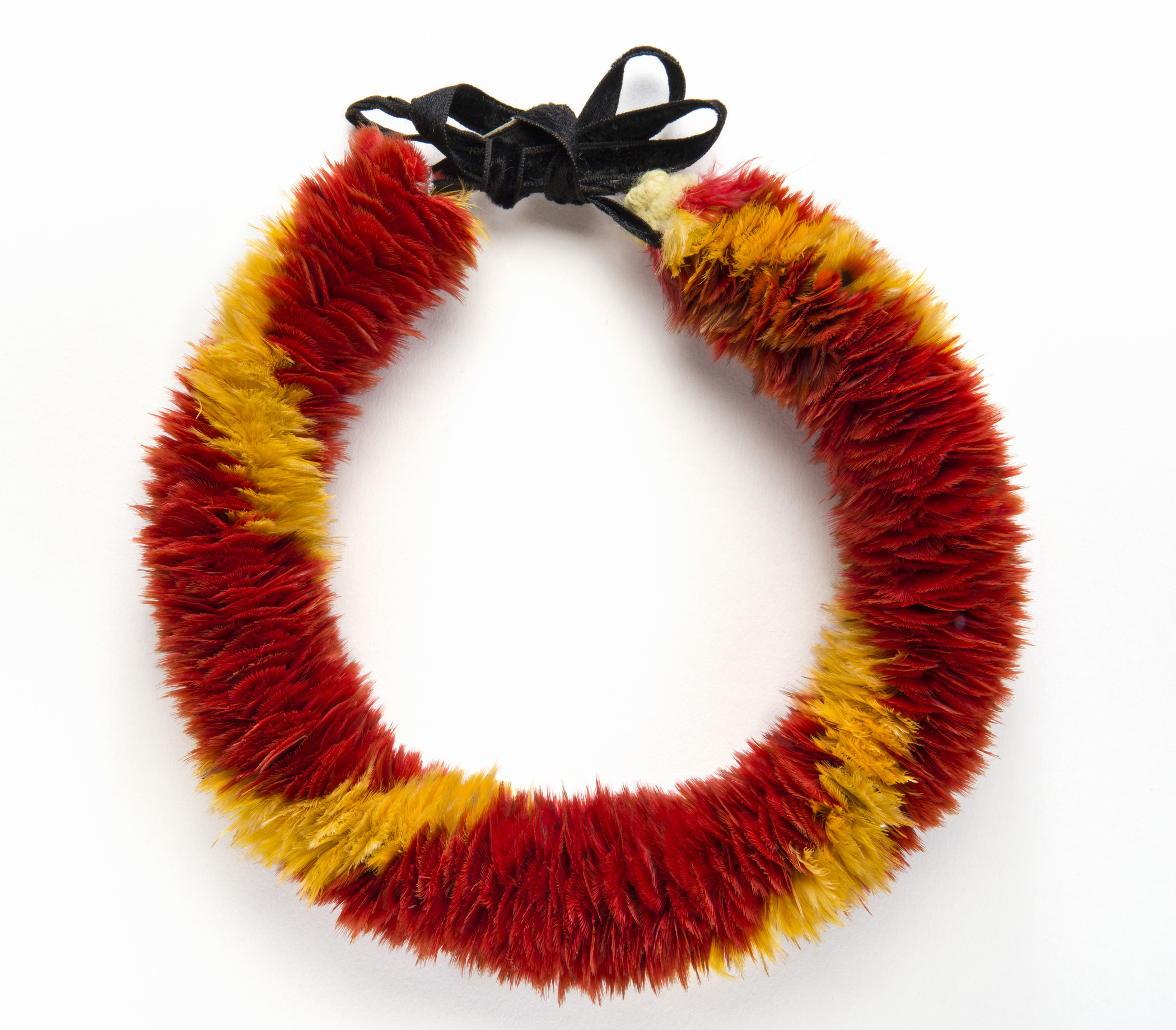 Lono – A god of the sky and sea, agriculture, and fertility. Lono temporarily took precedence over the god Kῡ during the annual Makahiki season, when his image was carried in processions to receive tributes.
Mahiole – A helmet composed of a stiff fiber structure sometimes overlaid with netting, and covered with feathers.
Malo – Loincloth worn by males.
Mamo – Extinct native Hawaiian honeycreepers. The yellow-and-black-feathered honeycreeper was found on Hawai'i Island. The black-feathered honeycreeper was found only on Moloka'i.
Mana – Supernatural power, or power and authority intrinsically held by royal persons, or contained in certain objects.
Mele – Song or chant.
Mohoea – Hawaiian rail, an extinct native flightless bird; often used as a metaphor for a tenacious person.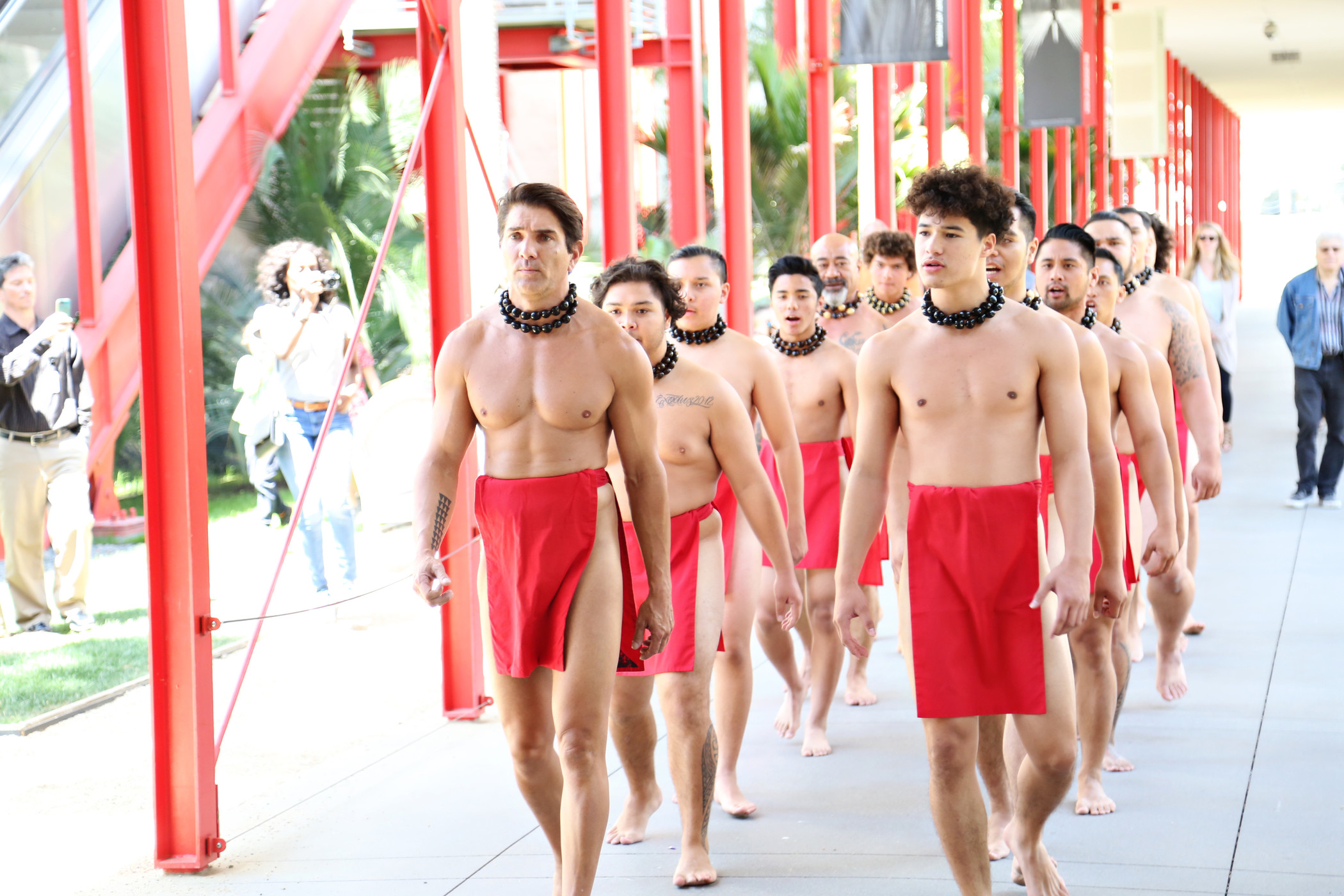 Moko'ula – A small, inland island within a pond in Lahaina, Maui; a seat of traditional religious and political life, home to Maui's chiefly lines, and the capital of the Kingdom of Hawai'i until 1844.
Monarchy Period – The Kingdom of Hawai'i, spanning from c. 1810 with the reign of Kamehameha I to the 1893 U.S. coup d'état and the emergence of the Provisional Government.
Mo'olelo – Prose narrative; story or history.
Nāki'i – To tie; one of the methods used to fabricate featherwork.
Nane – Traditional form of riddling.
'Ōhi'a Lehua – The principal tree in Hawaiian native habitats; the red, orange, yellow, or white flowers of this morphologically variable endemic species produce abundant, high-quality nectar, a critical resource for native nectar-feeding birds.
Olonā – Endemic flowering shrubs of the nettle family. The inner bark, renowned for strength and durability, was used as a source of fiber for nets, including the net structure of feathered capes and cloaks.
'Ō'ō – Extinct, endemic Hawaiian honeyeater with mostly black feathers and a slightly curved black bill. All but one of the species had yellow axillary feather tufts.
Otaheitan – Of or relating to Otaheite (Tahiti) or its people; in the 18th century, this English term was used for any Pacific Islander, including Hawaiians.
Owhyee – 18th-century English transliteration of "Hawai'i."
Pā'ῡ – A skirt.
Pelerine – A woman's cape with long, pointed ends that extend downward in the front; in a 19th-century adaptation of this style inspired byahu 'ula (feather capes), feathers were affixed to a fabric backing.
Rachis (pl. rachises) – The central shaft of a feather.
Rectrix (pl. rectrices) – one of the stiff, main feathers of a bird's tail.
Tippet – Cape; in a 19th-century adaptation of this style inspired by ahu 'ula, feathers were affixed to a fabric backing.
'Ula – 1) The color red or scarlet; 2) sacred, royal (probably because red was a sacred color).
Wao Akua – One of the traditional Hawaiian realms of the physical world: the high mountain peaks, inhabited only by akua (spirits).
Wao Kanaka – One of the traditional Hawaiian realms of the physical world: the midrange area between the ocean and the mountains where people live.
Wili – To wind or twist, to weave together; one of the methods used to fabricate featherwork, primarily lei (garlands) and kāhili (feather standards). It was also used along the necklines and front edges of capes and cloaks.
Royal Hawaiian Featherwork: Nā Hulu Ali'i is on view in the Resnick Pavilion through August 7.