LACMA has acquired a total of 39 significant prints by John Baldessari, Roy Lichtenstein, Claes Oldenburg, Robert Rauschenberg, Ed Ruscha, and Frank Stella, all produced at Gemini G.E.L., the renowned print workshop on Melrose Avenue co-founded by Stanley Grinstein and Sidney Felsen in 1966. Spearheaded by Gemini G.E.L., the acquisition includes 31 prints gifted by Gemini, as well as seven from Dorothy Lichtenstein, and one from Sidney Felsen and Joni Weyl. Many of the gifts will be on view in The Serial Impulse at Gemini G.E.L., opening at LACMA on September 11.
Gemini G.E.L. donated a total of 31 prints including:
Six prints by John Baldessari belong to the series A French Horn Player, A Square Blue Moon, and Other Subjects (1994). The images were selected by the artist from his extensive personal collection of advertisements, magazines, and film posters and then cropped and re-composed to his own artistic ends. This gift will not be on view, but the series will be represented in the exhibition with impressions from the National Gallery's collection.
Claes Oldenburg's Notes (1968) comprises 12 lithographs and 12 sheets of text representing a selection of sketches made during a two-month stay in Los Angeles. Each image is accompanied by text in which the artist makes curious visual associations and notes sources of inspiration, many of which relate to the city. Examples include his plan for a "New Pasadena Museum" in the shape of a cigarette pack, oil derricks beautified as ice cream cones, a geometrical Mickey Mouse, and a giant sculpture that conflates a vacuum cleaner with the La Brea Tar Pits. 
At Collectors Committee earlier this year, LACMA acquired a unique soft sculpture of a typewriter eraser by Oldenburg that joined a related drawing (Typewriter Eraser as Tornado) of the same subject already in the collection. Thanks to the generosity of Gemini G.E.L., LACMA will now have a trio of works (a sculpture, drawing, and print) devoted to the typewriter eraser, an object that fascinated the artist for almost 30 years. 
Ed Ruscha's Exploding Cheese, Cheese Oval, and Cheese Crescent (1976) belong to a series of five lithographs titled Various Cheeses, two of which (Eleven Pieces of Cheese and Cheese Circle) are already in LACMA's collection. Each print depicts chunks and crumbs of cheese displayed in various configurations against gray or variegated gray backgrounds. They appear suspended like celestial bodies in outer space but clearly belong to the earthbound and gastronomic domain. 
Frank Stella's Black Series I (1967) comprises nine lithographs examining the artist's large, monochromatic works on canvas known as the Black Paintings made between 1958 and 1960. The artist positioned the striped fields in the lower left quadrant of each sheet, incorporating the white/space of the paper and creating an asymmetry in the composition. This gift will not be on view, but the series will be represented in the exhibition with impressions from the National Gallery's collection.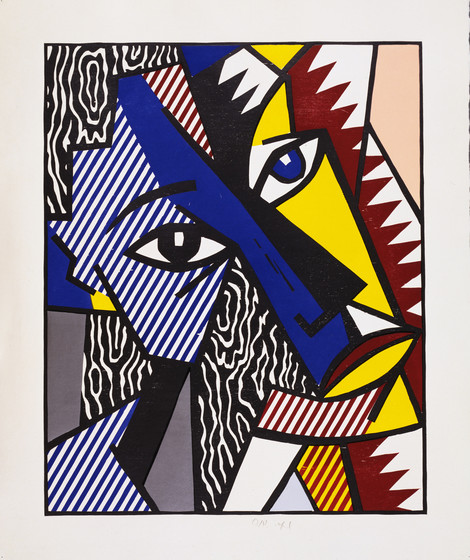 Dorothy Lichtenstein donated Roy Lichtenstein's Expressionist Woodcuts (1980), a series of seven woodcuts produced at Gemini G.E.L. During a visit to Los Angeles in 1978, Roy Lichtenstein studied Robert Gore Rifkind's collection of German Expressionist graphic art (now part of LACMA's collection). This series was his first work at Gemini G.E.L. executed in woodcut, the technique most closely associated with German Expressionist printmaking.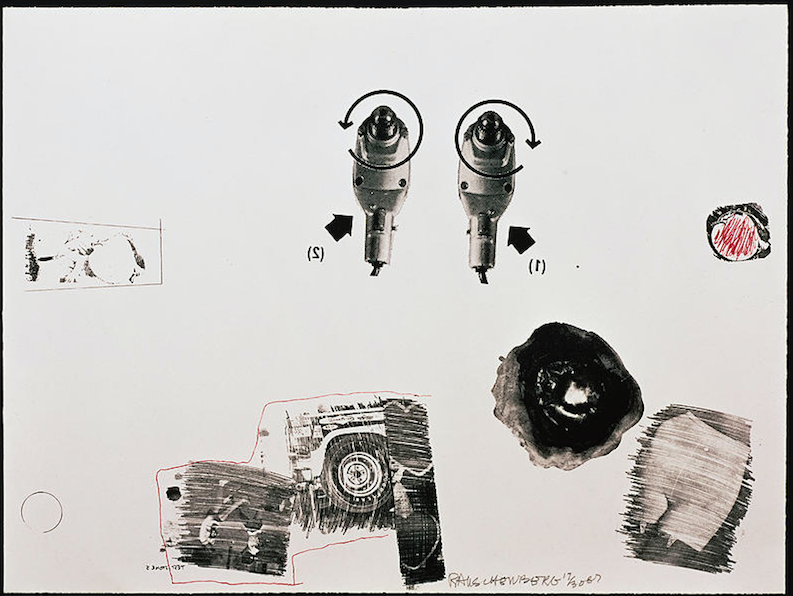 Sidney Felsen and Joni Weyl donated Robert Rauschenberg's Test Stone #5, part of his 1967 series Booster and 7 Studies. Notably, these were the artist's first prints made at Gemini G.E.L. and the starting point for a productive relationship with Gemini that lasted more than 30 years. As the series title implies, the seven Test Stone prints can be understood as studies in which the artist developed the iconography, techniques, and styles applied in Booster. LACMA currently owns Booster,Test Stone #2, and Test Stone #3, which will be on view in the exhibition. 
The Serial Impulse was organized on the occasion of Gemini G.E.L.'s 50th anniversary by the National Gallery of Art, Washington, where it was on view October 4, 2015–February 7, 2016. The exhibition explores the centrality of serial projects to Gemini's production from the very beginning and how the workshop's collaborative methods and embrace of technical innovation continue to provide artists with the resources to produce groundbreaking work in series. Check back in the coming months to learn more about Gemini G.E.L.'s relationship with artists and the artists' experiences in L.A.