Earlier this year, LACMA launched a brand-new type of membership program: one dedicated to creating a sense of community among members. In just over six months, this new group, LACMA Local, has grown to nearly 1,300 members (warmly referred to as "Locals"). Locals gather every other Saturday for events that offer a chance to make friends, participate, and connect.
One such recent event was Yearbook, a scavenger hunt inspired by the back-to-school season. Locals were tasked with searching for artworks that embodied classic superlatives from high school yearbooks, such as Class Clown and Best Dressed.
Locals were gathered into groups of six (enough people to make conversation less awkward, but not so many that you might feel lost), and given the following instructions:
Choose two people in your group to be "scribes" who will take notes

Choose an artwork that best suits your superlative

Answer these three questions:


What would your artwork's yearbook quote be?

What is your artwork's favorite song?


What is your artwork's plans after graduation?
Locals had about an hour to complete the assignment, gathering afterward for a bit of show-and-tell. Here are just a few highlights: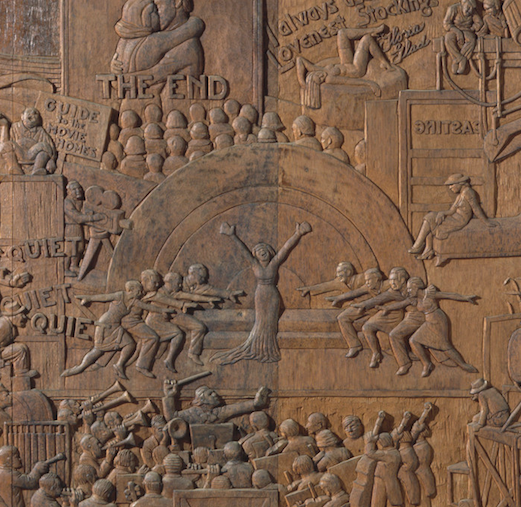 Biggest Drama King/Queen
Robert Witt Amers, Hollywood, 1935
Yearbook quote: "Some people never go crazy. What truly horrible lives they must lead." —Charles Bukowski
Favorite song: "Bitch" by Meredith Brooks
Plans after graduation: Conquer New York (Actually happened: Dropped out of Juilliard. Now in Sun City, AZ, at a facility for exhaustion treatment.)
Most Likely to be Internet Famous
David Hockney, Mulholland Drive: The Road to the Studio, 1980
Yearbook quote: "This whole world is wild at heart and weird on top." —David Lynch
Favorite song: "Bedford Drive" by Artie Shaw
Plans after graduation: Get as far away from here as possible.
Cutest Couple
Thomas Sully, Portrait of the Misses Mary and Emily McEuen, 1823
Yearbook quote: "A rose by any other name would smell as sweet."
Favorite song: "When We Were Young" by Adele
Plans after graduation: Headed to Cal Arts!
It was a delight to see Locals embrace "Yearbook" and engage with LACMA's collection in a fun, lighthearted way. After showing off their creative responses, several Locals stayed and had a casual picnic in the park, chatting further about their love of art and their plans for the rest of the weekend.
This October, we have two more events inspired by Guillermo del Toro in partnership with Zombie Joe's Underground Theatre Group, a troupe known for specializing in live horror performance. Each Local event includes an hour to view the exhibition, followed by a "how to be a zombie" workshop this Saturday, October 15, and a jack-o'-lantern carving workshop on October 29. Embrace your inner undead and come haunt the museum with other LACMA Locals!
LACMA Local may be added to a current LACMA membership for $25, or you may join a la carte for $40. Some events, including those in October, have an additional workshop fee to cover the cost of materials, but most are free with membership. Learn more and join!