László Moholy-Nagy was a Hungarian-born modernist, a pioneering painter, photographer, sculptor, and filmmaker as well as graphic, exhibition, and stage designer, who was also an influential teacher at the Bauhaus and a utopian who believed that art and technology together could make the world a better place. Exhibition curator Carol S. Eliel and research assistant Deirdre O'Dwyer recently took us on a tour of Moholy-Nagy: Future Present, on view through June 18, focusing on the Plexiglas sculptures from the last decade of Moholy's life, when he lived and worked in Chicago.
Developed in the 1930s, Plexiglas was used, among other industrial purposes, by the U.S. military for airplane windshields. In the 1940s, when Moholy made these sculptures, Plexiglas was definitely an unusual medium for art.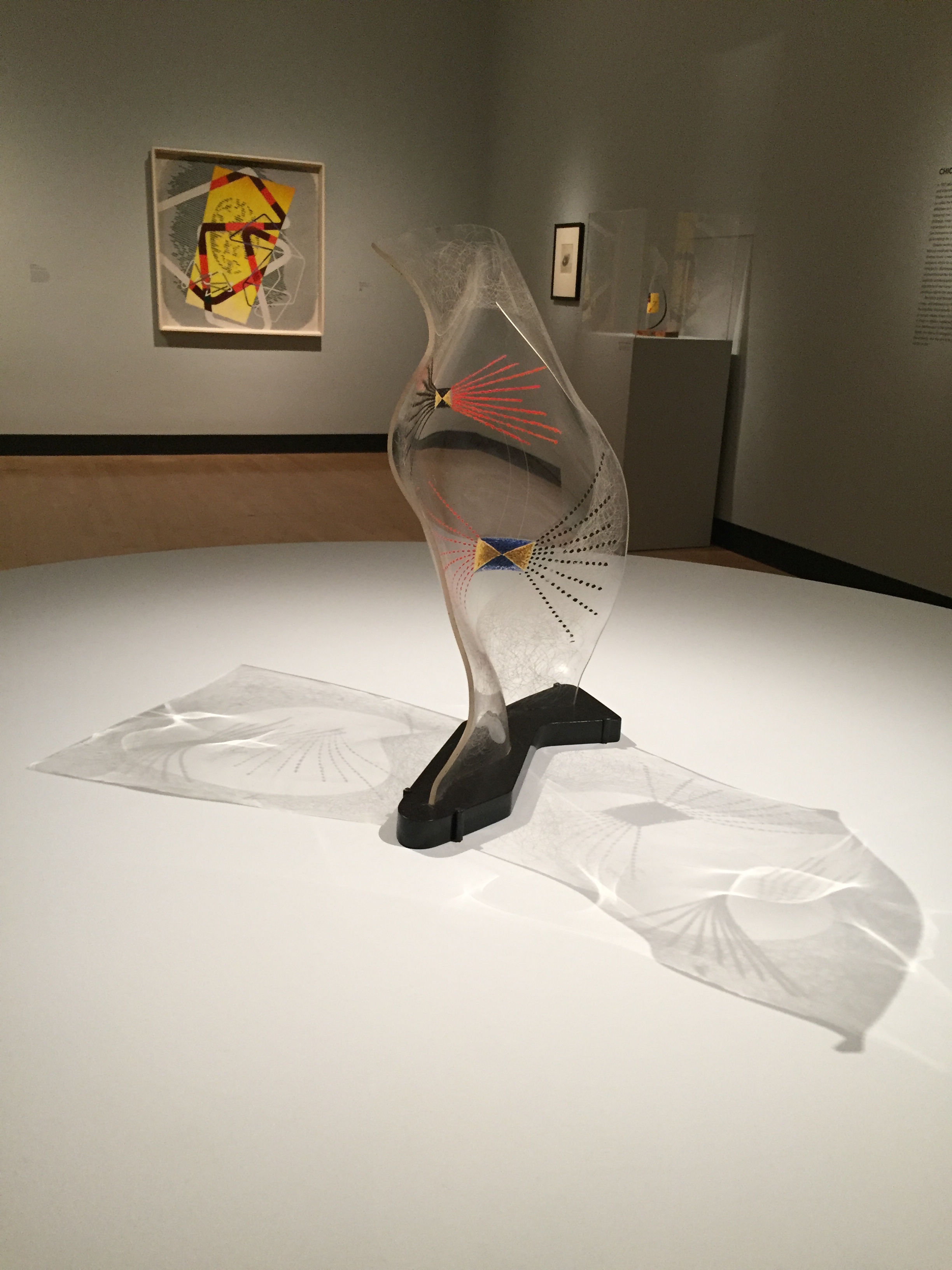 For Moholy, light, transparency, and shadow were as much a part of his Plexiglas sculptures as the material they were made of. Vertical Black, Red, Blue (1945), which is in LACMA's collection, is made of shaped Plexiglas. To make this and similar sculptures, he would take a sheet of Plexiglas, incise and paint it, and heat it in his home oven in order to shape it. When you walk around the piece in person, the incisions seem to disappear and reappear depending on your vantage point. They also cast shadows, which become a part of Moholy's Plexiglas works.
Moholy also made hanging sculptures out of thicker Plexiglas, which was often perforated; sometimes he also incorporated metal rods. He loved the notion of taking a motif and playing with it across different mediums.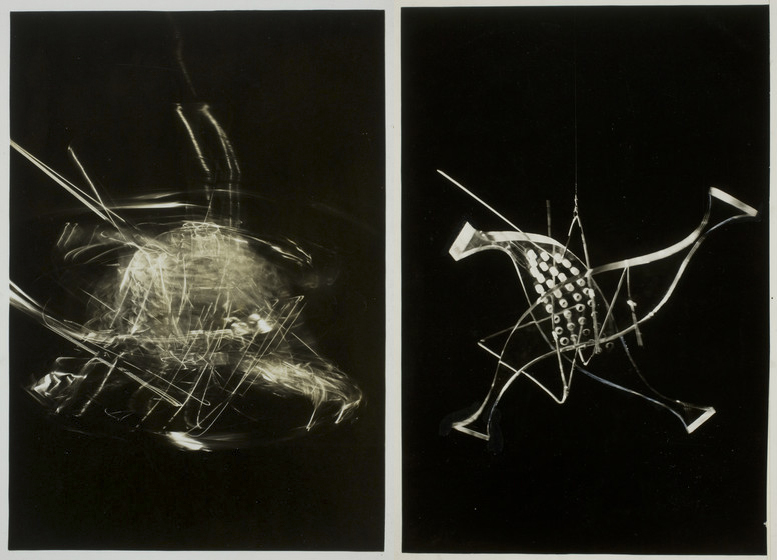 One particular hanging sculpture is pictured in two photographs (in motion and at rest), and elsewhere mirrored in paintings that riff off its solid and perforated Plexiglas shapes and its chromium rods.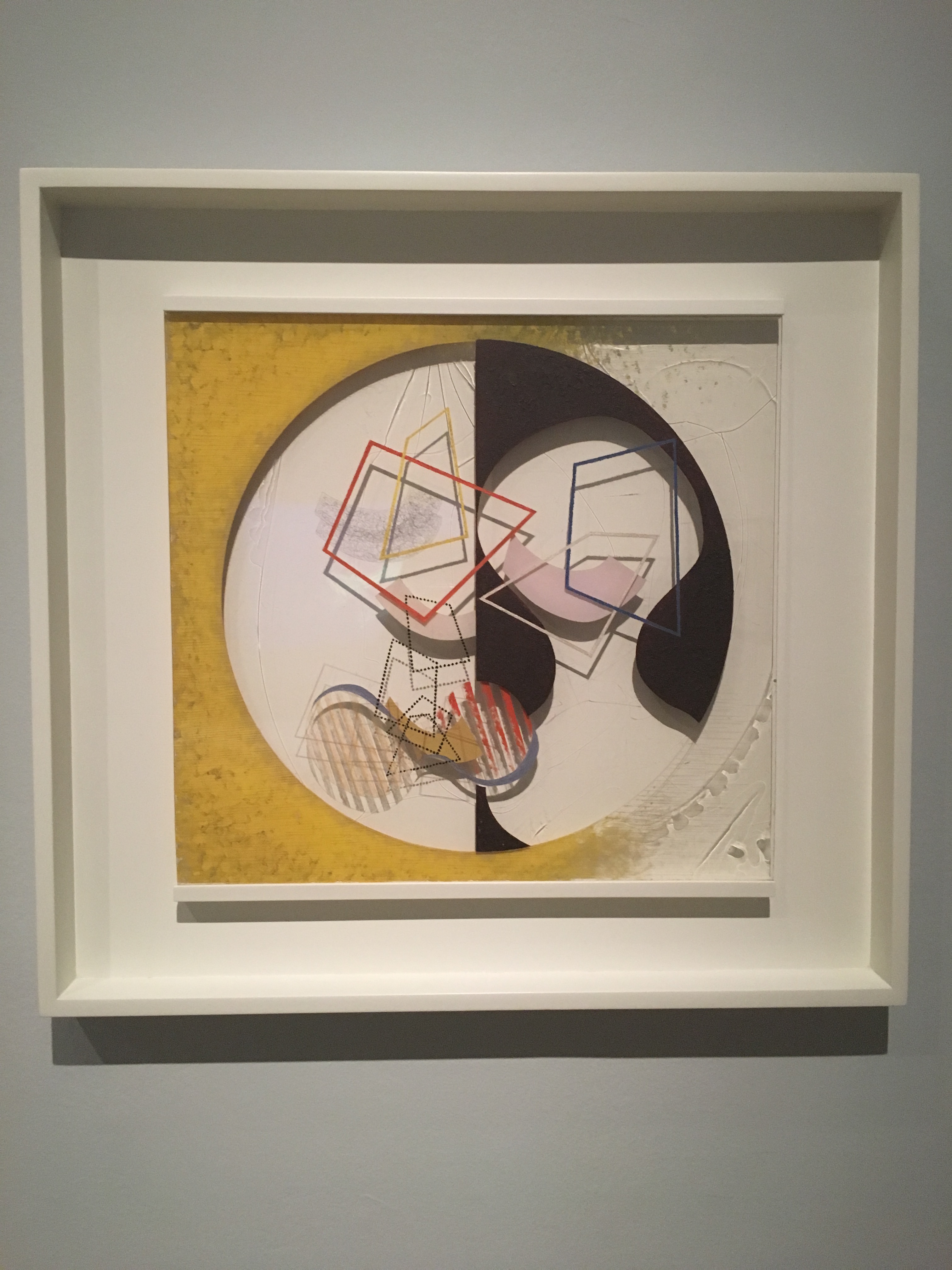 Light is an integral part of this hybrid of sculpture and painting, Space Modulator, which is installed at LACMA with two changing lights illuminating it. As we watch, the shadows change, helping us see volume and depth in different ways, enhancing our understanding of the work. In person, you can see that it's made of flawed Plexiglas, with bubbling and irregularities from the manufacturing process. Flawed Plexiglas was likely easier to obtain during the 1940s (when most Plexiglas was going to the war effort), and Moholy was excited to work with these cast-offs because of the organic forms and shadows they created.
Three adjacent hanging sculptures showcase the transparency and the transmission of light that Moholy prized in his work. One is made of bent and perforated Plexiglas, while the others also include metal rods. The shadows cast are as much a part of Moholy's art as the Plexiglas and metal forms themselves.
Learn more about Moholy's Plexiglas works from Carol and Deirdre below.
Moholy-Nagy: Future Present is on view in the Art of the Americas Building through June 18, 2017. Visit the complementary exhibition Light Play: Experiments in Photography, 1970 to the Present, on view in LACMA's Study Center for Photographs and Works on Paper, in the adjacent gallery. Light Play is open Saturdays and Sundays, 10 am–7 pm, through June 18, 2017. Want to learn more about László Moholy-Nagy? Check out our selection of books about the artist!