Each summer, thousands of Angelenos spend their Saturday afternoons at Latin Sounds, LACMA's weekly summer concert series. Visitors come with friends and family—some bring a picnic and lounge on the grass while others spend their time dancing near the stage. Latin Sounds is free open to the public and many who attend have created their own summer traditions alongside the event. 
One of those traditions is the annual Soul Train Dancer Reunion Picnic. The fourth annual picnic happened recently, in late June. Soul Train dancers—yes, the same people you may have watched on TV—gather at Latin Sounds to reconnect and celebrate with their fellow performers and longtime friends. Multiple generations of dancers ('70s, '80s, '90s, 2000s) are represented at the picnic. And beyond dancers, other people who worked on the show or with its creators attend as well. 
This special event is organized each year by Juliette Hagerman, Nellie Gonzales, and Thelma Davis, all of whom are former Soul Train dancers. Thelma was one of the original Soul Train dancers starting in the '70s. Nellie joined Soul Train as a dancer in the '80s. A few weeks ago, Juliette and I spoke about her history with Soul Train and the event, which was held on June 24. 
What's your history with Soul Train?
I'm a former Soul Train featured stage dancer. I started back in 1984 when I first moved from Chicago to Los Angeles. I danced on Soul Train from 1984 to 1993, and after that I worked closely with Don Cornelius (the creator of the show) on the Soul Train Music Awards shows. 
What inspired you to get people together for an annual reunion?
The first reunion I organized was in 1989. It was held at my home in Palos Verdes for years after. In general, the women of Soul Train have made it a habit to stay in touch and have regular get-togethers.
More recently, people came together again at Don Cornelius's funeral. That was the first time that everyone from all Soul Train eras were together. Shortly following the funeral, there was a reunion event at Venice Beach (which Nellie Gonzales helped to organize with me) with California's longest Soul Train line. After those events, I wanted to keep the sense of unity going.
Why Latin Sounds at LACMA?
Originally, the reunion was going to be a beach party like the Venice event. Then, I realized that I was already at Jazz at LACMA and Latin Sounds almost weekly in the summer, and often with other Soul Train alumni. These events have always been a part of me. I thought, "I already go, so why not just bring everybody?" I love the atmosphere. You cannot beat the atmosphere. We put out the first invite on Facebook in 2013, and it's been a tradition since then.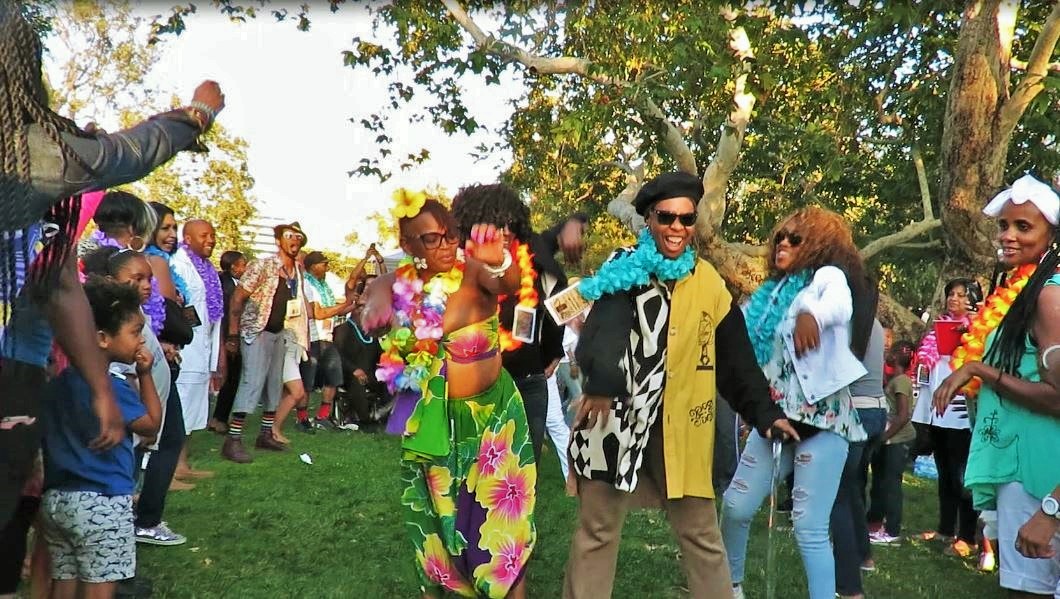 What are some of the best moments that come out of the picnic?
A lot of people have reconnected. Every year, people fly in from across the country. It's a reunion through food and music. Great food, great music, great environment. People really enjoy themselves and connect. It's the most unique reunion we have as Soul Train dancers. You cannot beat the Latin Sounds atmosphere!
What were some of your signature dance moves while you were on Soul Train?
One of the dances I'm known for doing is called "whacking," which I learned from the '70s dancers. There are YouTube videos of my moves. I did not get a chance to watch it while I was on the show, so it's nice to see it online. Some of those outfits, I'm like, "Wow, did I really wear that?" 
Each year, Juliette shows her moves as an organizer and host at the Soul Train Dancers Reunion Picnic. She and her co-organizers bring people together from across generations and different locations, all with shared memories of being a part of Soul Train. Each event ends with a Soul Train line, two long lines of people facing each other while one person at a time makes their way down the line, sharing their best moves with their fellow Soul Train alumni. The fifth reunion will take place in summer 2018. To experience the Latin Sounds atmosphere this summer, join us for an upcoming concert.