For the exhibition Artists Inspired by Music: Interscope Reimagined, 46 contemporary visual artists were invited to respond to groundbreaking songs and albums released by Interscope over the last three decades. I interviewed three of these artists, Nina Chanel Abney, Julie Curtiss, and Emily Mae Smith, about the work they created and the role of music in their practice. The interviews have been edited for length and clarity.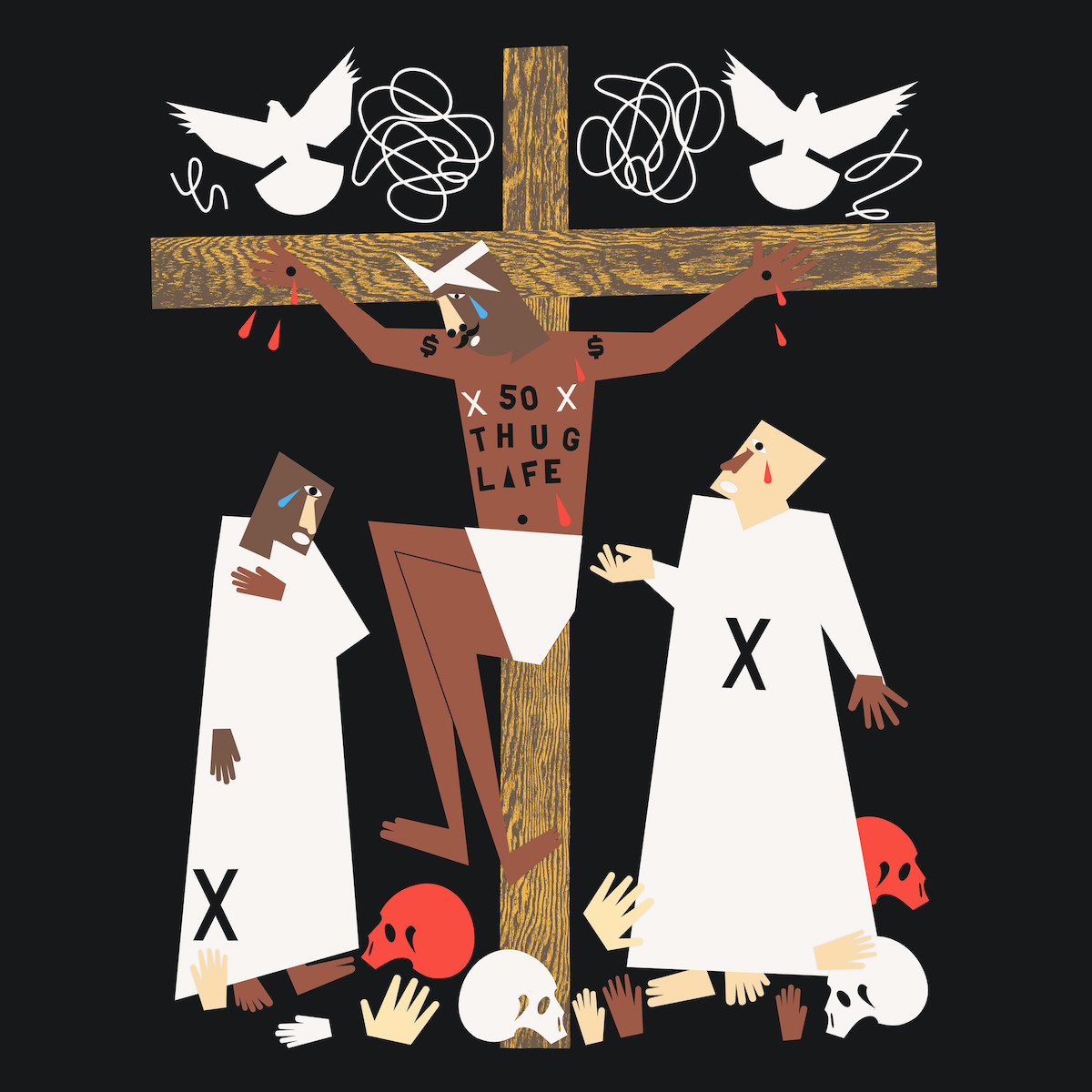 Nina Chanel Abney's collage 2 PM reimagines 2Pac's album The Don Killuminati: The 7 Day Theory (1996).
Staci Steinberger: What drew you to 2Pac's The Don Killuminati for the project? Do you see any connections between his music and your practice? 
Nina Chanel Abney: I chose to work with a 2Pac album because I feel that we shared a connection in our interest to use our art to incite social change. Tupac allowed music to be an instrument of activism. And many of his songs at the very least started a timely dialogue around institutionalized racism and its effect on the Black community.
Staci: Your work clearly references the original album cover, but it has a very different aesthetic. What aspects of 2Pac's music or career were you trying to capture in this work? 
Nina: I wanted to consider Tupac's sentiments about the racial and socioeconomic oppression that plagued Black people. But additionally I wanted to pay homage to the original album cover by filtering it through my aesthetic. It's such an iconic image bonded to the album title that it just didn't feel appropriate to create an image that didn't pay respect to the original artwork.   
Staci: Can you speak a bit about your process for conceiving of and creating this work? Why did you choose to work in collage for this piece? 
Nina: My process is mostly intuitive so I gathered several reference images and simply began creating.  My choice to use collage was more of a stylistic choice. I find it lends itself well to creating more graphic images that work well in print. And it allows me to create an illusion of depth by layering flat elements.
Staci: What role does music play in your artistic practice? What types of music inspire you? 
Nina: Music plays a huge role in my artistic practice. I usually make a playlist for each new body of work I create, which tends to be a compilation of what I'm listening to at the time that I'm making the work. I love rap and R&B, but I tend to listen to a lot of jazz while I am working. It encourages me to get in a zone in which I am working improvisationally.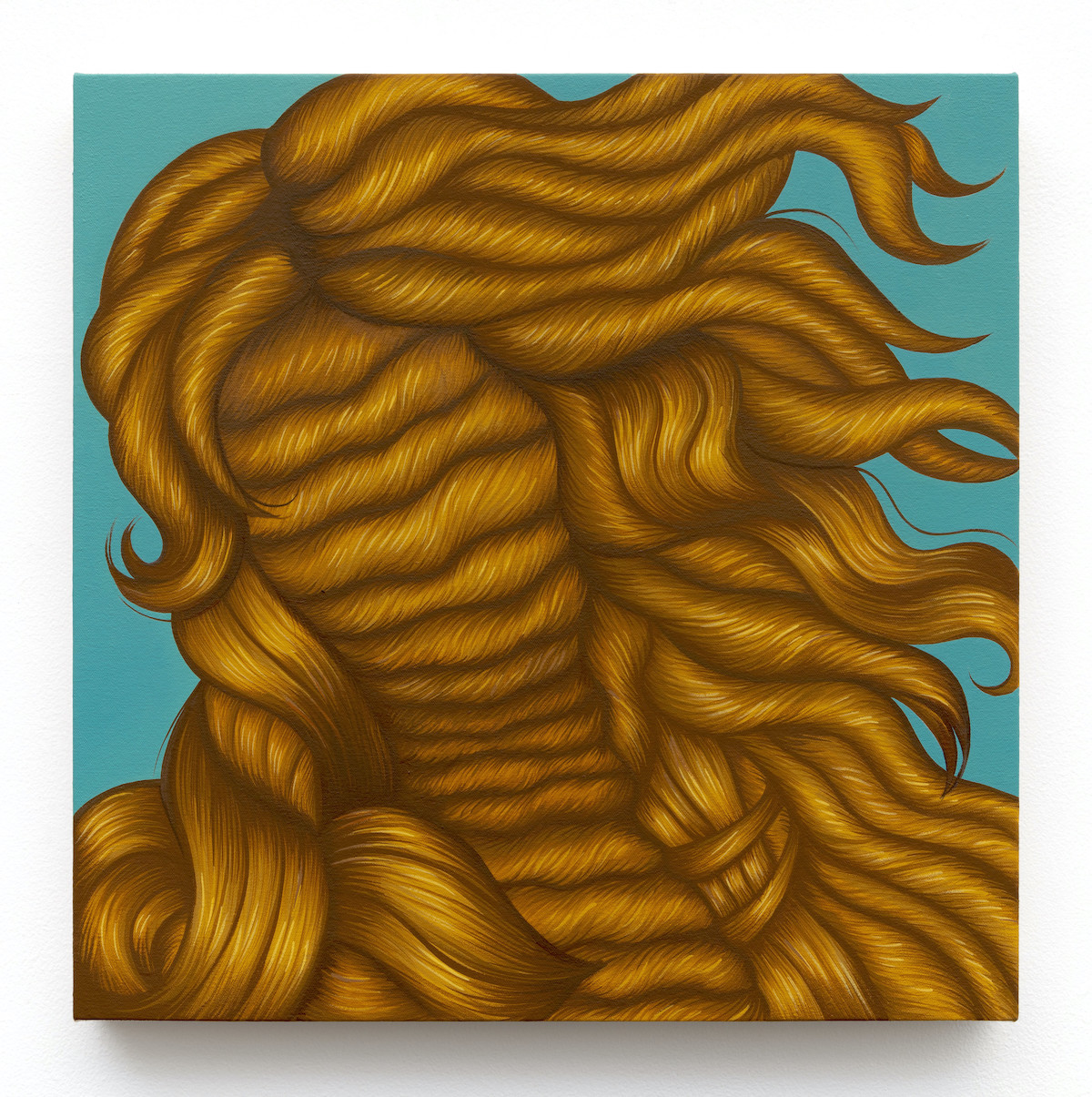 Julie Curtiss' paintings Just a Girl in the World (at top) and Venus (above) reimagine the song "Just a Girl" from No Doubt's album Tragic Kingdom (1995).
Staci: What drew you to No Doubt, and what excited you about this particular album? 
Julie Curtiss: It was more of a nostalgia thing for me, because being a teen when the album came out, it was constantly playing on the radio. It was in the background of my teenage years. I remember the energy felt close to home.
Staci: What aspect of the song or the album were you trying to capture in your work when you were coming up with ideas on how to approach it? 
Julie: The music of No Doubt is really funny and funky, because it's so inspired by different genres. It's a bit of ska, reggae, and rock grunge. It's kind of a strange creature in a way. I think that's really a profile that's interesting to me, because I'm also in between different styles. I'm borrowing a little bit from here and there—Pop art, historical references, Surrealism. There's a lot of different languages in my language. And there's also a quirky side to my work, and I saw that in No Doubt as well. 
I'm always centered around the female figure. This idea of "just a girl in the world" was the starting point. I thought about the Venus painting by Botticelli. "Just a girl" in the way she comes onto the scene on that shell. And there's something really unique about her, she's glowing. It's an homage to being a woman. So I made this Botticelli Venus in her little bubble world, but you can tell the fish bowl is a world unto itself. Like the saying—the world is your oyster. So in one image, I would capture both the mundanity of everyday life. You have the cat on the side, around the fishbowl as a domestic scene, but within the fishbowl is a surreal place where strange things happen. That's how the whole concept evolved. 
I'm going more on the feeling of the song, the intuition. It's all emotion. What you can feel through the album is the honesty, really raw, full of energy.
Staci: What role does music normally play in your practice? Do you use music as inspiration? 
Julie: It's interesting. Music is so different from visual art. In a way, I've always been kind of jealous, because there's an immediacy in music that you don't necessarily have, at least for me, with a visual medium. I don't know if it's because it's touching on a different sense. I listen to music often when I make art. I'm quite eclectic, with different things. It's definitely inspired me. I listen to rock, psychedelic, jazz. I love pop too—I'm open really. I do listen to music but I don't know whether a particular song will spark a painting.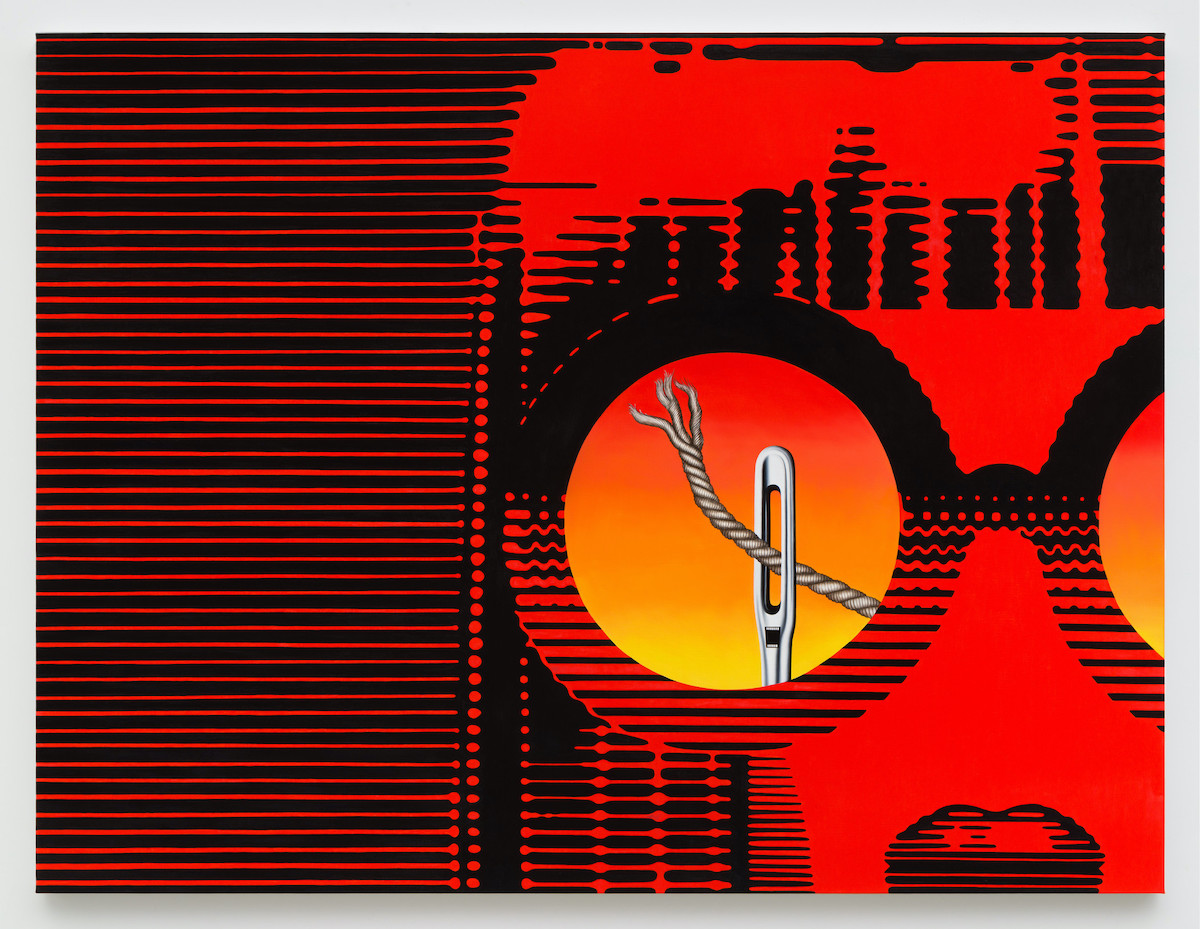 Emily Mae Smith's painting Broken reimagines Nine Inch Nails' EP of the same name (1992).
Staci: What drew you to Nine Inch Nails' Broken for the project? Do you have any specific memories of this album? Do you see any connections between NIN's music and your practice more broadly? 
Emily Mae Smith: I'm quite simply a big fan. NIN debuted to the public during my teenage years and was my introduction to industrial music. When I was approached for the project I knew I needed to work on something I felt connected to. I inquired if I could do something for NIN and to my delight Interscope replied that Broken was an option. As to a connection with NIN music and my practice, I do see a lot. There is a level of remove in the way that I handle my material yet my subject matter can be quite venal and is often representative of power dynamics. 
Staci: While your artwork shares a color palette with the original Broken cover, in other ways, it is very different in feel and style. What aspects of the album were you trying to capture with your painting? 
Emily: I tried to approach it conceptually with my own visual language, rather than illustrating toward the existing visual material for NIN. I incorporated the color scheme from the original album with the yellow and orange hues inside the lens. I think that one of the many genius elements on the Broken album is the art of tension and release; navigation through conflicted territory. Both threading a needle and snapping. The composition of the surrounding image is formed from fractured glitch-like shapes which to me recalls the buzz of an overdrive sound.
Staci: Can you speak a bit about your process for conceiving of and creating this work? 
Emily: Because of this project's close proximity to the contemporary art audience I wanted to create an image that was iconic of my work. I was conscious of the art needing to reproduce well in print and be legible in album size. I let the title of the album guide me as well as the sonic color temperature. I feel that it has a smoldering aesthetic.
Staci: Does music play a role in your artistic practice otherwise? If so, what kind of role? What types of music inspire you? 
Emily: Music was probably the first art form I connected to—I think it is the case for most people. That's why it touches us so deeply. I trained in music and singing before I formally studied art. I still believe in albums. When I'm working on an exhibition I often think of the paintings in music metaphors: "this painting is a B-side" or "this one is a single."
The exhibition Artists Inspired by Music: Interscope Reimagined is now on view at LACMA through February 13, 2022.