Ed Moses passed away on January 17, 2018, leaving behind a legacy of daring and unapologetic art making. A pioneering abstract artist and a central figure in the Los Angeles art world for 60 years, Moses saw painting and drawing as means of perpetual exploration and discovery. "I feel uncomfortable when the paintings start looking too good, when they look too beautiful," he said. "If I want anything, I want the work to be indefinable, haunting, and primordial."
Maintenance Man, which Moses made in his mid-fifties, is composed of panels of mahogany painted individually and then arranged instinctively. The artist used both system and chance to apply paint in patterns and pours, then scraped the surface in a way that fuses the layers and calls attention to the underlying wood. Reminiscent of an altarpiece, this (and other works from the Raw Wood series) has been described as an "ode to art as a practice" for the way it celebrates experimentation and possibility.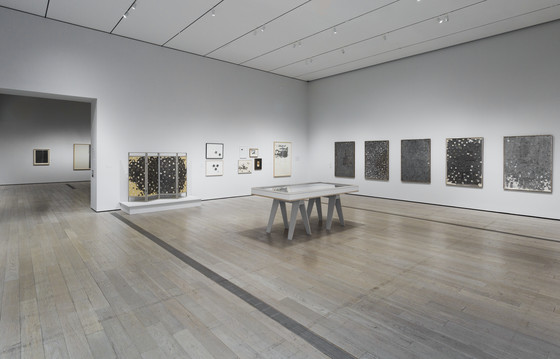 LACMA is proud to have the largest public collection of Moses works, spanning the artist's entire career. A notable early work, Rose Screen, is installed in the Modern galleries in the Ahmanson Building, Level 2. In 1976 LACMA hosted one of Moses's earliest museum exhibitions, and in 2015 the museum presented Ed Moses: Drawings from the 1960s and 70s, celebrating a gift from the artist of more than 40 early drawings.
Ed Moses's Maintenance Man is on view in the lobby of the Ahmanson Building, Level 1, through February 13, 2018.