This week, our favorite egg-shaped museum is changing colors—literally. After a Kickstarter campaign to fund its multi-city trip to LACMA, Nuevo Museo de Arte Contemporáneo (NuMu) has welcomed visitors to two rotations: works by Joaquín Orellana's Paisaje Sonoro and Retrospective: A Solo Exhibition by Regina José Galindo. Closed this week for installation, NuMu will reopen to the public this Saturday, March 3, with Donna Conlon and Jonathan Harker's Zincfonía Tropical (2013).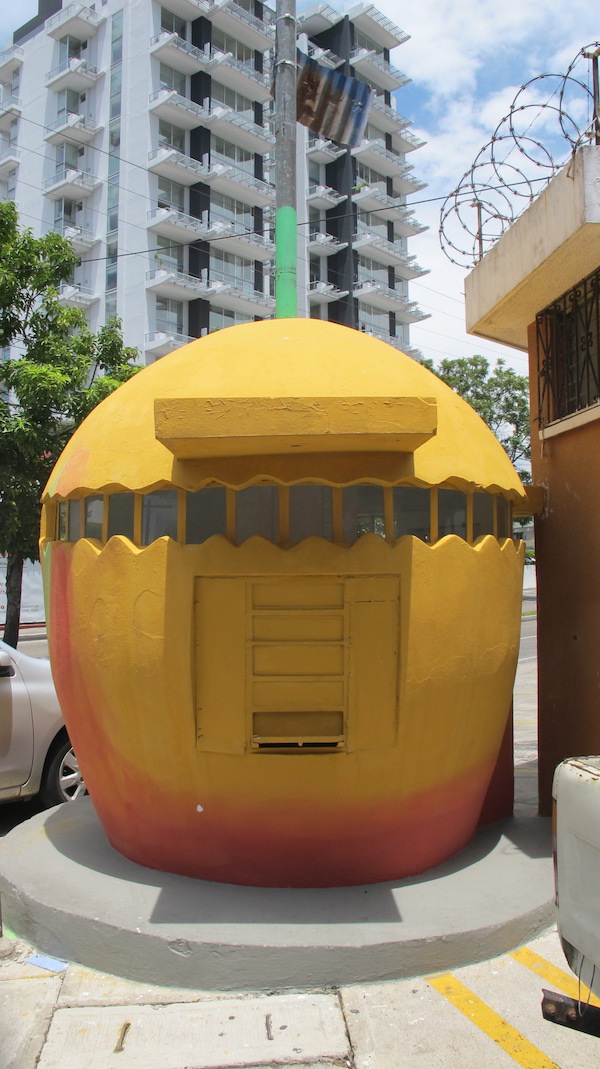 2013 Tropical Zincphony (Zincfonía tropical) from Conlon and Harker videos on Vimeo.
Humor is key to the work of the Panama-based duo Conlon and Harker. In their videos, the artists often put bold color in dialogue with meticulous compositions of rhythms and sounds. When Zincfonía Tropical was shown at NuMu in Guatemala in 2014, the video was installed in the egg while the exterior was transformed into a giant mango, allowing the audience to appreciate the work without entering the museum. (NuMu at LACMA will also be transformed into a mango.) This is the third and last presentation of NuMu at LACMA. Simultaneously, a three-channel video by Conlon and Harker will be on display on the monitors in Stark Bar.
Come check out the work in person starting this weekend! NuMu is on view through May 28, 2018.
NuMu's journey to LACMA is powered by