Highlighting key sites featured in LACMA's exhibition Found in Translation: Design in California and Mexico: 1915–1985 (on view through April 1), this self-guided driving tour explores connections between California and Mexico. From the iconic Union Station to the esoteric Aztec Hotel, we'll share insights into the design of places throughout L.A. County. Here is part one of three: downtown Los Angeles. To continue your tour, check back on March 22 for sites in East Los Angeles and on March 26 for Koreatown, Hollywood, and beyond.
Don't miss your chance to learn more about these tour sites and how interconnections between California and Mexico shaped the material culture of each place, influencing and enhancing how they presented themselves to the wider world. You have two weeks left to see this groundbreaking exhibition! Tag your photos with #FoundinTranslation.

DOWNTOWN LOS ANGELES
UNION STATION | 800 N. Alameda St., Los Angeles, CA 90012
Union Station, which opened in 1939, is a key example of how the Spanish colonial style could morph into midcentury modern. The building's architects Parkinson and Parkinson chose the revival style that, while still popular and tied to Southern California's regional identity, was no longer the vanguard of architectural design. The firm, therefore, lobbied for a simpler and more up-to-date plan. Many components—historical murals, arcaded fronts, red-tile roofs, adobe-like walls, and a tower—were consistent with Mission and Spanish Colonial styles. Yet the sleek lines and abstract geometry of much of the decoration were conspicuously modern, as were such features as the steel trusses, mechanized venetian blinds, and bold graphics.                         
Union Station's tiled patios—oases planted with orange, olive, pepper, and palm trees—welcomed visitors with a taste of outdoor living possible in California, but these spaces only hinted at, rather than flaunted, their Spanish-Mexican roots.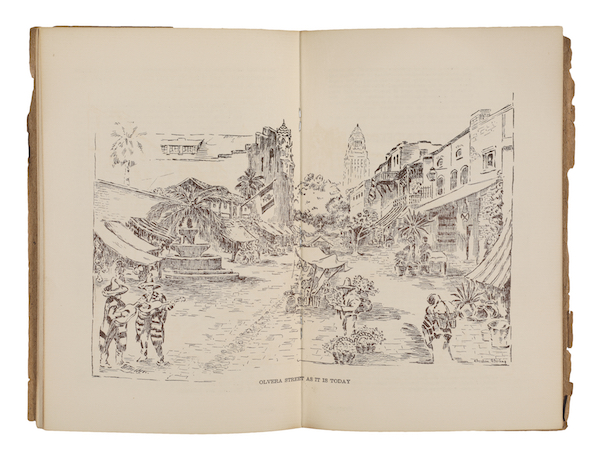 OLVERA STREET | 845 N. Alameda St., Los Angeles, CA 90012
Almost a complete fabrication of Mexican heritage, Olvera Street was the passion project of Christine Sterling, who saw a dilapidated street downtown—the site of the original 1781 Pueblo de Los Ángeles settlement—and envisioned a "Mexican Street of Yesterday in a City of Today." As historian William D. Estrada has written, "The theme was 'old Mexico,' pitting a timeless, romantic, homogeneous Spanish-Mexican culture against industrialization, immigration, urban decay, and modernity itself." Completed in 1930, the street was home to souvenir shops, restaurants, mariachis, and artisans. Countless period photographs portray costumed merchants smilingly eager to share (and sell) their timeless culture.
Olvera Street remains one of L.A.'s most popular tourist attractions, but as early as 1949 such astute observers as Carey McWilliams wrote disdainfully that it was "still another attempt to institutionalize the false legend." It was part of what he called "fantasy heritage," which obscured a century of discrimination against people of Mexican descent by bathing them in the golden light of an imagined past.
TROPICAL AMERICA MURAL | 125 Paseo de La Plaza, Los Angeles, CA 90012
Franz K. Ferenz, who owned the Plaza Art Center on Olvera Street, offered famed Mexican painter David Alfaro Siqueiros an exterior wall for a mural to be titled Tropical America. Siqueiros understood what his patron wanted: "a continent of happy men surrounded by palm trees, where fruits fell of their own volition into the arms of happy mortals," as he described in a letter to his friend, artist Caroline Durieux. This type of idealized imagery would complement the nearby market stalls and would have been approved by Christine Sterling, who led the transformation of Olvera Street from nondescript alley into a touristy "Mexican village" beginning in 1926. While eager for a commission, Siqueiros still rejected that desired iconography and instead presented an anti-imperialist diatribe, where a crucified indigenous victim is about to be saved by the Mexican and Peruvian revolutionaries perched on the ledge to the right.
Ferenz was furious, and the controversial work was whitewashed shortly after its completion in 1932. It began to show through in the 1970s, galvanizing a new generation of Chicano artists whose own murals reflected both its defiant politics and ancient iconography. Recent restoration has revealed much of this rooftop mural; however, the once-vibrant colors, poorly affixed to the concrete surface, are long lost. Completed in 2015, an interpretative center at the site provides historical context for the mural.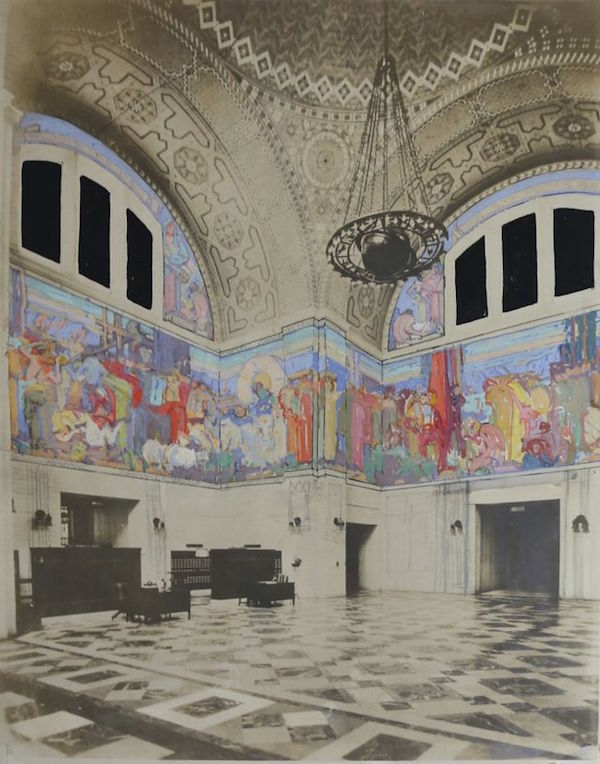 LOS ANGELES CENTRAL LIBRARY ROTUNDA | 630 W. 5th St., Los Angeles, CA 90071
Built in 1926, Los Angeles's central library was designed by Bertram Grosvenor Goodhue, who a decade before had introduced the extravagant Spanish Baroque style to Southern California with his Panama-California Exposition buildings in San Diego. In contrast, Goodhue's library design is streamlined, melding the Spanish Colonial with Art Deco styles popular in the 1920s. For the grand rotunda, illustrator Dean Cornwell created monumental murals depicting the "Four Great Eras of California History"—discovery, the founding of Los Angeles, the building of the missions, and Americanization. The mission panel shows harmonious enterprise, as native Californians labor to build a church and cloaked padres confer, pray, and direct. The final panel, Americanization, is all modern energy and movement, with covered wagons and locomotives, women in flounced skirts and men in top hats. Mission Indians are absent, but among the crowd appear, incongruously, a Plains Indian warrior and a seated Pueblo woman with baby and blanket. The Mexican presence is embodied in the popular romantic figures of a guitar-strumming caballero and a dancing señorita. The four panels trace a peaceful, orderly transition from primitive Indians to aristocratic Spanish explorers, and then to pious padres who establish Christianity and civilization. American industrial might and progress take over, as Anglo California gets written into local history as its inevitable, triumphant culmination. This saga ignores the negative impacts of colonialism and its racial implications.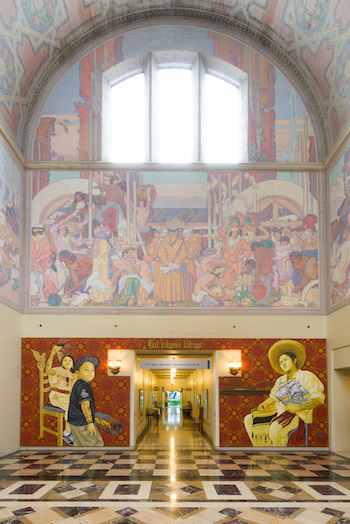 The exhibition Visualizing Language: Oaxaca in L.A., on view in the rotunda through August 31, 2018, places a series of new murals by Oaxacan artist collective Tlacolulokos alongside Dean Cornwell's work. In response to the romanticized imagery of the earlier murals, the collective explores the rich social fabric of Los Angeles's Oaxacan community and the role that language and culture play in sustaining connections between Mexico, Los Angeles, and beyond.
Learn more about the murals by Cornwell and Tlacolulokos in the video below.
MAYAN THEATER | 1038 S. Hill St., Los Angeles, CA 90015
In Southern California, architects and designers borrowed freely from different pre-Hispanic cultures to create an eclectic revival style for elaborate fantasy spaces. This tendency was taken to an extreme in Francisco Cornejo's design for the Mayan Theater in Los Angeles (1927). This former movie emporium (now a live events venue) has a decorative program more visually overwhelming than any of the city's other projects. Cornejo, a Mexican-emigre artist who helped pioneer California's pre-Hispanic revival style, brought firsthand knowledge of ancient sites to his work in both Los Angeles and San Francisco. He was commissioned to design the facade and interiors of the Mayan Theater in collaboration with Stiles O. Clements of Morgan, Walls & Clements—the prolific firm best known for its work in the Spanish Colonial style. Although one report noted that Cornejo was an "ardent advocate of the colonial Spanish architecture now being generally used here," the Mayan Theater is a pan-American pastiche replete with references to almost all pre-Hispanic cultures.
Feathered figures adapted from Zapotec funerary ceramics dominate the facade, originally painted tan and red. Maya forms, including floor tiles, fill the lobby; water fountains throughout are derived from figures found at Chichén Itzá in the Yucatán. Flanking the proscenium are life-size copies of stelae from Quiriguá, a Maya site in Guatemala, derived from casts installed at San Diego's Panama-California Exposition of 1915. Doorways combine Maya reliefs from Yaxchilán with processional figures from the Gateway of the Sun at Tiwanaku, in Bolivia; walls imitate Inca stonework; and the massive ceiling light is largely based on the Aztec Sun Stone. It is as if Cornejo had decided to squeeze the entire history of pre-Hispanic art into his design, a compendium of ideas pioneered years earlier in his San Francisco-based Aztec Studio. The Mayan Theater was also a swan song, the last building designed by Cornejo and the last (indeed the only) theater built in California appropriating pre-Hispanic forms.
Learn more about these sites in the exhibition catalogue, Found in Translation: Design in California and Mexico, 1915–1985, available in the LACMA Store.