Highlighting key sites featured in LACMA's exhibition Found in Translation: Design in California and Mexico: 1915–1985 (on view through April 1), this self-guided driving tour explores connections between California and Mexico. From the iconic Union Station to the esoteric Aztec Hotel, we'll share insights into the design of places throughout L.A. County. Here is part two of three: East Los Angeles. To continue your tour, check back on March 26 for Koreatown, Hollywood, and beyond. And check out our previous post for part one, downtown Los Angeles.
Don't miss your chance to learn more about these locales and how interconnections between California and Mexico shaped the material culture of each place, influencing and enhancing how they presented themselves to the wider world. You have two weeks left to see this groundbreaking exhibition! Tag your photos with #FoundinTranslation.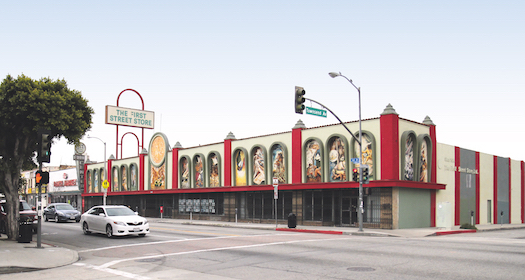 PAN AMERICAN NATIONAL BANK | 3626 E. First St., Los Angeles, CA 90063 
FIRST STREET STORE (now Alliance Morgan Mckinzie School) | 110 S. Townsend Ave., Los Angeles, CA 90063 
Commissioned by Pan American National Bank, the first Latino-owned bank in California, the mural Our Past, Our Present, and Our Future (1966) has inspired the work of many Chicano artists. The board of directors had selected the renowned Mexican artist José Reyes Meza to create images that would instill pride in the East Los Angeles community. Executed in mosaic glass by Byzantine Studios in Cuernavaca, the mural features pre-Hispanic imagery as well as heroic figures representing struggle, industry, family, and agriculture, all of which celebrate Mexican identity and heritage.
The artist Don Juan/Johnny D. González saw this mural as a call to action. With his brother José Luis and fellow artist David Botello, González founded one of the first Chicano arts organizations in East Los Angeles. Their commercial gallery, exhibition space, and school—variously known as TELASOMAFA, Goez Imports and Fine Arts, and the Goez Art Studios and Gallery—was located just three blocks down First Street from the Pan American National Bank, and the group hoped to transform this important commercial corridor into a destination not only for the community but also for tourists. Reyes Meza's mural inspired Johnny to propose an ambitious redesign of the neighboring First Street Store, featuring arches similar to those framing the bank mural and columns modeled after those at Mission San Gabriel. Building on the themes and imagery of Our Past, Our Present, and Our Future, González, Botello, and artist Robert Arenivar developed The Story of Our Struggle, tracing an epic history of Chicanos from the pre-Hispanic period through Spanish conquest, the Mexican Revolution, American conquest, the Chicano revolution, and into the future. The mural provides what scholar Karen Mary Davalos describes as a "critical education" central to cultural organizations like Goez, where "knowledge [was] . . . a tool for empowerment and social transformation."
First Street Store closed in 2007, and a new school, Alliance Morgan Mckinzie, was built at the site, integrating the original 18 mural panels of The Story of Our Struggle for the East Los Angeles community and visitors continued education and enjoyment. In 2017, Pan American National Bank was added to the National Register of Historic Places.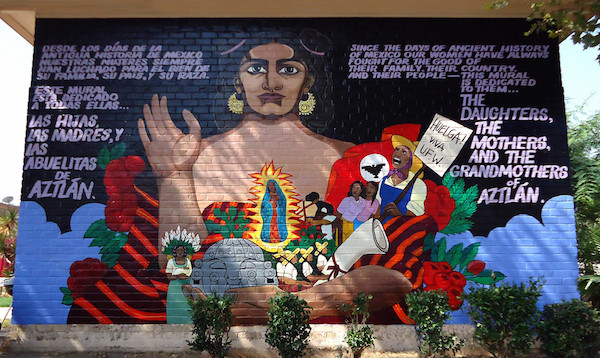 HOMENAJE A LAS MUJERES DE AZTLÁN (HOMAGE TO THE WOMEN OF AZTLÁN) MURAL | Lancaster Ave. just off Indiana Street, Los Angeles, CA 90033
In 1977, Judithe Hernández created Homenaje a las mujeres de Aztlán (Homage to the Women of Aztlán) for Ramona Gardens public housing development in Boyle Heights. Located near one of the community's main entrances, the mural celebrates the women of Aztlán, a homeland unifying Chicanos throughout the Southwest and people of Northern Mexico. The idea of Aztlán is itself a revival of the Nahuatl word that Aztec peoples used in their own mythologies to describe their ancient place of origin. The term took on new significance during the late 1960s and 1970s as Chicano artists proudly embraced their heritage while confronting discrimination. With the Virgin of Guadalupe emblazoned on her chest, the mural's bold central figure conveys strength; she carries references to ancient history, war, work, education, and protest. Hernández is one of the few female muralists who were active in the period, giving voice to the struggles of all Chicanos.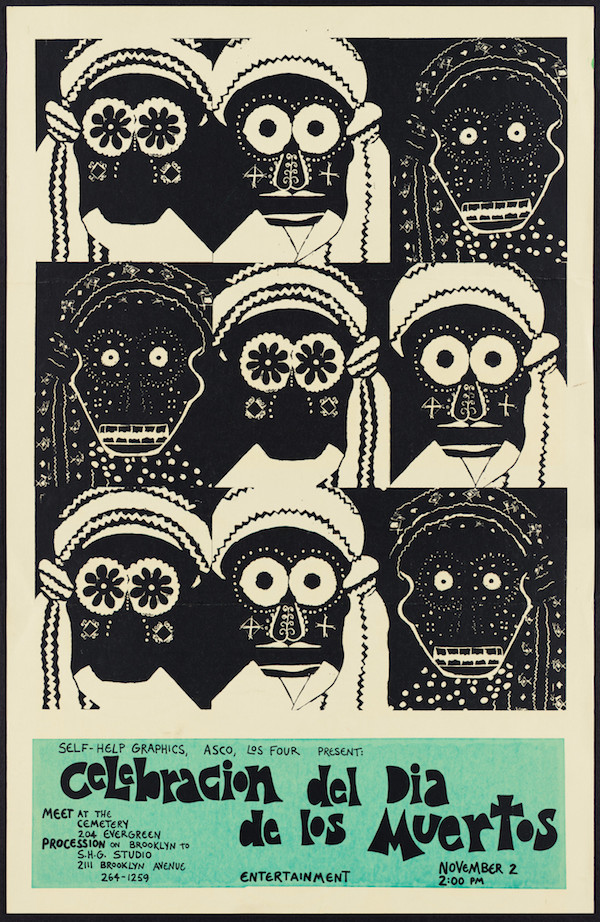 SELF HELP GRAPHICS | 1300 E. 1st St., Los Angeles, CA 90033
In 1972 Self Help Graphics (SHG) was one of the first Chicano art collectives to initiate observances of Day of the Dead in California. The revival of this traditional celebration was part of the Mexican-American reclamation of indigenous identity central to the Chicano movement. As this poster by two of Self Help's co-founders demonstrates, these celebrations drew on established Mexican traditions and imagery, such as calaveras (skulls). But the artists have also integrated avant-garde art and performance into their festivities (including a social critique by the Asco group, who collaborated with SHG on this occasion). In so doing, they transformed the holiday into a vibrant manifestation of Chicano hybrid culture.
Self Help Graphics continues to host one of the most popular Day of the Dead events in Los Angeles with activities from August to November that engage over 50 community organizations and more than 15,000 attendees. Throughout the year, SHG works with Chicano and Latino artists to produce, interpret, and distribute prints and other art media and also offers diverse art and community programs. 
Between 1979 and 2007, Self Help Graphics was headquartered at 3800 East Cesar Chavez Avenue. The colorfully tiled building was an important center for Chicano arts during this period as SHG nurtured the talents of local artists like Patssi Valdez, Willie Heron, Gronk, Frank Romero, and Diane Gamboa. While the building was designated to the California Register of Historical Resources in 2007, that year SHG moved to its current location at 1300 East 1st Street in Boyle Heights.
SOUTHWEST MUSEUM TUNNEL ENTRANCE | 234 Museum Dr., Los Angeles, CA 90065
Neo-Maya architecture first appeared in Southern California in association with museums or exhibitions displaying Maya culture. In designing a new tunnel entrance to the Southwest Museum in 1919, the architectural firm Hunt & Burns used Maya forms to frame the facade, adapting motifs from the well-preserved Nunnery at Chichén Itzá in the Yucatán while borrowing other decorative elements from Palenque in Southern Mexico as well as Tikal in Guatemala and Copán in Honduras. This entrance provided a pre-Hispanic prelude to the main building, a Mission revival design of 1914.
The information above has been adapted from the exhibition catalogue, Found in Translation: Design in California and Mexico, 1915–1985, available in the LACMA Store. To learn more about these sites and design dialogues across the border, get your copy today.