Jennifer Bartlett set up her studio on Greene Street in New York City's SoHo in 1967. Pop and minimalism dominated the art scene and Sol Lewitt would publish his seminal "Paragraphs on Conceptual Art" that same year. "I remember that feeling of arriving in New York, landing on the street corner and thinking, This is where I belong," recalls Bartlett.
Bartlett's student work was painting on canvas, inspired by Arshile Gorky and Vincent van Gogh (whose works she remembers seeing in high school at a 1958 exhibition held at the L.A. County Museum). Around 1968, Bartlett came up with the idea for a new support that would characterize her work for years to come: white enameled steel plates. "I'd noticed New York subway signs," explained the artist. "They looked like hard paper."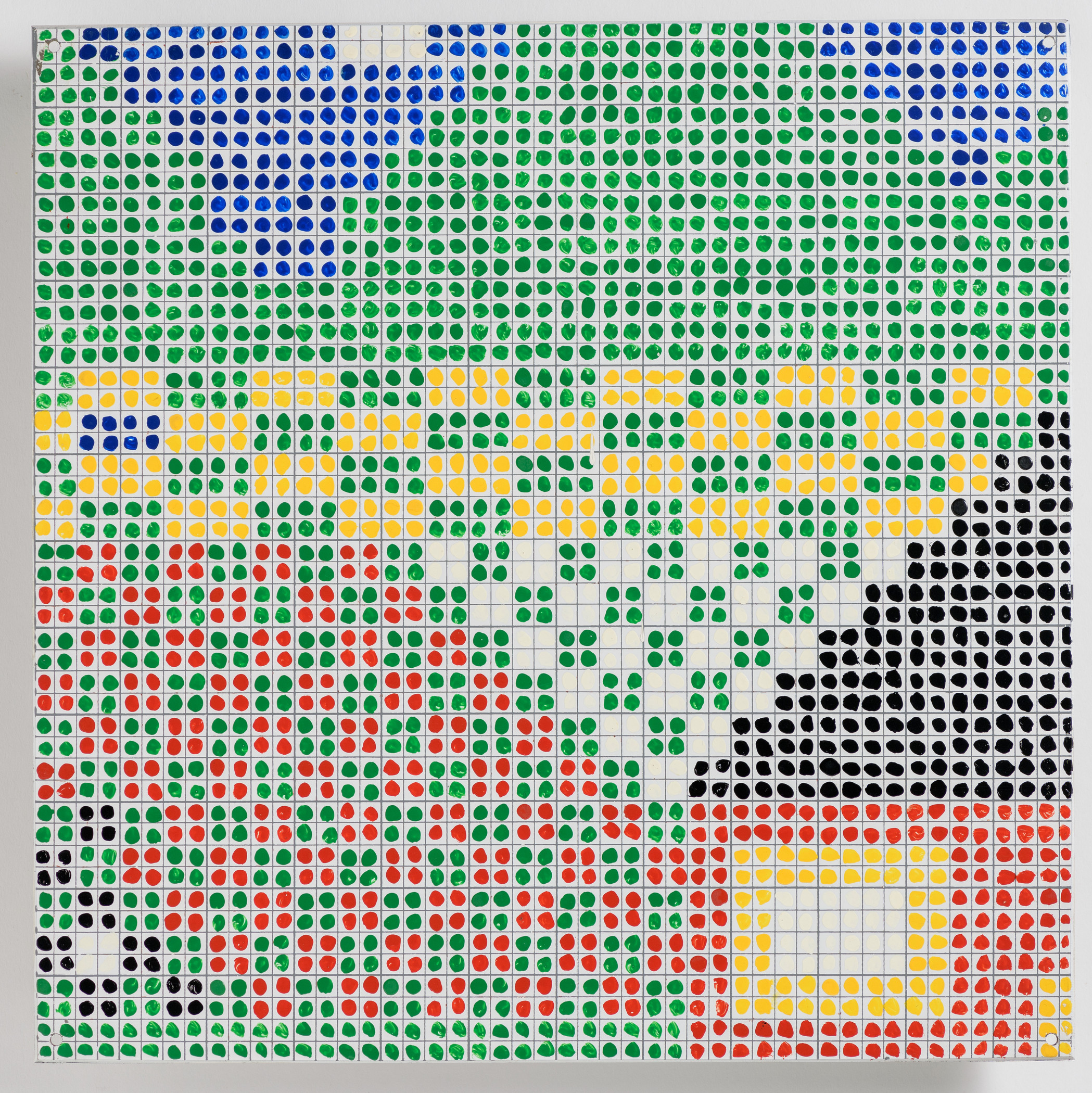 Composed of 61 plates, House Piece is laid out in four horizontal rows with spaces in between sections that deconstruct and re-present the house image in various ways, like at different times of day, with varying palettes, or as if the image was magnified, for example. With a loan from artist Joel Shapiro, Bartlett commissioned a batch of cold-rolled steel plates from a fabricator in New Jersey, who subcontracted the enamel surfaces to a home appliance manufacturer. A gray quarter-inch grid was then screen-printed onto the surface, emulating graph paper. Each plate measured 12 inches square and functioned as a standardized unit to compose works of variable size and dimension. According to Bartlett: "I wanted a unit that could go around corners on the wall, stack for shipping. If you made a painting and wanted it to be longer, you could add plates." Using Testors enamel paint, which was used mainly for model airplanes and cars, Bartlett applied the color in the form of dots, using a repetitive, almost mechanical method.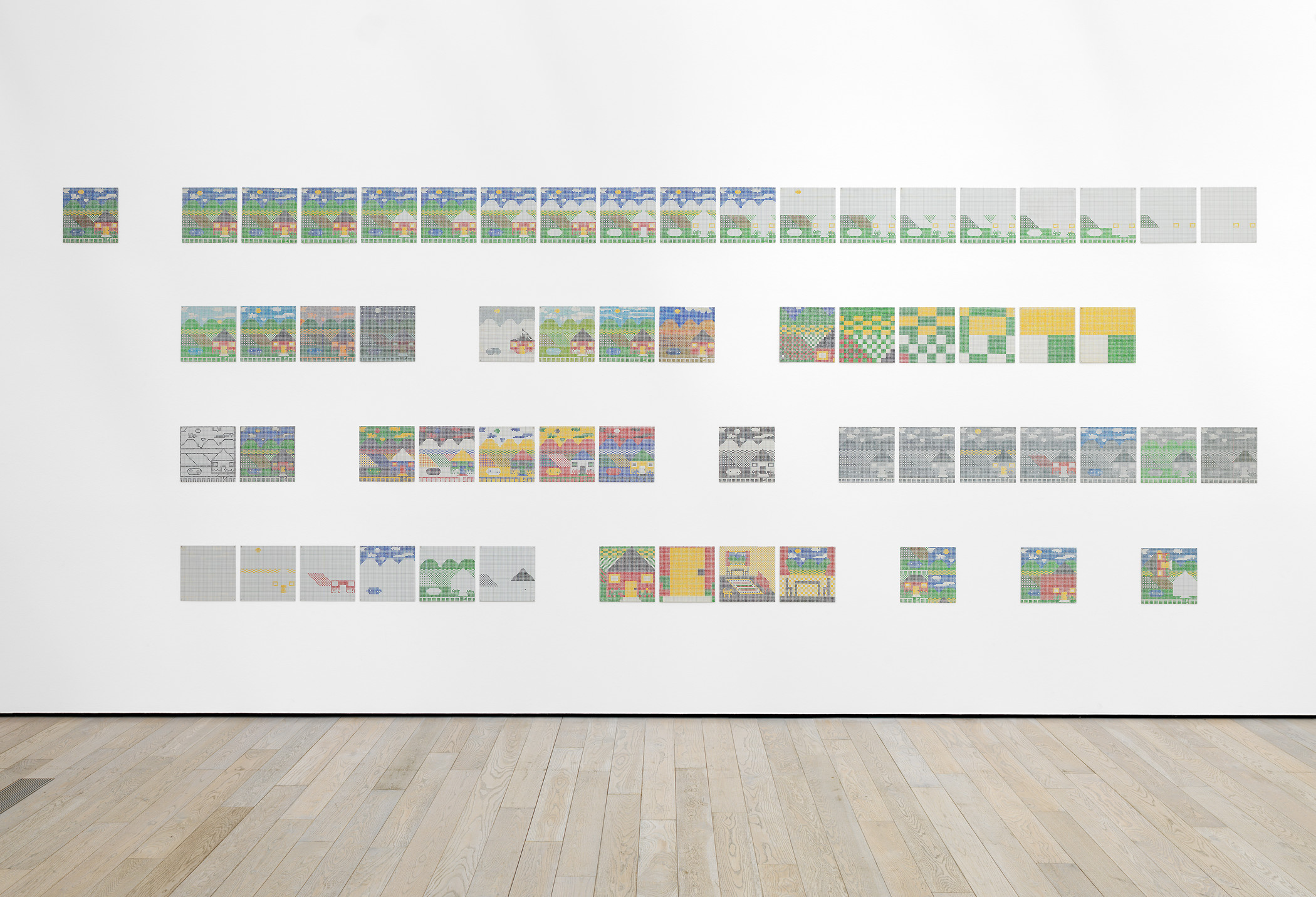 Composed of 61 plates, House Piece is a seminal work from Bartlett's early career, demonstrating her assimilation of minimalist and conceptual strategies to create her unique style and practice. By introducing what the artist described as the "banal yet poignant" image of a house, Bartlett challenged the prevailing trend for non-objective abstraction by evoking notions of home and domesticity. In a 1972 review, artist and musician Laurie Anderson described Bartlett's plates as "samplers coming unstitched." The repetitive task of applying dot after dot summons associations with embroidery and other forms of obsessive "women's work" that, as in the work of her contemporaries Eva Hesse and Yayoi Kusama, took on empowering and transgressive meaning in the context of early feminist art. Indeed, the fact that Bartlett submits the house image to an almost relentless deconstruction, analysis, and reconfiguration problematizes any fixed notion of "home."
Bartlett is perhaps most well-known for her monumental work Rhapsody, now in the collection of The Museum of Modern Art. Completed in 1976 it marked a return to the house motif that would be central to her work from then on. House Piece embodies many of the rich and complex ideas that were circulating in art discourse of the late 1960s and '70s (pop, minimalism, conceptual art, process art, and feminism), an anticipates the return to figuration in the 1980s. Early works by Bartlett are in the collections of MoMA, Tate Modern, the Metropolitan Museum of Art, the Philadelphia Museum of Art, and the Walker Art Center, but none have yet entered a major West Coast museum collection. LACMA has two prints by Bartlett in the collection, but none of her distinctive plate pieces.
House Piece will be featured in the 2021 exhibition Coded: Art at the Dawn of the Computer Age, 1960–80.
During our 32nd Collectors Committee Weekend  (April 20–21), members of LACMA's Collectors Committee generously helped the museum acquire 10 works of art spanning a breadth of eras and cultures. Check back later today to learn about another acquisition.