Opening this Sunday at LACMA is Decoding Mimbres Painting: Ancient Ceramics of the American Southwest. The content of this show is somewhat unusual in its combination of ancient objects and contemporary photography, the approach is certainly unconventional (as explained below), and the outcome is stunning as well as fascinating, all of which bring up opportunities for thought-provoking conversations.
The content of this unique exhibition and accompanying catalogue were conceived by Los Angeles-based artist Tony Berlant and by director emeritus of the Minneapolis Institute of Art Evan Maurer. Tony's fascination with the painted designs of the Mimbres people date back to the mid-1970s. The Mimbres culture flourished from around 850–1150 CE in the area that is now Southwestern New Mexico and is best known for black-and-white painted ceramic bowls, depicting an extensive variety of animals and plants and occasionally human figures. Alongside these recognizable figurative paintings, Mimbres artists produced seemingly non-figurative designs that are often described as "geometric": zigzags, spirals, checkerboard patterns, and other abstract motifs that appear to have little or no apparent reference to the natural world.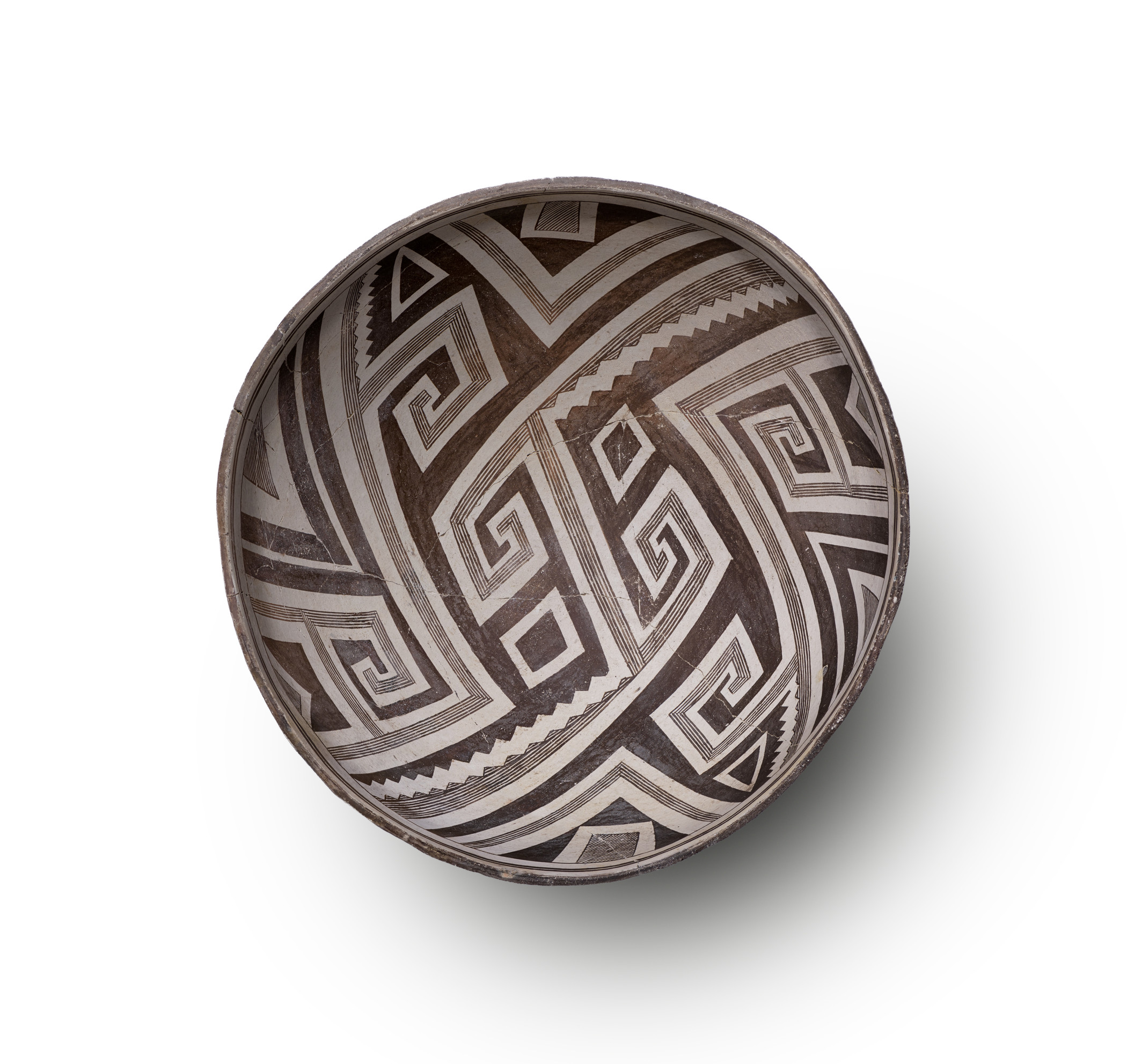 It was these "geometric" designs that became the focus of Tony's attentions and, in his efforts to decipher these paintings, he sought out collaborators from many different fields, some of which may strike one as unusual: it includes (among many others) Thomas Wynn, a professor specializing in cognitive archaeology, and V.S. Ramachandran, a professor of psychology and neuroscience. The link between neuroscience and art, in this case, rests on the datura plant. Datura was almost certainly used by the ancient inhabitants of the American Southwest for its hallucinogenic properties (datura seeds and seedpod effigies, such as one featured in the exhibition, have been found at many archaeological sites in the region, and contemporary Native American communities still use datura). When properly prepared and administered, datura produces a kind of trance state, causing the brain to generate a variety of visual effects for the participant, which can include full-blown figurative hallucinations. As such, it is a key component of ritual practice and potentially central to shaping the worldview of the societies using it.
The exhibition builds on Tony and Evan's premise that the designs painted on Mimbres bowls, often thought to be purely geometric, are in fact based on natural forms. Drawing on their experience with abstraction and artistic practice, Tony and Evan suggest that the designs reference the datura plant itself, its pollinators (notably hawkmoths and bats), and the brain-generated, entopic forms associated with its ingestion. They also interpret several motifs as depicting other desert flora known for their mind-altering properties, such as desert tobacco. (For more information, there is an exhibition catalogue of the same title.)
Knowledge is always generated as a result of dialogue and this exhibition is meant to be beautiful, informative, but also thought-provoking. Tony and Evan have spent decades researching and discussing their interpretations, and the conclusions are convincing in many regards. That said, theirs is just one possible theory for the inspiration behind Mimbres pottery, and adds to a wealth of perspectives by scholars and native communities that will be presented in a series of related programs throughout the run of the exhibition.
The first is a talk on May 25, at which Brian Vallo (Acoma Pueblo), Director of the Indian Arts Research Center, School for Advanced Research, and Octavius Seowtewa (Zuni Pueblo), Elder and expert of Zuni traditional knowledge, will explore how descendant communities are working with museums to shift paradigms and develop shared solutions to lingering concerns about antiquated narratives, collections stewardship, repatriation, and other common interests. On July 22, Ed Kabotie, Tewa/Hopi artist, musician, and current artist in residence at the Museum of Northern Arizona, will speak about how the ancient Mimbrenos have influenced the artistic journey of his family. Additional programming can be found on lacma.org.
Decoding Mimbres Painting: Ancient Ceramics of the American Southwest is open to the public May 20–December 2, 2018, in the Resnick Pavilion. Member Previews are May 17–19. 
We are aware that some visitors may not wish to see objects related to burials. Please be aware that this exhibition contains possible associated burial items.