A Universal History of Infamy: Those of This America  features the work of Latinx artists, writers, and activists. It explores themes of loss and resilience alongside the political potential of poetic expression. Many of these pieces also discuss immigration. Teresita de la Torre's 365 Days in an Immigrant's Shirt is an art project in which Torre wore a shirt she found near the border for an entire calendar year. The remnants of the shirt are currently on view in an installation in Those of This America at LACMA's satellite gallery at Charles White Elementary School. For Pride Month, we caught up with Torre to discuss her work.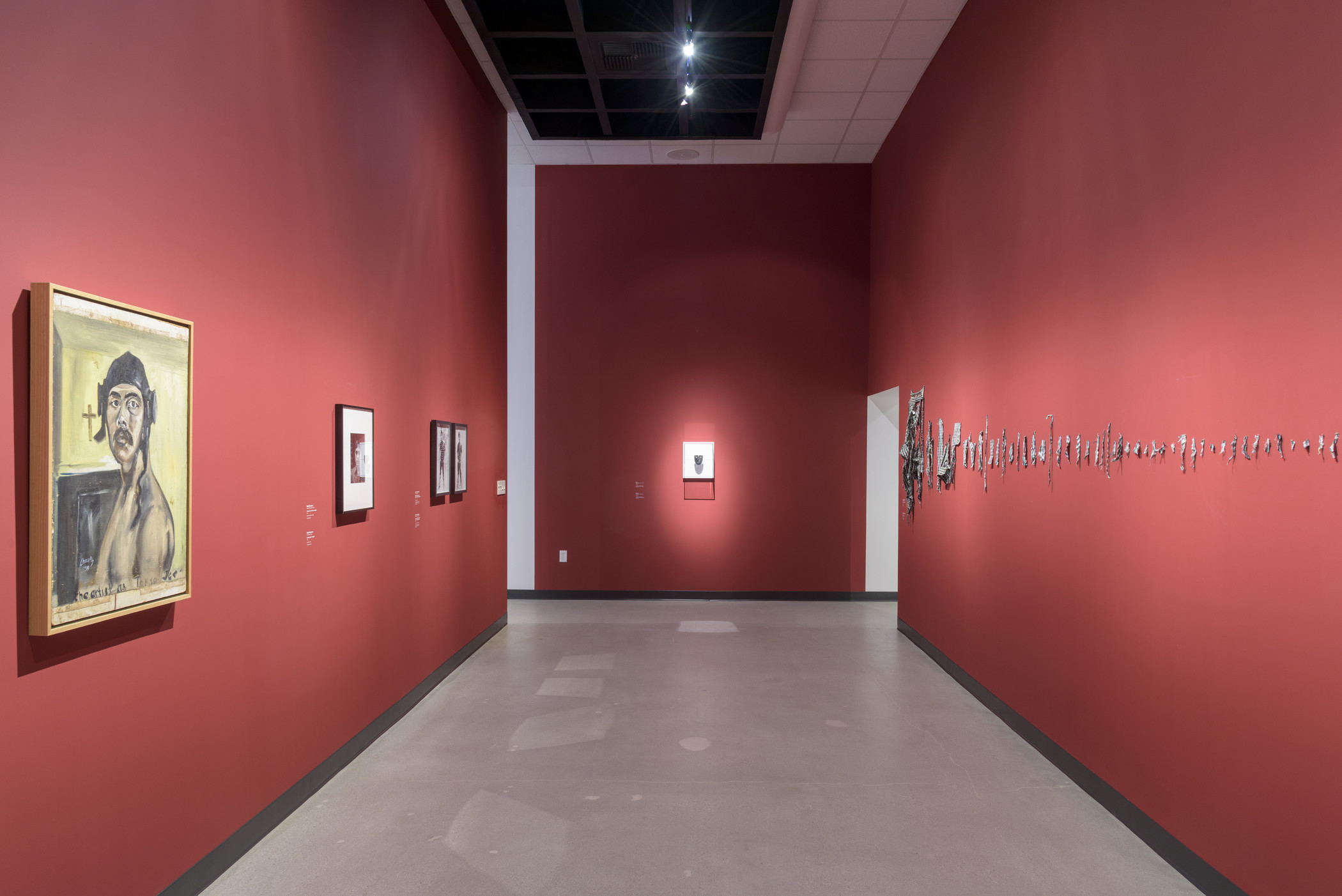 What has it been like to have your work on view at Charles White Elementary School, where there are a lot of students passing through? 
I couldn't think of a better space for my work to be viewed. And for such an extended period of time! After finishing that piece, I went back and forth trying to figure out what to do with the fragments and where it should go. Should I take it back to the desert? So I couldn't think of a better spot, an educational institution. I just think it's very beautiful—the life it has continued to uphold, especially in that space. 
It's very powerful, too, the way it's done, because it grabs your eye immediately when you walk in. It's magnetic.
Yeah, especially because the wall is red, the primarily green color of the shirt stands out a lot. Even from the installation of the piece we thought about the kids, how it has to be below 60 inches because it's for a child's height. I just thought that was really, really incredible. I wish I could be a student at that school.
There's definitely this feeling that kids are able to see this work and see some of their own stories represented. Is that something you felt was missing from your own childhood experiences with art?
I didn't get to go to a museum or really view curated art until I was an adult, until I was 18. So that was definitely lacking and I often wonder what my experience or what my life as an artist would've been if I'd had that available. I'm really, really grateful to have my work in that space.
Has your identity as a queer woman of color always been an important part of your art?
It's always been a part of my identity as I evolve as an artist and as I become the person I am it's even more tighter-knit with my identities: as a woman, as a queer woman, as an immigrant. I'm a fronteriza—someone who grew up on the border. I'm getting more comfortable with speaking on my behalf. And getting a little bit more comfortable with myself.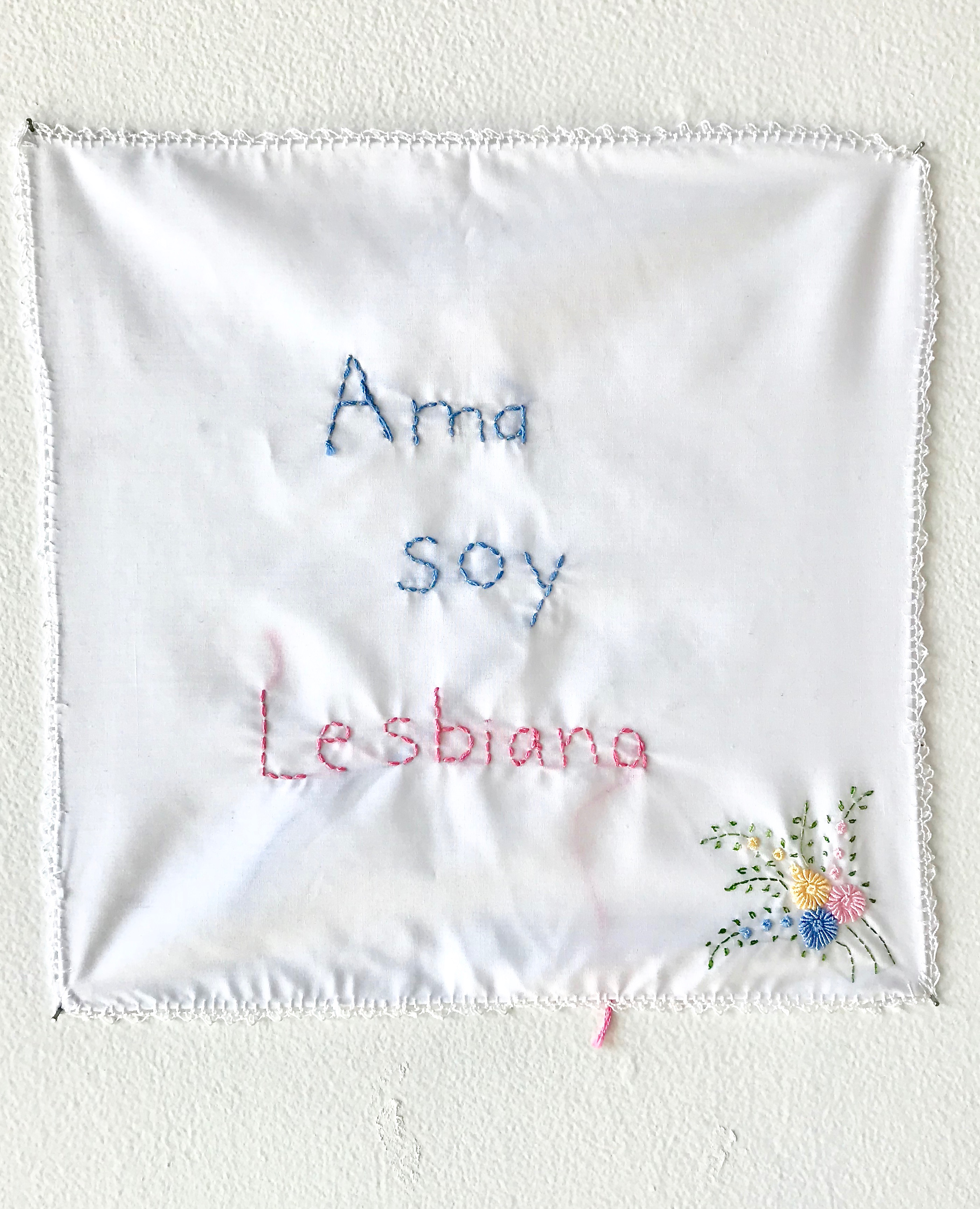 What are some reactions you've received from other queer women of color who also didn't have the experience of going to museums when they were younger or maybe didn't see themselves represented in the work they did see?
I have a good friend I met because of my work. It was not the work at the Charles White gallery but work that I had at the Mexican Consulate [in Los Angeles] around last November. They were these embroidery pieces I later made into a solo exhibition at Eastside International. So this friend is a queer woman of color and exactly my age. And she really connected to my work and the embroidery of the word ama. It said ama, soy lesbiana on one of my embroideries, on a handkerchief. And she was just blown away to see them, by seeing the word ama and lesbiana very close to each other. She showed the work to her mom. And they had a beautiful conversation about it. I think my work has served a purpose to have these conversations. I often think the work I make is for that. And then also for myself, a younger version of me. The younger Teresita that's still in the closet and is kind of afraid—or very, very afraid, actually. And I made that so I can tell her it's going to be okay. That it's okay to be queer. It's okay to be queer and Latinx, and all that.
Are there queer artists who have influenced your own practice?
Lately, the work of Laura Aguilar. I think that's what a lot of queer women would say at this time. Just because we were able to see her best work, her retrospective at VPAM (Vincent Price Art Museum). And that was just an incredible experience. I had seen some of her pieces in undergrad but we just very briefly discussed it. And to know that she made so much work and her earlier work—it was self-portraits of the Latina Lesbians series where she interviewed a lot of Latina lesbians and they had just words underneath a photograph. I think she had one that said I'm very comfortable with the word Laura, I'm not so comfortable with the word lesbian yet. How vulnerable those photographs were helped me in my journey. Her work was really influential. 
A Universal History of Infamy: Those of This America is on view at LACMA's satellite gallery at Charles White Elementary School through October 6, 2018.