It's that time of year when things start feeling spooky! In honor of Halloween, we asked some museum staff who worked on the exhibition Fantasies and Fairy Tales to share their favorite fairy tales and to select an artwork in LACMA's collection that most reminds them of their pick. Read on for some Halloween inspiration, and check out Parts One and Two of the series.
Amanda Burr, Andrew W. Mellon Fellow, Paper Conservation
My favorite fairy tale is The Little Mermaid. Initially, I was obsessed with the tragedy of this story. When I was three years old, I fell from a jungle gym and broke my femur. I was in a full-leg cast for months and spent a lot of time watching videos at home. My favorite was a Japanese animated version of The Little Mermaid, with the original Hans Christian Andersen ending where the mermaid fails to inspire the prince to fall in love with her, and is turned into sea foam. The final scene of the sea foam washing up on the shore was my favorite. My mom couldn't understand how I could love this sad ending so much, but I thought it was the most beautiful thing I'd ever seen. Now that I'm older, I appreciate that the story (with its original ending) can be interpreted as a warning about the pain and ultimate futility of betraying oneself in an effort to please others. I am very taken with Hermann Paul's Mermaid Playing, which is of course in the current show.
John Rice, Director of Marketing
Leonardo da Vinci wrote several fables featuring spiders that don't know their place and get squashed or clematis vines vainly reaching too far. My favorite, though, is a simple two-sentence tale about a sheet of paper: The pristine sheet of paper considers itself ruined by the black ink placed upon it and grieves. Yet, it is the words on the sheet that will spare it from being discarded.
This tale reminds me that what makes our pure souls most interesting—and useful to others—are often the uninvited marks made on us by life.
While thousands of works on paper in the LACMA collection offer beautiful proof of concept to this idea, it's an oil on canvas, Still-life with Apples and a Pomegranate by Théodule-Augustin Ribot, on view in the Ahmanson Building, Level 3, that shares da Vinci's message. Here a ragtag group of fruit finds its light. Or tries to: each succumbs in some way to the darkness. No matter. This fruit has lived and Ribot's realism is there to testify.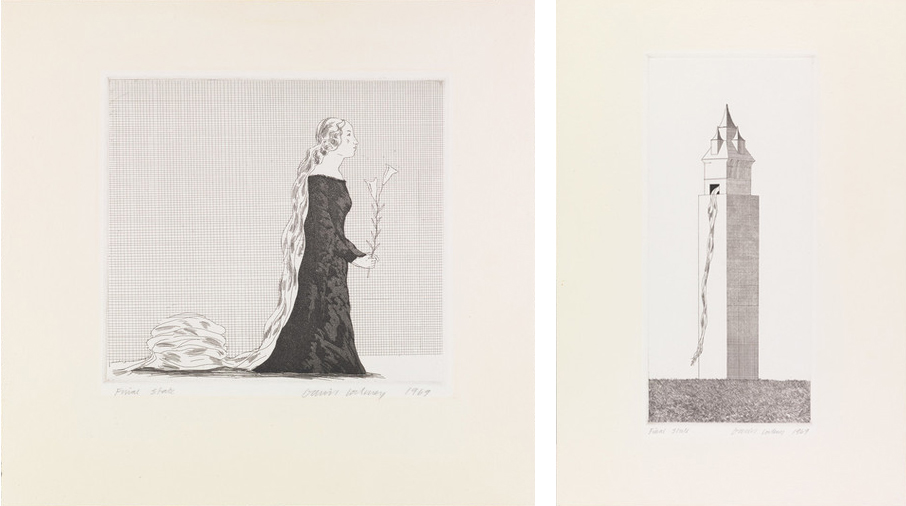 Claudine Dixon, Curatorial Assistant, Prints & Drawings
My favorite fairy tale is The 12 Dancing Princesses by the Brothers Grimm. Although not as famous as many other stories, I remember from my childhood that my local library had a book for this story with fabulous illustrations of pretty princesses in gorgeous dresses. I always spent as much time looking at those pictures as reading the text, trying to decide which princess I wanted to be. "Princess" was tops on my list of career choices at that time.
I especially love the fairy tale book illustrations by David Hockney, especially the one of Rapunzel, where you only see the ends of her long hair wafting in the wind as a suggestion of her presence, with her rescuer on horseback as the visual centerpiece. These Hockney images for The Older Rapunzel (above) highlight the motif of the protagonist's flowing hair, which also suggests the swift flow of time. The fairy tales may have taken root during our childhood, yet they remain embedded in our adult psyche.
Fantasies and Fairy Tales  is on view in the Ahmanson Building, Level 2, through February 3, 2019.