Outliers and American Vanguard Art features many boundary-defying artists who challenge the standards of professionalization that have been historically venerated by art institutions. Outliers includes the pioneering work of Greer Lankton, born Greg in 1958 in Flint, Michigan, who transitioned at a young age and moved to New York to realize her dream of becoming an artist. Lankton's own self-transformation, adoration of queer icons like Candy Darling and Holly Woodlawn, and creative output in the forms of handmade dolls, room-sized installations, and photography made her an important contributor to a burgeoning art scene in Lower East Side New York in the 1980s. Lankton's life was cut short in 1996 just weeks after she opened an ambitious installation at the Mattress Factory in Pittsburgh. That installation, as well as her life's work, is sustained by G.L.A.M., the Greer Lankton Museum Archives, overseen by her life partner Paul Monroe. On Valentine's Day, Monroe, together with artist and LGBTQ activist Zackary Drucker, Lena Dunham, and friends, will present short films by Lankton alongside the work of Drucker. Recently Monroe shared some reflections with Unframed.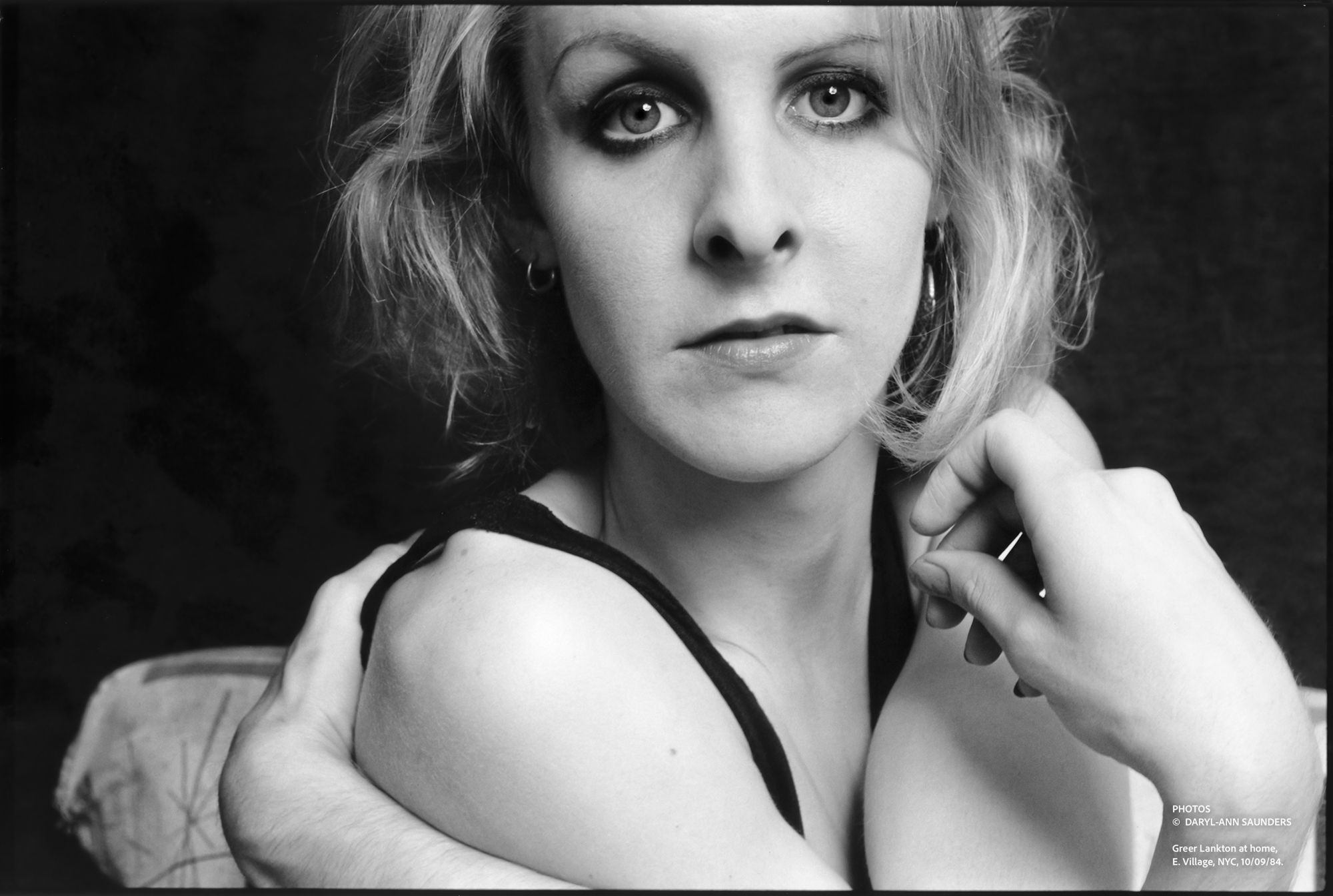 Can you tell us how you met Greer? 
In 1981 our mutual friend, photographer Peter Hujar, first told me about Greer. I can still hear his words: "I met your twin, and she's obsessed with Candy Darling, just like you." Peter is responsible for the legendary photograph of Candy on her deathbed, and when I figured that out after meeting him, I obsessively asked him questions about Candy. She was, after all, my personal saint, my icon. Greer and I both had that photo of Candy on our bedroom walls as teens; we both tore it out of After Dark, a queer entertainment magazine, which, at that time, was one of the only resources to find anything out about Queer New York. 
That same year I saw Greer's first solo show at Civilian Warfare gallery, a magnificent exhibit especially for someone so damn young. I believe she was 22 when she made most of the work she was showing. I had fallen in love with her piece in that show, Freddie & Ellen. They were displayed lying on a red couch, naked and in full embrace. Two emaciated beauties with an obvious story to tell. I was desperate to know all of their stories. Greer didn't just make figures—she created creatures, with a past, present, and future. I saw Peter on the way out of the packed tiny storefront gallery and he asked me what I thought. I clearly remember telling him I thought the show was a visionary's dream, and that Greer was an angel, my angel. 
The East Village was our neighborhood. I opened my first shop 7 1/2 when I was 19 on 7th street. Greer walked by when I was chatting to my upstairs neighbor, Kathy Acker, who got really excited and said, "That's Greer Lankton, have you seen her show?" Kathy also informed me that Greer was trans; I hadn't known prior. It seemed everyone knew of Greer. She was a local star. She performed at the Pyramid Club dressed in one of her doll skins, and she was also featured in Nan Goldin's slide show, "Ballad of Sexual Dependency." Greer modeled for many local designers too. There were only a handful of shops and galleries at this time. The East Village had a small town feel to it then; everyone knew everyone. I kept running into Greer and we would always make eye contact, always acknowledge each other with a hello.
Then in 1982 I moved my shop up the block and changed the name to Einsteins, and it became internationally known for a line of dresses for men I designed. I was getting massive amounts of press. Greer, smart and savvy, asked me if I would put a poster for her next show in my window. It was an exceptional photograph: Greer laying naked on the floor next to two of her masterpieces, Sissy, the fab trans doll, and Princess Pamela, a six foot Rastafarian beauty in shades of blue and purple. Greer was seen between them as skinny as a champion greyhound, every rib pronounced. It was as shocking as it was stunning. I happily obliged. Greer began to come in regularly, and soon after we started dating. I couldn't resist her charm, her beauty, and her god-given skill. We started doing window installations together and Einsteins became her showplace. That following year she moved in with me and we became one, joined at the hip. From then on we were never apart and in 1987 we married, on the first night of spring. Peter Hujar was my best man, Teri Toye was Greer's maid of honor, and Nan Goldin captured it all.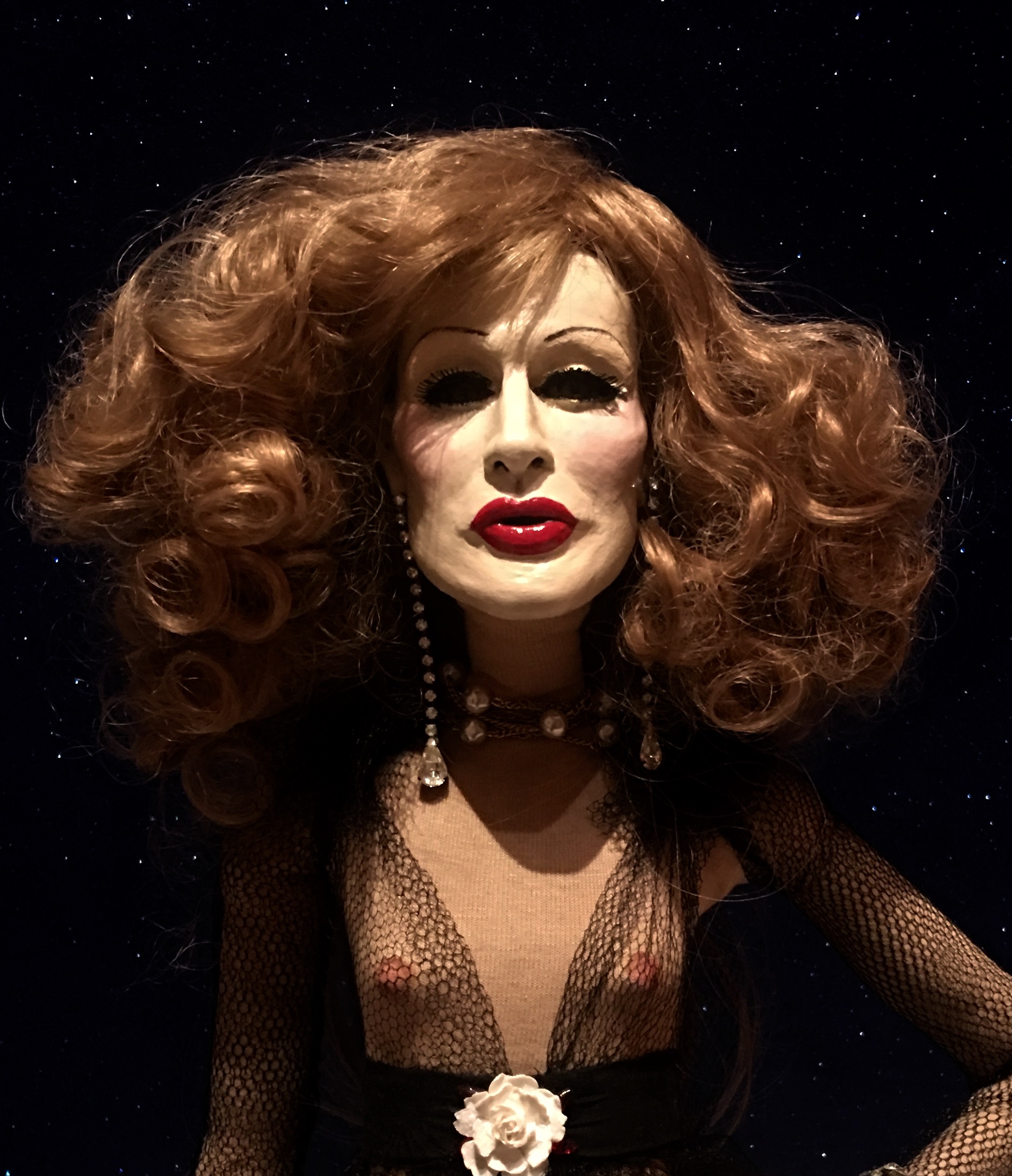 Fandom seems to be a constant in Greer's work. Can you talk about how she chose who to portray in her artwork? 
Greer adored celebrity. Every Monday she would race to the newsstand to get the latest copies of Star, People, and any other trashy gossip rag. She would devour them, chain smoking, laughing, cutting out headlines of Liz Taylor's weight gain, or Karen Carpenter's weight loss, crazy animals photos, UFOs. She loved the oddity and the absurdity. The first celeb doll she made was Edie Sedgwick. Greer was crazy for Edie. She loved her rich eccentric behavior and Edie's androgynous beauty. The next was Teri Toye, who was the first out transexual top model and muse to designer Stephen Sprouse. They were downtown royalty and Greer was enamored by Teri's gorgeousness and also her being another transgender person, which was a rarity at the time. Greer began making others, but she had to be deeply infatuated with the person; it wasn't based on what or who would be most popular. Then she made the Candy Darling doll for me as a birthday gift, the best gift I certainly ever received. Candy is on display now in the Outliers and American Vanguard Art show, and it's one of her most talked about pieces.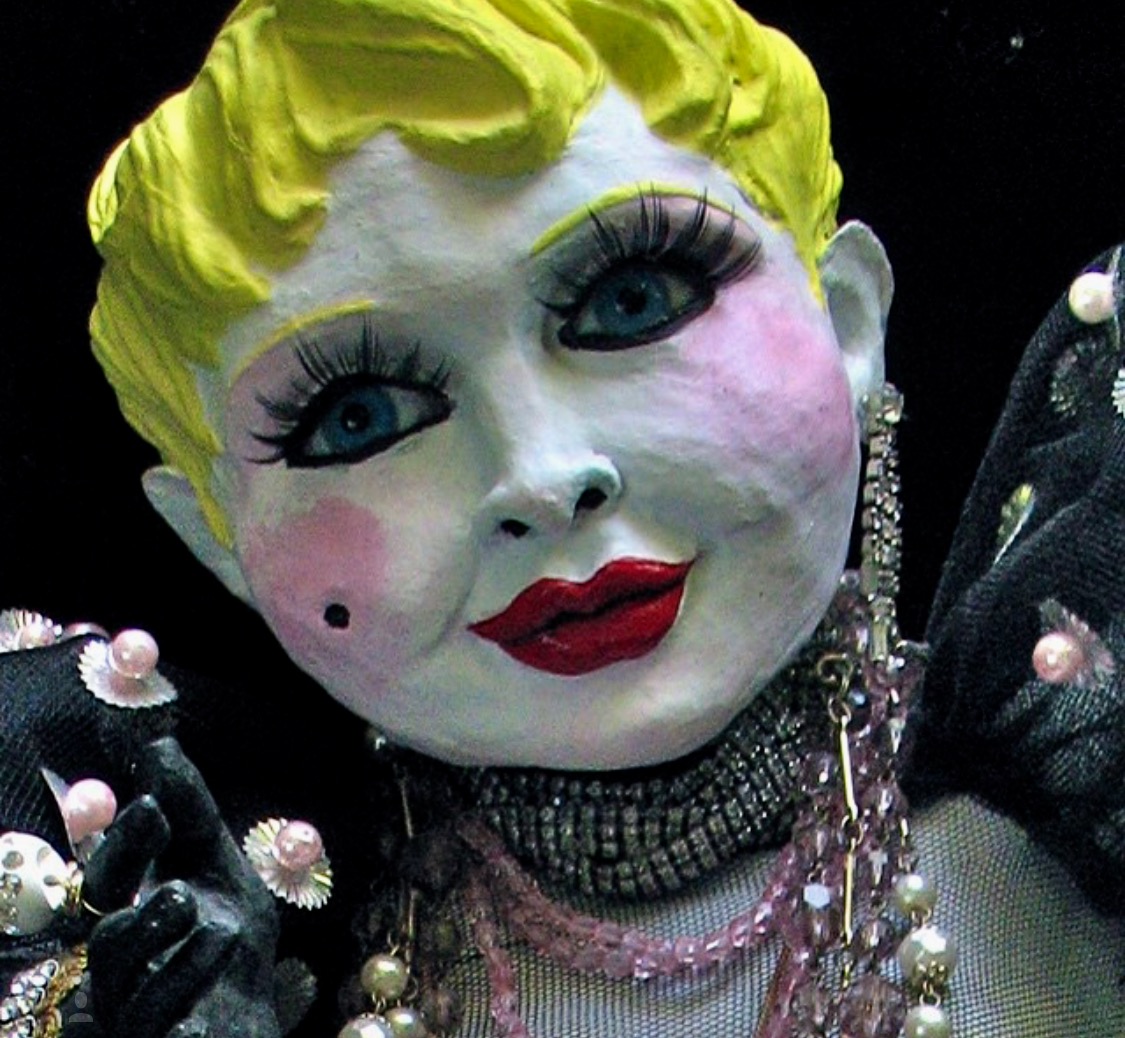 Can you talk about your work with Greer Lankton's archive and her lasting impact, especially on a young generation of queer artists? 
I started the archive in 2007. I realized I had over 3,000 negatives, piles of photos, and around 30 pieces of Greer's work. I then did the first show You Can't Throw It Away at One Archive, the gay and lesbian archive based here in L.A. After that show, I decided to hunt for whatever I could find that she made. I started going through old records and receipts of work she sold through Einsteins and from her gallery The Doll Club, which was housed in Einsteins from 1988 to 1992. Next up was the Love Me show at Participant, legendary now. It received so much deserved attention and ended up on every top 10 best exhibition lists of the year. The world had been reintroduced to Greer's work and could not get enough. It was at the Participant show that I noticed the new gender revolution was in full progress. This new generation, this new group of people who were choosing their identities, was coming to this show in droves and contacting me and letting me know how much Greer means to them as a symbol, as a role model, their new saint. The Love Me show was just a third of what she made in her short lifetime. I'm still on the search to find it all! At this time we have located approximately 250 pieces excluding the drawings, collages, and photographs, of which there are hundreds.
Greer's health was always a challenge, and to keep her thoughts off the daily pains she experienced, she would lose herself in work. Even when held up at the hospital for weeks she would make work. I would bring her boxes of photos from magazines she had cut up, glue, and paper. She would make collages and sometimes if her hands were cooperating she would draw. The one thing she never did was lay still. It was almost as if she knew how limited her time on earth would be. Pre her operation, which is how she referred to it, she suffered from asthma. After her operation it became much worse. Her lungs would at times shut down, her body was unable to tolerate hormone replacement. So from age 21 to 38 she had no hormones in her system at all, which creates unbelievable havoc. Greer also suffered from anorexia, which is often displayed in her work. Greer created many dolls of color, unknowingly creating a group of admirers who for the first time saw themselves represented. It was something I had not really taken in at the time. But at the Love Me show, many people of color told me how much it had meant to them to see themselves represented in the Einsteins windows as legitimately as any other group. Greer never set out to do that; it was just as natural to her as it was for the world we choose to live in. It's something I find very important about this current LACMA exhibition, Outliers and American Vanguard Art, the amount of "ordinary" brown and black faces on display in this show, and not in the usual degrading way but just as humans. That is so important and I wish everyone could and would be able to experience this landmark show. 
You are working with Lena Dunham on a documentary about Greer for HBO. Can you share with us your process? Are there aspects of Greer's photographic and film work that are influencing your decision making for the production?
Oh the doc, a true night-and-day obsession of mine. Lena, who has loved Greer's work since first seeing it at the Whitney Biennial in '95 at age nine, wants only the best. We both came to the realization that I should direct. I'm concentrating more on the New York years (1980–93), and since her work is mainly reflective we are using her actual work (mostly illustrations) to tell the story. I'm also using her own words from interviews to tell the personal journey of her youth, the operation, and other times I was not present. Greer and I were drawn to biography and to documentaries, and we often joked about who would play us in our movie. We would talk in a fantasy manner what we wanted our film to look like. I'm letting a bunch of those conversations guide me. Greer often said she didn't care if a boy or girl portrayed her as long as they were glamorous and thin! But we have decided to go with a trans actor.
I'm certain Greer would approve of this current gender revolution. She knew the value of being yourself. The doc will also feature many re-creations, I'm really looking forward to this. It should be fun to relive the moment with sets and costumes to match. I also found many of Greer's key outfits, and we will use her actual clothing as much as possible. The sets too will contain her books, her doll collection, her vanity items—I saved it all! We are basing the look of the recreations on footage Greer shot in the early 1990s, intertwining them with her footage.
Tell us about the short films we'll be showing on February 14 at LACMA.
One is titled Aunt Ruth, directed by Jemima Kirke staring Alex Cameron, a fantasy piece concerning Greer and her Aunt Ruth. One of the pieces in the current Outliers exhibition is a fabric-on-wire torso with a carved crucifix in the chest, which is one of many homages to Greer's Aunt Ruth, who killed herself in that manner when finding out her son was gay. Greer was heavily influenced by this action and this theme of a carved bleeding crucifix is throughout much of her work, having haunted her thoughts daily. We will also screen Zackary Drucker's piece At least You Know You Exist (2011) a love letter to Flawless Sabrina aka Jack Doroshow, who was a revolutionary drag queen, a mother/mentor to Zackary, a good friend of mine, and an absolute treasure to Greer. Along with two of Greer's short films, a three-minute piece titled No Mercy (1990), a meditation on the horrific AIDS epidemic to which we lost over 30 close friends, Contortionist (1979), a magical stop-animation film Greer made while still a teen on Super 8, and ssssssshh! a sneak peek at the doc. 
Join Paul Monroe, Zackary Drucker, and Lena Dunham for a Valentine's Day celebration of Greer Lankton's work with screenings, conversation, and a costume contest, 7 pm in the Bing Theater.