The Allure of Matter: Material Art from China brings together works by Chinese contemporary artists from the past four decades in which conscious material choice has become a symbol of the artists' expression. Their media range from the commonplace to the unconventional, the natural to the synthetic, the elemental to the composite: from plastic, water, and wood, to hair, tobacco, and Coca-Cola. Throughout the run of the exhibition, we will be highlighting individual artists and artworks from the show.
Liu Jianhua (b. 1962) has dedicated himself to the material of porcelain for over 40 years. At just 14 years old, Liu began working at the main ceramics factory in Jingdezhen, a city known as the "porcelain capital" of China, with a history of ceramic production dating back over a millenium. Porcelain, first created in China as early as the Tang Dynasty (618–907 CE), became a permanent icon of Chinese art, and was instrumental in establishing the nation's artistic identity internationally. For example, although porcelain was adopted by Europeans after trade routes were established with China in the 16th century, porcelain dishes and teacups are still frequently called "china" or "chinaware."
Eight years after beginning at the ceramics factory, Liu received the Jingdezhen Porcelain Art Hundred Flowers Award, and it was at that time that he elected to pivot in his career, to move from being a factory worker to being a fine artist.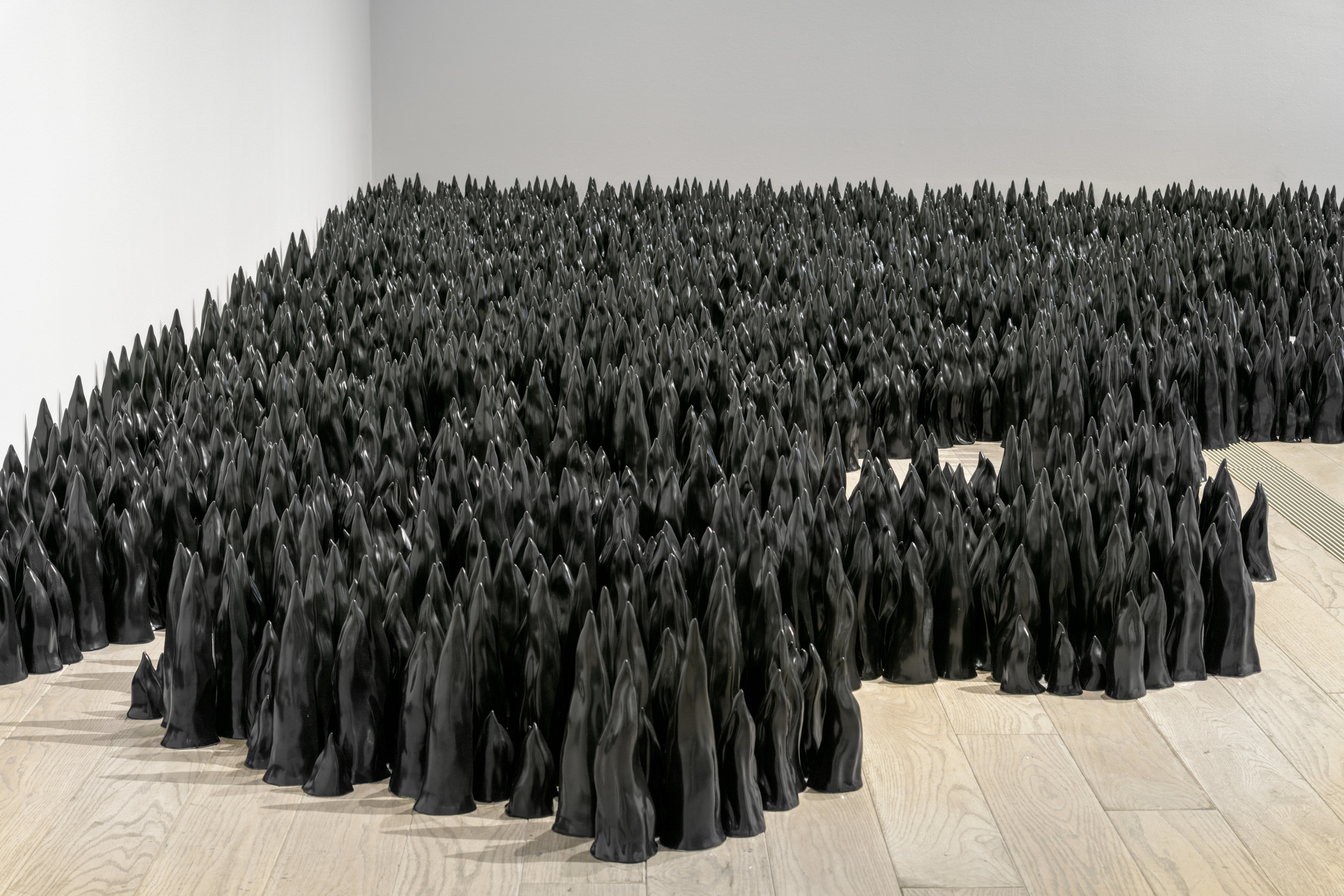 The Allure of Matter: Material Art from China features two feats of Liu Jianhua's artistic ability. Black Flame spreads over the floor, with 8,249 individual pieces of porcelain encroaching upon our gallery space. This shows a feat of production, through a vast expanse of porcelain sculptures that rivals the production ability of an entire factory but has just one name attached to it: Liu Jianhua.
In the same space as Black Flame, we see the contrast—the other side of Liu's artistic practice—in the form of what looks like large sheets of white paper hanging on the gallery wall. This is Liu Jianhua's Blank Paper, which, only through close looking, one discovers is created of very thin porcelain as well.
Porcelain is an incredibly malleable material, and to sculpt it into such smooth and unblemished sheets can be seen as a display of Liu Jianhua's mastery of his chosen medium. The works are unglazed, the porcelain uncontaminated; the artist sees no need to cover up his material with a forgiving glaze, and instead, celebrates the purity of blank porcelain.
Liu intentionally left these works blank to allow for a contemplative space for his audiences, so that visitors can fill in the spaces of the paper with their own thoughts. Liu shows us that porcelain can defeat the boundary between 2-D wall-hanging art and 3-D sculpture, and invites us to consider the inbetween.
The Allure of Matter: Material Art from China is on view in BCAM through January 5, 2020.