The Free Black Women's Library - L.A. and LACMA present a collection of books written by Black women that is inspired by the exhibition, Betye Saar: Call and Response. Asha Grant, Director of The Free Black Women's Library - L.A., details the partnership and book selection below.
Black women have long used art and literature as mediums for the world to interrogate the politics of identity, ancestry, and difference. They are two historic branches of African-American expression—from quilting dating back to the era of Transatlantic enslavement to the art and poetry of the Black Arts Movement and to the rise of contemporary Black women artists and writers like kimberly drew, Amy Sherald, Lauren Halsey, and Morgan Parker. Black women's literature and art create portals to our individual and collective past, present, and future, allowing readers and viewers the unique opportunity to exist on both sides of a story.
Betye Saar's work tells the story of our lives. She is widely known for her assemblages, many of which serve as statements of reclamation and reappropriation of the Black woman's body from the mainstream, capitalist gaze. Saar radicalizes popular images like Aunt Jemima (in Saar's work The Liberation of Aunt Jemima, 1972, Aunt Jemima is positioned with a gun in one hand and a broom in the other), thereby challenging racist, stereotypical, and mythical themes.
Like me, Betye Saar is from Los Angeles. Influenced by historically Black and undervalued spaces like the Watts Towers, Saar absorbed her surroundings and created art as three-dimensional as her subjects—the natural world in conversation with the material world in conversation with the self.
Books offer us similar experiences.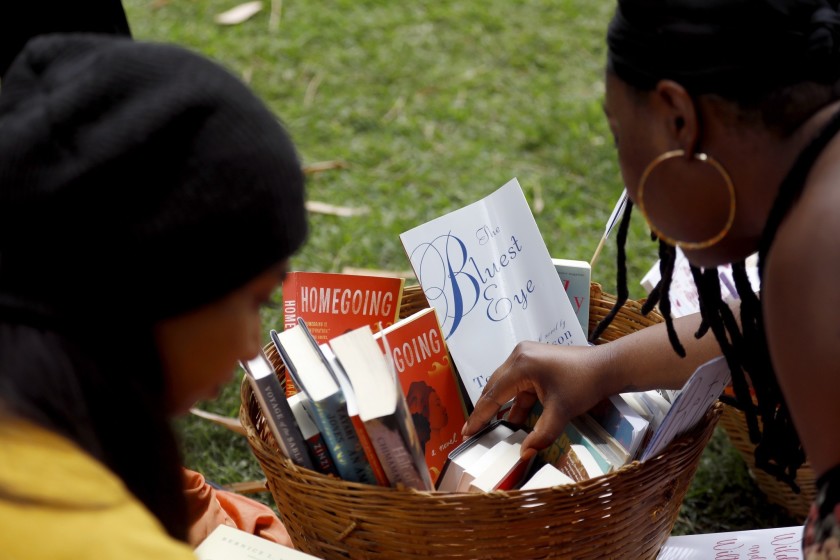 Texts are collaged pieces of their own right, words sometimes woven together, other times stacked atop each other in protest.
LACMA is currently presenting the exhibition Betye Saar: Call and Response, the first exhibition at a California museum to address Saar's entire career and the first anywhere to focus on her sketchbooks. When approached about placing books written by Black women in conversation with Saar's exhibition at LACMA, I responded with an immediate and enthusiastic, "YES," the Black art and literary world having such close ties in the movement for liberation.
As a lifelong reader, writer, and now director of The Free Black Women's Library - Los Angeles, my relationship to storytelling—visual and literary—is both personal and professional.
The original The Free Black Women's Library was birthed by Ola Ronke Akinmowo in the summer of 2015 in Brooklyn, NY, to celebrate Black women writers, artists, and creatives through community trading. After living in Harlem, NY, stumbling across and falling in Black Feminist love with TFBWL in 2016, I reached out to Akinmowo about bringing the movement to my hometown in Los Angeles, launching The Free Black Women's Library - Los Angeles in January 2019. We are a grassroots traveling book exchange and literary event series with Black women writers at the center. Our events range from art-making workshops to book discussions and screenings.
We are thrilled to be in partnership with LACMA for L.A.'s very own, Betye Saar.
We invite you to indulge in a literary exploration of Betye Saar's Call and Response exhibition with our "Book Playlist"—a collection of books written by Black women and inspired by the thematic threads of Black spirituality, representation, ancestry, Southern domestic life, nostalgia, and re-memory seen in Saar's installations and sketchbooks.
Increasing access to literature is one of our core missions. With support from LACMA, we are placing the selected books from our Book Playlist in each of our community partner spaces for the duration of the exhibition.
The Free Black Women's Library - Los Angeles Community Partners include: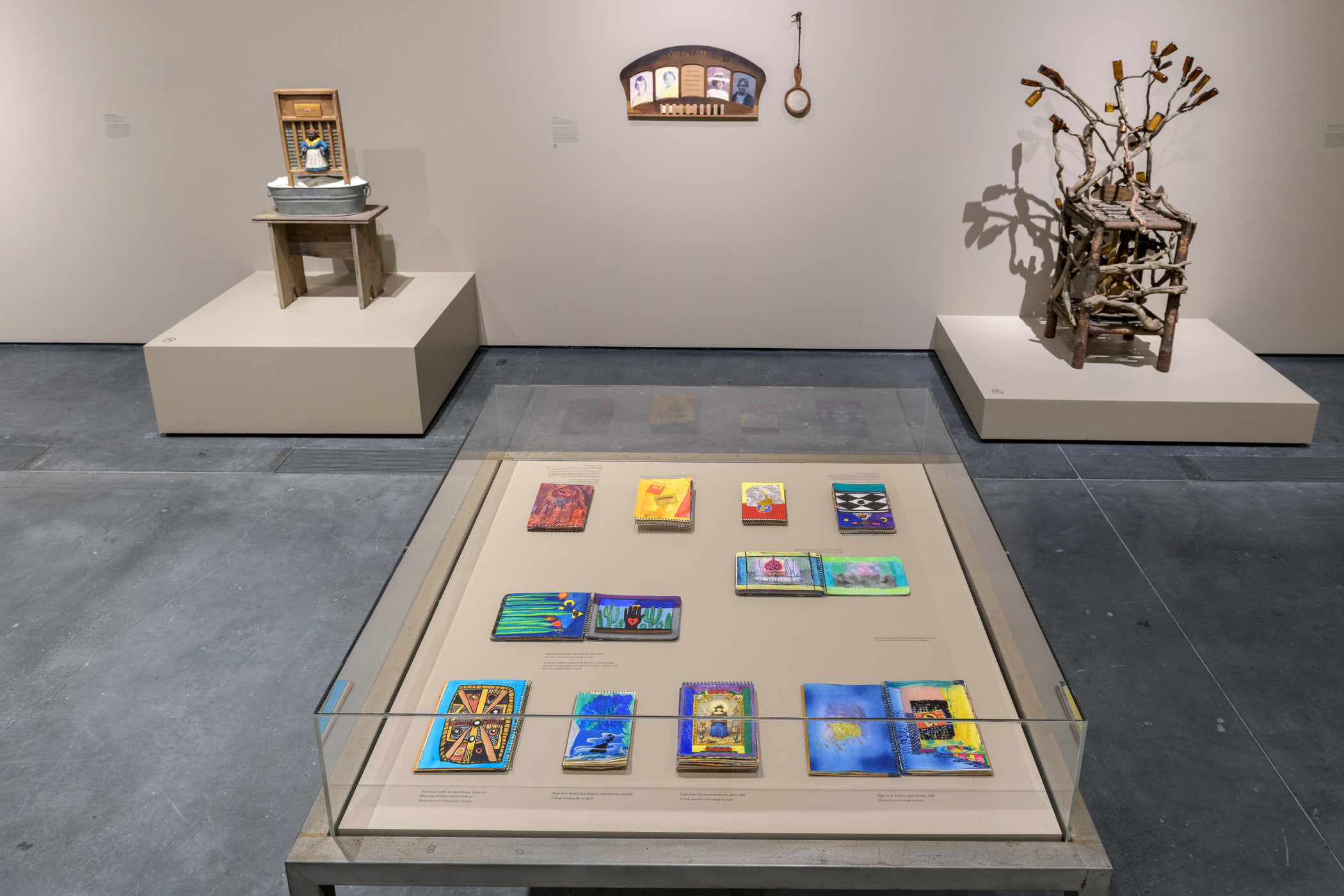 The Call and Response Book Playlist:
South of Pico: African American Artists in Los Angeles in the 1960s and 1970s by Kellie Jones examines the Black activist and arts scene in Los Angeles during the Black Power Movement, featuring the work of Betye Saar among prominent local artists like Charles White, Noah Purifoy, and Senga Nengudi.
Voyage of the Sable Venus and Other Poems by Robin Coste Lewis is a mystical, lyrical collection of poems reclaiming the Black woman's body—the Venus—through time, space, and place. Lewis is a Black woman writer from Compton, CA and the poet laureate of Los Angeles. LACMA will host Robin Coste Lewis on Thursday, February 27 at 7 pm for a reading in conjunction with Betye Saar: Call and Response. Get your free tickets.
The Bluest Eye by Toni Morrison explores themes of colorism, intersectionality, Black girlhood, class, and innocence, as observed in Betye Saar's mixed media installations like A Loss of Innocence (1998).
Homegoing by Yaa Gyasi is a work of historical fiction following descendants of the Transatlantic Slave Trade, extending and offering context to Saar's pieces featuring the disturbing and popular illustrated diagram of the "Brookes" slave ship.
Bone Black: Memories of Girlhood by bell hooks conjures up a "rich and magical world of southern Black culture that was sometimes paradisaical and at other times terrifying," with themes of familial relationships and legacies tying closely to the faded photographs, lace, jewelry, handkerchiefs, and other symbols of Black matriarchy found in Saar's mixed media art.
Domestic Work: Poems by Natasha Trethewey is a collection of poetry detailing intimate moments of the southern Black working class in the first half of the 20th century. Poems like "Tableau" and "Hot Comb" locate household items within the African-American tradition and experience as an avenue to explore a complex interior life. Saar often collects household items and discarded pieces to transform into social critiques of America's relationship to Blackness and labor (ex: I'll Bend But I Will Not Break (1998), installation made of a vintage ironing board, flat iron, metal chain, white bed sheet, wood clothespins, and rope).
Women, Race, & Class by Angela Y. Davis is regarded as a foundational Black feminist text, Davis holding particular significance around Saar's impact, notably quoted as declaring Betye Saar's The Liberation of Aunt Jemima (1972) as sparking the Black Women's Movement.
Quicksand and Passing by Nella Larsen, published in 1928—just two years after Saar was born—is a novel that explores interracial themes and the complexities of identity, color, class, and lineage within the African-American community.
Please note: LACMA is temporarily closed to the public until further notice. While our lending library is temporarily unavailable, peruse L.A. County Library and the Los Angeles Public Library to borrow a book online or consider supporting your local bookstore by ordering one of the books from the playlist.