One of the most significant assemblage artists working today, Betye Saar (b. 1926, Los Angeles) addresses spirituality, gender, and race in her art. Part of the strong Southern California tradition of artists using found objects, she combines items typically discovered at flea markets and secondhand stores—or given to her by friends—into conceptually and physically elaborate creations. Her sources and influences are as varied as Simon Rodia's Watts Towers; Haitian Vodou; Australian Aboriginal painting; Egyptian artifacts; African American history, literature, and music; and Native American leather work. LACMA is currently presenting Betye Saar: Call and Response (on view through April 5, 2020), the first exhibition at a California museum to address Saar's entire career and the first anywhere to focus on her sketchbooks. I'll Bend But I Will Not Break—from LACMA's collection, acquired through the 2018 Collectors Committee—is on view in the exhibition. LACMA is very proud to announce two recent acquisitions by Saar: Mojo Bag #1 Hand (1970) and Essence of Egypt (1972).
Mojo Bag #1 Hand is one of a number of works Saar made in the early 1970s using a group of cowhides given to her by Alonzo Davis, co-founder of the Brockman Gallery in Los Angeles (which supported African American artists including Saar, David Hammons, John Outterbridge, and Noah Purifoy). The piece reflects the influence of Saar's visit in 1964, with her friend and fellow artist Hammons, to the Field Museum in Chicago. As the artist has described it, "Before [that visit], I was using symbols that were more Eurocentric. But when I went to the Field Museum, in the basement they had all this work from Africa, Oceania, and even China and Japan—everything that wasn't European, which was displayed nicely upstairs. All this other strange stuff was in the basement…this weird, fetish, magic stuff. They were organic materials—leather, hair, shells, bones. So when I came back to Los Angeles, I started collecting this. When Alonzo gave me those animal hides, I just got into it."
Mojo Bag #1 Hand is informed in part by Native American leather pouches, normally sewn by women. Traditional medicine pouches, typically made with soft hides and often decorated (as is Mojo Bag #1 Hand) with fringes, beads, feathers, and other materials, might include a small inner pouch designed to hold something sacred. Mojo Bag #1 Hand similarly has a small inner pouch with a bone, the "mojo" of the work's title. Rather than the traditional leather fringes, Saar's bag has macrame fringes, one of a number of techniques—including quilting, sewing, embroidery, and knitting—that many women artists used in the 1970s to open up conversations about the value of "women's work" and to critique modernist hierarchies of "art" vs. "craft." The hand/eye imagery on the front of Mojo Bag #1 Hand refers to the hamsa, a palm-shaped amulet popular throughout the Middle East and North Africa. Hamsas show the palm of the hand, often containing an eye symbol, and are considered a defense against the evil eye. Both the hand (typically a silhouette of Saar's own hand) and the eye are recurring motifs in Saar's work.
Mojo Bag #1 Hand was included in five exhibitions across California between 1970 and 1974 and has remained with the artist ever since. The work's recent inclusion in Soul of a Nation: Art in the Age of Black Power at The Broad in Los Angeles was the first time the piece was shown publicly in 34 years. It is the earliest piece by Saar in LACMA's growing holdings of her work.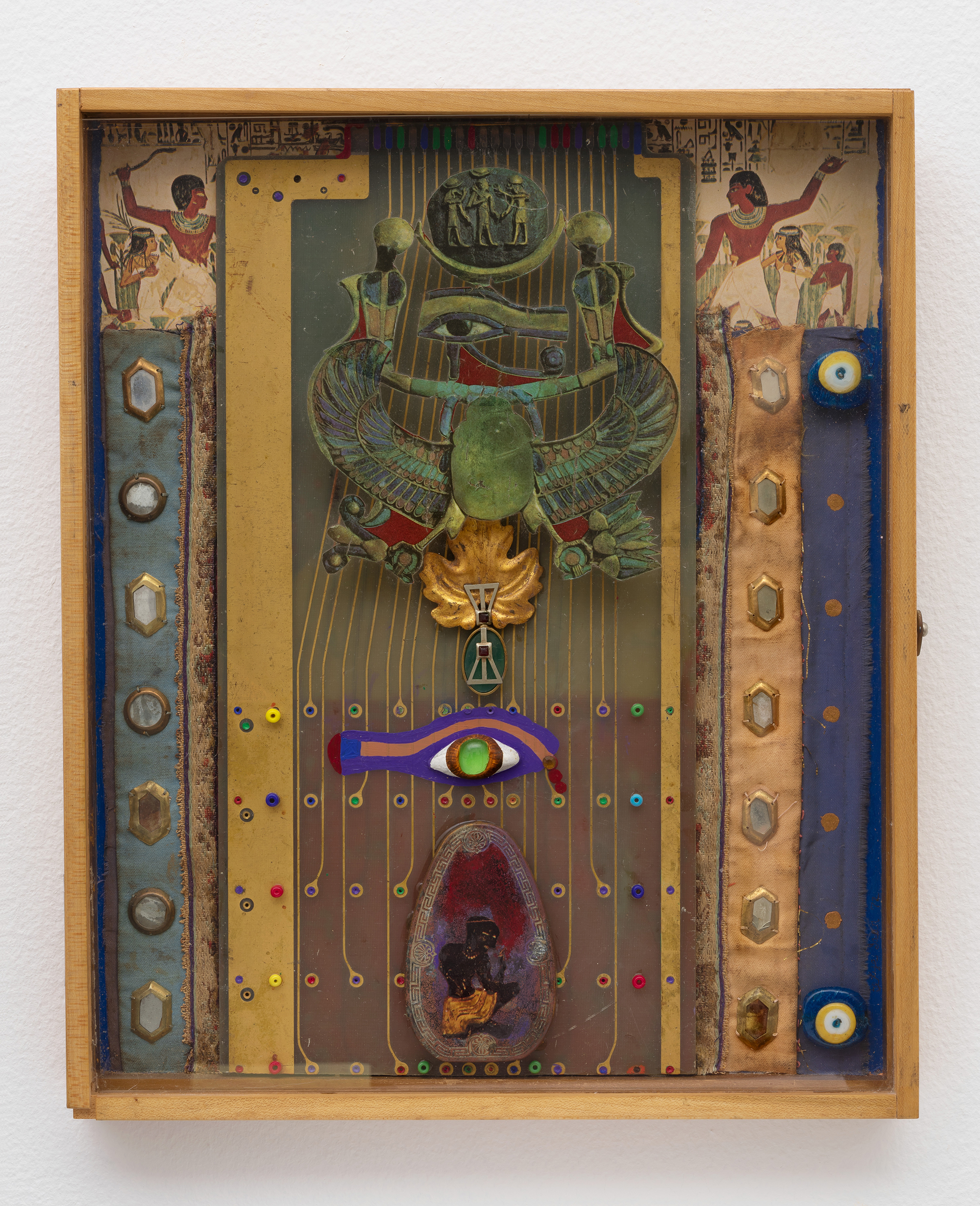 Essence of Egypt reflects not only Saar's long-standing interest in the art and artifacts of many (especially non-western) cultures but also the "Tut-mania" that resulted from the first exhibition, in 1972 at the British Museum, of the Treasures of Tutankhamun, considered the first "blockbuster" and still the most popular show in the British Museum's history, with 1.7 million visitors. Treasures of Tutankhamun subsequently traveled to LACMA in 1978, where it attracted almost one million visitors. The top central portion—with the oval three-figure relief, the so-called Eye of Horus below, and the pale green scarab with falcon wings—is taken directly from a pectoral in the Treasures of Tutankhamun exhibition. There are numerous other Egyptian motifs in Saar's assemblage as well, including images borrowed directly from New Kingdom tomb wall paintings at the top left and right.
Essence of Egypt is a bequest from long-time trustee Terry Bell and her husband Lionel, who acquired the work in the 1970s out of a show at LACMA's then-active Art Rental Gallery. While we mourn Terry and Lionel's passing, we are grateful for their generosity to the museum.
We look forward to exhibiting these works in the future. Don't miss the chance to see Betye Saar: Call and Response, on view through April 5, 2020 in LACMA's Resnick Pavilion.