The day before the opening of Fiji: Art & Life in the Pacific, Fijians Joji Marau Misaele and Setareki Domonisere were in the Resnick Pavilion putting finishing touches on their drua, a 26-foot-long double-hulled canoe made using traditional techniques and materials. The boat was commissioned by LACMA for the presentation, the first major exhibition on the art of Fiji presented in the U.S., and Misaele and Domonisere had led a team of skilled carvers and mat-sail makers to construct the drua in Ogea, Fiji, over five months last year. Domonisere examined the tiny coconut-fiber braids on a mid-nineteenth-century javelin spear hanging on the wall in an adjacent gallery, and compared them to the ones he was weaving as reinforcement for the sail. He showed them to Misaele and exhibition curator Steven Hooper, from the Sainsbury Centre for Visual Arts, and the three marveled at the tight, minuscule lacings.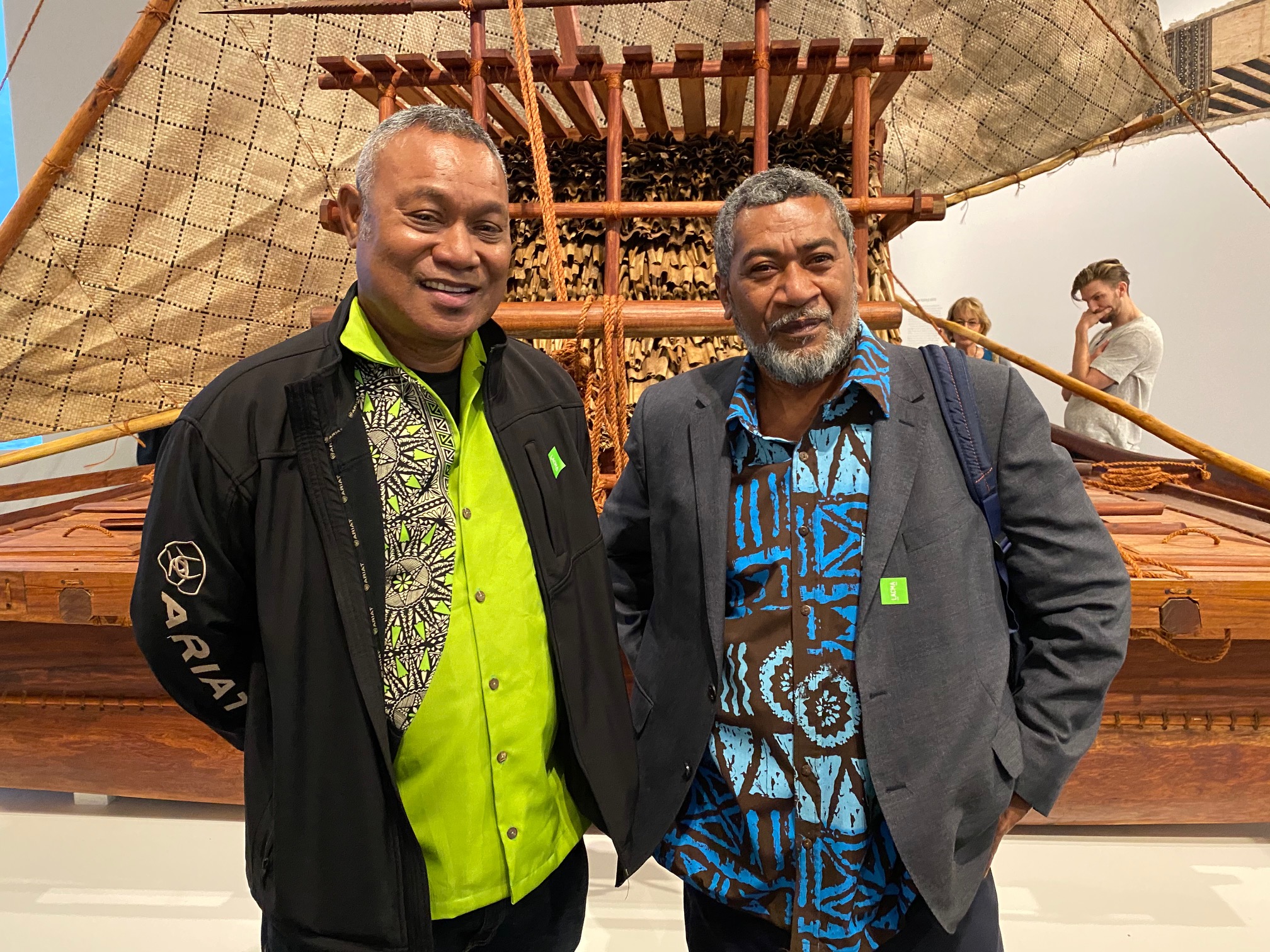 Outrigger canoes, or camakau, have historically played a vital role in daily life for Fijian communities, used for everything from trade and transportation to battle. For Misaele and Domonisere, boat-making runs in the family. Boat builders tend to come from the Southern Lau islands, like Ogea, Fulaga, and Kabara. Domonisere grew up in Fulaga, and Misaele was born in Ogea. As the youngest child, Misaele was sent away from the time he was six to nineteen years old to attend school in Suva, Fiji's capital, a 24-hour boat ride from his home island. At 19, he returned to Ogea, where his father, a boat builder, taught him to sail. "We sailed on canoes from one island to another. It was exciting for someone brought up in the Lau area to go to villages. We rely on canoes for daily transport, gardening, and fishing," he said. "They are part of our survival." After a year of training in boat-making and sailing with his father, Misaele returned to Suva and then went to university, where he researched how to design safe and efficient outrigger sailing canoes.
Due to their construction, the traditional single-hull boats that people used back home were unsafe and frequently wrecked. As an engineer, Misaele wanted to improve the safety and efficiency of these vital forms of transportation. He aimed to create a boat that was watertight and able to float, so that it could rescue itself. Before Misaele's first prototype, in 2012, boats capsized all the time; if the hull of a canoe filled with water, it was impossible to bail it out. He filled the hull of his model with Styrofoam to increase the boat's buoyancy, and used nails, marine glue, and rope, as opposed to coconut husks and tar. An eight-meter boat can be made in five months with new tools, he says, which is an improvement from the two years it took with old tools. After his first canoe was complete, Misaele raced it against traditional camakaus from Suva to Beqa Island. His boat won. Since then, Misaele, currently the Head of the School of Mechanical Engineering at Fiji National University, has become somewhat of a camakau celebrity. He was commissioned to make a boat for an exhibition in Rome and traveled to the Bonn Climate Change Conference as a representative of carbon-free transport. In 2016, he was invited to Windsor Castle to present his boat at Queen Elizabeth's 90th birthday. He has taught classes on boat design, engineering, and carpentry to help enrich and preserve traditions in the Southern Lau archipelago.
The drua for LACMA, the construction of which was made possible with generous support from the exhibition's presenting sponsor FIJI Water, showcases the craftsmanship of Misaele and his team in a model made with traditional materials—wood, coir, hibiscus fiber, and pandanus leaf—without any metal components. Pairs of polished white cowrie shells line one side of the boat, creating a striking contrast against the dark wood. That's because boats are female, said Domonisere—the shells symbolize femaleness. Thanks to Misaele's successful engineering, the canoe is ambidextrous; you can shift the sail depending on the wind direction. While at LACMA, the boat is pointed west, but we'll see which way the wind takes her next.
Please note: LACMA is temporarily closed to the public. We are actively reviewing the possibility of extending exhibitions that are affected by the museum's temporary closure. We will announce any news about exhibitions by email, on our website, and through social media (@lacma).