The LACMA-ASU Master's Fellowship in Art History—developed by LACMA and the Herberger Institute for Design and the Arts at Arizona State University (ASU)—was established to combine academic training and work experience to advance the careers of a new generation of curators, directors, and other museum professionals who are committed to increasing equity and inclusion and engaging new perspectives, cultures, and backgrounds.
The three-year fellowship is intended to complement and expand the value of other important programs at LACMA to help diversify the ranks of curators and other professionals in art museums. Pairing rigorous academic instruction through traditional master's-level coursework and thesis with on-the-job work experience, LACMA and ASU Art Museum staff who are selected as fellows enroll in two courses per semester remotely, and fulfill language, professional development, and research requirements while continuing in their current role at their respective museums. Fellows receive access to resources at LACMA and the Herberger Institute, and upon completion of the program, receive a master's degree in Art History from ASU.
I recently caught up with the current Fellows to learn more about their experiences in the program.
Aurora, what is your role at LACMA?
I'm the Curatorial Administrator for the Art of the Ancient Americas department. My role is to support the curators and postdoctoral fellows on the team with their research and exhibition goals, and interface with other departments in the museum. I work with our databases, administer the budget, schedule the agenda, organize travel, translate documents, and do some creative troubleshooting. Our department is pretty special in that our program director, Dr. Diana Magaloni, cultivates a growth-oriented environment, which for me means that I sit in on a number of meetings with people with many more accolades, years of study, and professional experience than myself, yet I'm encouraged to participate and contribute to the projects the team develops.
What drew you to the LACMA-ASU Master's Fellowship in Art History program?
I was interested in the fellowship because of my interest in art and art history, and, economically and career-wise, it seemed like a great opportunity. Art has been meaningful to me from a young age, and I pursued that interest in my higher education, completing a Bachelor's in Fine Arts with a concentration in painting. When I heard about the fellowship, I was excited about the opportunity to learn about art through the rigor of a graduate program in art history; plus, the offer was very appealing: a tuition scholarship at a good university, maintaining my employment, access to LACMA's and ASU's resources, travel opportunities (pre-COVID-19), professional development through mentorship, and a cohort that I could share the experience with.
What does a "day-in-the-life" of a LACMA-ASU Fellow look like?
It varies. Before the safer at home order, during the day, I would work and attend classes through Zoom, and in the evening I would read or write for a couple of hours. Then, on weekends, I would study, catch up on chores, and make time for activities that keep me happy like exercise, drawing, or eating out with friends. Depending on how far along I am in the semester and the projects at work, this balance can disappear and on some weeks, my time is fully devoted to work and school. As part of the program, my weekly work schedule is reduced to 30 hours and what that looked like for me, even before the change in work dynamics due to the pandemic, is that my boss gave me the flexibility to work from home on one of the days I had class. Many students have to juggle work, school, and caring for families without that support, so I'm very grateful for that.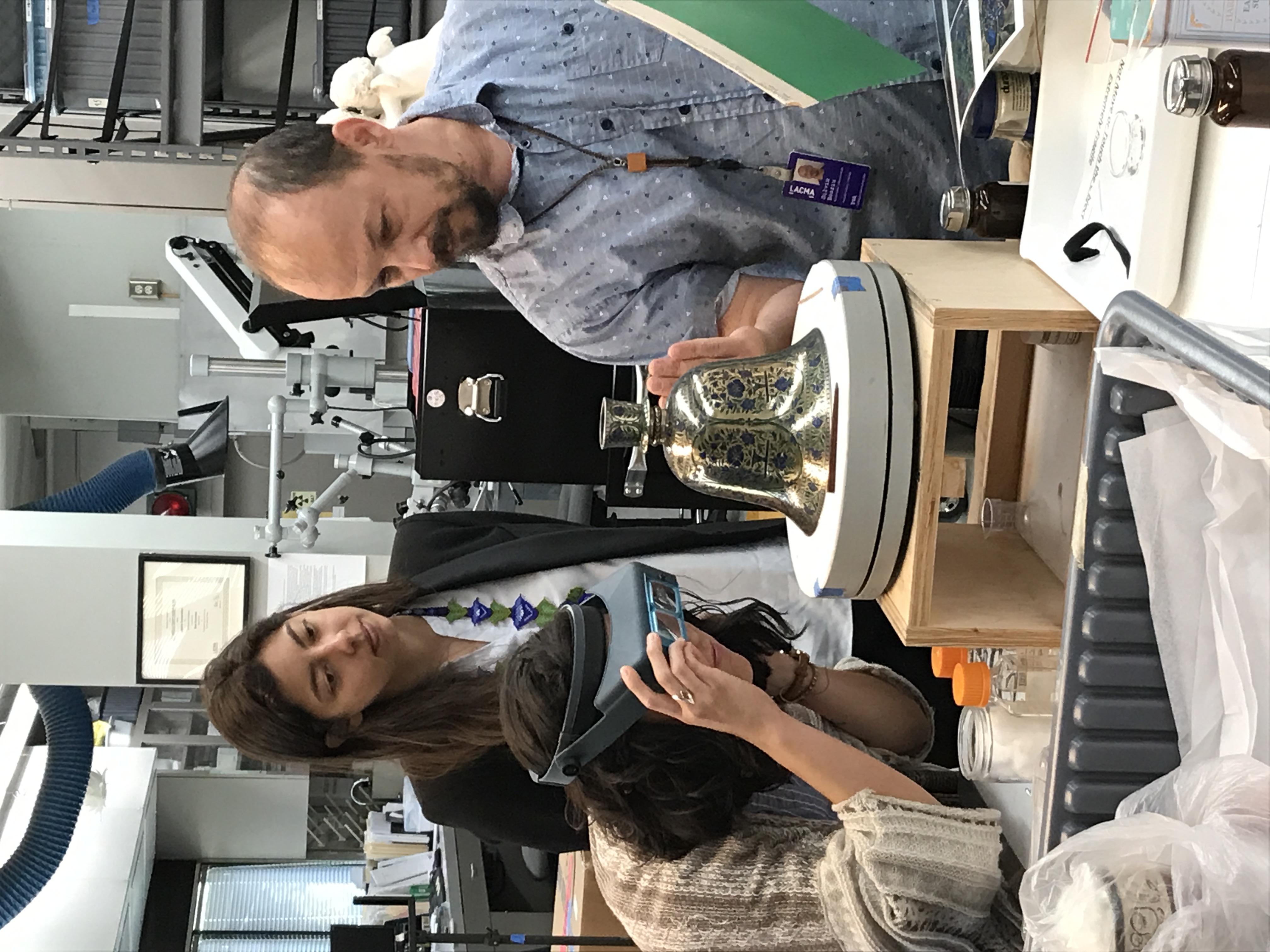 What has been the most challenging part of the fellowship?
Practicing and improving my writing and research skills, effective time management to have time for other things I like to do, and keeping up with habits to manage stress and anxiety.
What has been the most interesting or rewarding part of the fellowship so far?
The most rewarding part of the fellowship is the network that supports me through this experience, including my professors, my colleagues in the Ancient Americas department, my network of women artists, and my husband. It's challenging to juggle multiple hats but the experience is giving me opportunities to feel connected to the people that are helping me through my struggles with their advice, their editing skills, and late-night snacks.
How has the experience influenced your career focus or future goals?
I find the contrast between experiencing artworks in person and the process of researching and writing about art quite interesting. The manner in which art organizes information in time and space is quite different from the linear nature of words, and as I develop as an artist and a scholar, I'm curious to understand how these endeavors can influence each other. I'm open about where I'd like to go next career-wise, but I want to continue growing and I'd like to be part of projects that create opportunities for more people to have access to art.
What subject(s) do you plan to focus on in your Master's thesis?
The task that I have for this summer is to get some clarity on my research topic, but my point of departure is a couple of anecdotes about one of my Dutch great-grandmothers, her art craft, and her position as a Dutch woman in colonial Indonesia. The major theme emerging from this is art's materiality because, actually, the craft she made doesn't exist anymore, but I'm also looking at themes of memory, nostalgia, and cultural hybridity. I'm also wondering to what extent my own identity as a Mexican-Dutch woman living in Los Angeles informs my research, so I have many ideas to sift through. One great aspect of the program is that it gives me an opportunity to reach out to curators and other staff at LACMA to have conversations about my research and they've been incredibly open to that, plus I've received lots of suggestions on lines of research I hadn't thought of and contacts to continue pursuing my project.