The LACMA-ASU Master's Fellowship in Art History—developed by LACMA and the Herberger Institute for Design and the Arts at Arizona State University (ASU)—was established to combine academic training and work experience to advance the careers of a new generation of curators, directors, and other museum professionals who are committed to increasing equity and inclusion and engaging new perspectives, cultures, and backgrounds.
The three-year fellowship is intended to complement and expand the value of other important programs at LACMA to help diversify the ranks of curators and other professionals in art museums. Pairing rigorous academic instruction through traditional master's-level coursework and thesis with on-the-job work experience, LACMA and ASU Art Museum staff who are selected as fellows enroll in two courses per semester remotely, and fulfill language, professional development, and research requirements while continuing in their current role at their respective museums. Fellows receive access to resources at LACMA and the Herberger Institute, and upon completion of the program, receive a master's degree in Art History from ASU.
I recently caught up with the current Fellows to learn more about their experiences in the program.
Ariana, what is your role at ASU?
I am a third year LACMA-ASU Master's Fellow and Assistant Registrar at the ASU Art Museum.
What drew you to the LACMA-ASU Master's Fellowship in Art History program?
The opportunity to continue working within the ASU Art Museum, gaining relevant museum experience while simultaneously working toward a Master's degree was what initially drew me to the LACMA-ASU Fellowship. Receiving the necessary support as both a student and museum professional is an important aspect of the program. I wanted to take part in a diversity initiative committed to supporting the work of emerging museum professionals of color.
What does a "day-in-the-life" of a LACMA-ASU Fellow look like?
A "day-in-the-life" of a LACMA-ASU Fellow involves registrarial work and academic seminars. My registrarial work can look like entering object and constituent information into the museum's database, photographing, inventorying and unpacking incoming works of art in the gallery, thoroughly looking over art objects to ensure their stable condition, drafting legal documents associated with the collection such as loan agreements or deeds of gift, monitoring the temperature and humidity levels in storage vaults, or overseeing truck shipments of artwork in the loading dock garage. This work day is supplemented by coursework and seminars on various topics such as collaborative strategies for conceiving, planning, organizing, and writing for museum exhibitions, contemporary art theory, and critiquing historical methodologies in art history.
What has been the most interesting or rewarding part of the fellowship so far?
The most rewarding part of the fellowship are the colleagues and allies that I have had the opportunity to meet and learn from at both LACMA and ASU. The cohort of fellows continuously teach and inspire me in ways that will stick with me as I grow professionally. Erika Franek, Assistant Director of Registration & Collection Information at LACMA, and my mentor in the program, has provided such generous knowledge, time, and resources that contribute to both my academic and museum work. Our department at the ASU Art Museum continuously benefits from the collection's stewardship information that Erika and the incredible team of registrars at LACMA provides.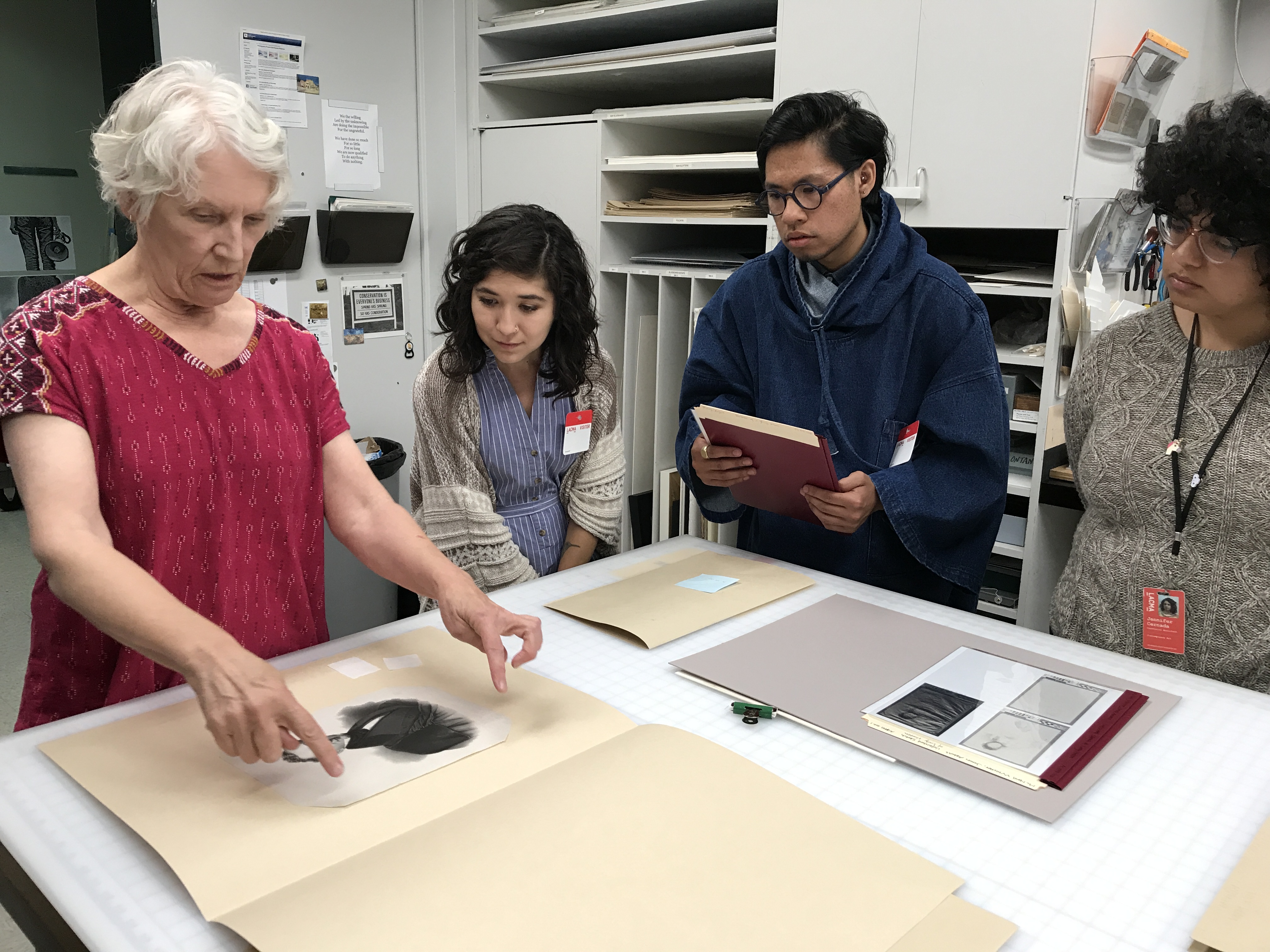 What has been the most challenging part of the fellowship?
The most challenging part of the fellowship has been learning about the colonial systems that museums are founded on, coming to terms with what that means and asking myself what I can do to contribute in altering these systems as an emerging museum professional. As a fellow in this diversity initiative, I want to dedicate myself to doing that work, even if that primarily starts within my own small museum department, ensuring that the workplace culture continues to be an inclusive space where we can thoughtfully engage in conversations and check our own biases.
How has the experience influenced your career focus or future goals?
The fellowship has solidified my career focus in collections management at an art institution. I am grateful for the experience and tools I have gained thus far at the ASU Art Museum. Working for a smaller institution has given me a diverse skill set that I am confident will be beneficial in future roles. Most importantly, the fellowship has challenged me to always be cognizant of where I am potentially holding up systems of oppression instead of working to deconstruct and dismantle them. I hope to help steward a collection that communities can be proud of and feel ownership over, while respectfully honoring connections of people's past, present, and future in my museum profession.
What subject(s) do you plan to focus on in your Master's thesis?
I am examining how the work of Ana Teresa Fernandez (b. Tampico, Mexico; lives and works in San Francisco) and Margarita Cabrera (b. Monterrey, Mexico; lives and works in Arizona) create a geography of resistance around the U.S.–Mexico border by addressing exploited women's labor and valorizing the resiliency of immigrants.
Further methodologies I am exploring include:
Giorgio Agamben's concept of bare life—the depoliticized human state, as a reflection of the contemporary migrant condition.
Michel Foucault's expanded ideas of the panopticon to discuss the border wall as a structure of social control.
Victor Turner's explorations of liminality to examine the borderlands as third space.