Cooking with LACMA is a quarterly series that brings together chefs and culinary historians to demonstrate recipes inspired by artworks at the museum. In the first installment of this series, we invited chef and educator Maite Gomez-Rejón to create a recipe responding to the works of Mexican artist Rufino Tamayo. She came up with a summery Mango-Pineapple Mezcal Margarita inspired by Tamayo's painting Woman with Fruit Basket (Mujer con canasta de frutas) and also shared interesting stories about the ingredients' histories. Watch Gomez-Rejón's recipe demonstration and read about the fun facts if you haven't already!
For this episode, we are excited to have chef Chandra Williams teach us how to prepare the Fijian dish ika vakalolo. In Fijian, ika means fish and lolo is coconut cream or milk, thus ika vakalolo is fish with coconut cream. Her presentation is in conjunction with LACMA's exhibition Fiji: Art & Life in the Pacific, which features over 280 artworks, giving us insight into the richness and diversity of Indigenous Fijian culture.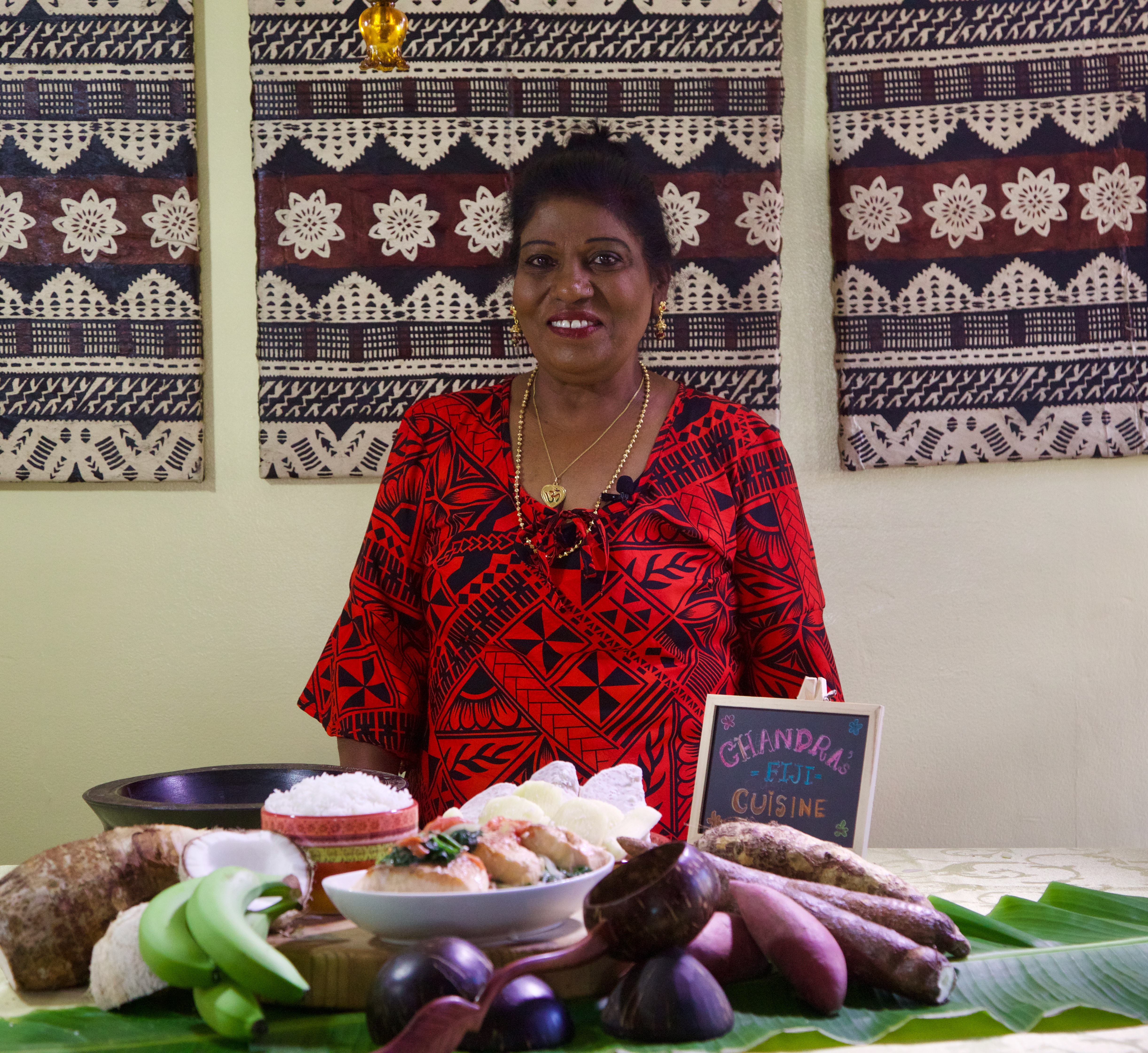 Chandra was born in Fiji on the island Viti Levu and is of Indo-Fijian heritage. She moved to California in 1979, and over the years she has taught many types of Fijian cuisines in Los Angeles. In 1987, she opened her restaurant Chandra's Fiji Indian Cuisine in Manhattan Beach. (She has since relocated the restaurant to downtown Los Angeles, sold the establishment, and retired!)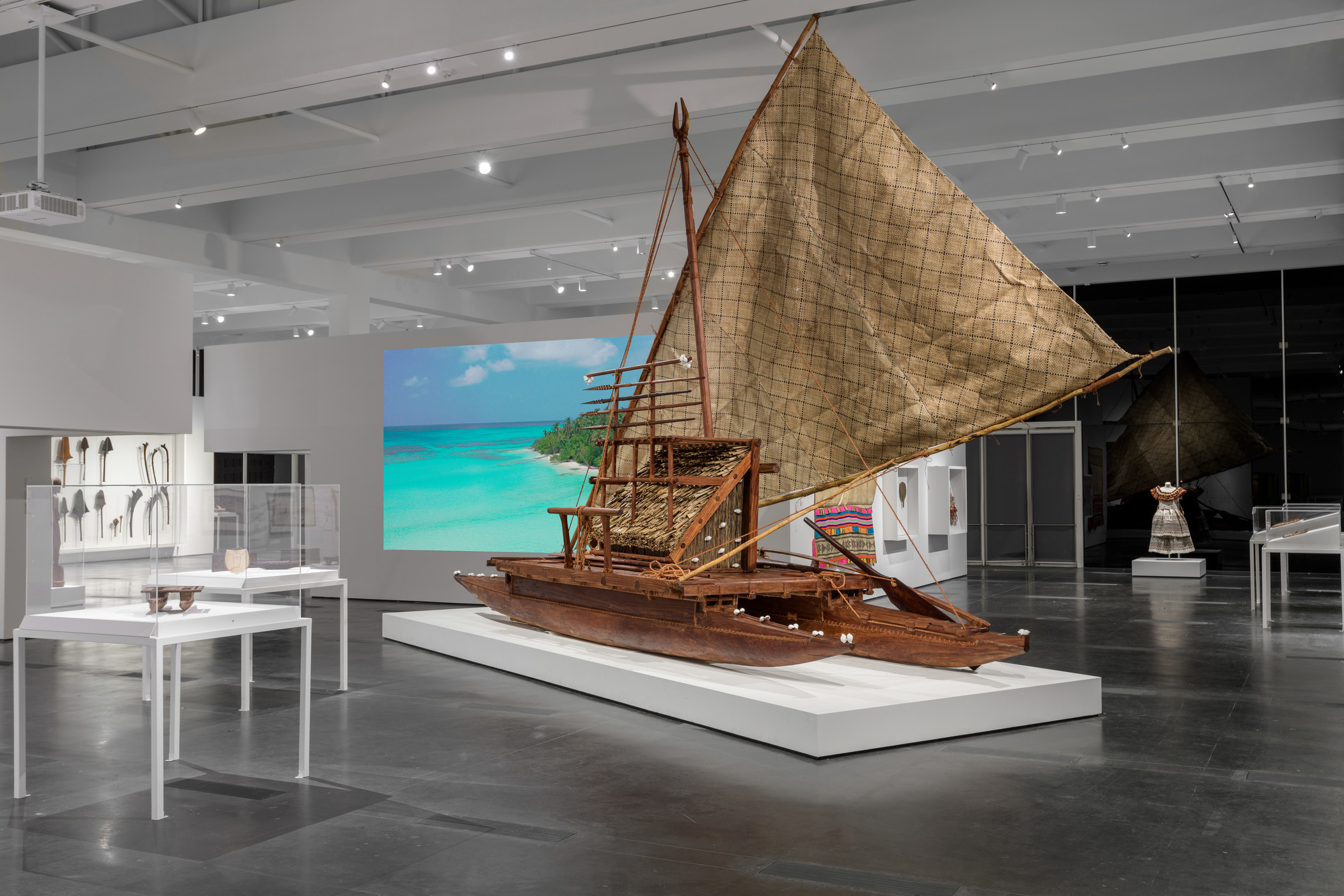 Chandra visited the Fiji exhibition at LACMA last December when it first opened. Upon entering, what immediately drew her attention was the 26-foot drua, a Fijian double hulled canoe. The drua was commissioned by the museum and made by a group of Indigenous Fijian artisans using traditional tools, fiber lashing, and shells, and it does not include any metal components. Canoes were essential for transportation between regions because Fiji is a country comprising many big and small islands. Besides transportation, fast-moving canoes were used for fishing. Typically, men employed spears to fish while women employed nets. The natural reefs and lagoons provide an ample supply of fish, making it a common protein in Fijian cooking.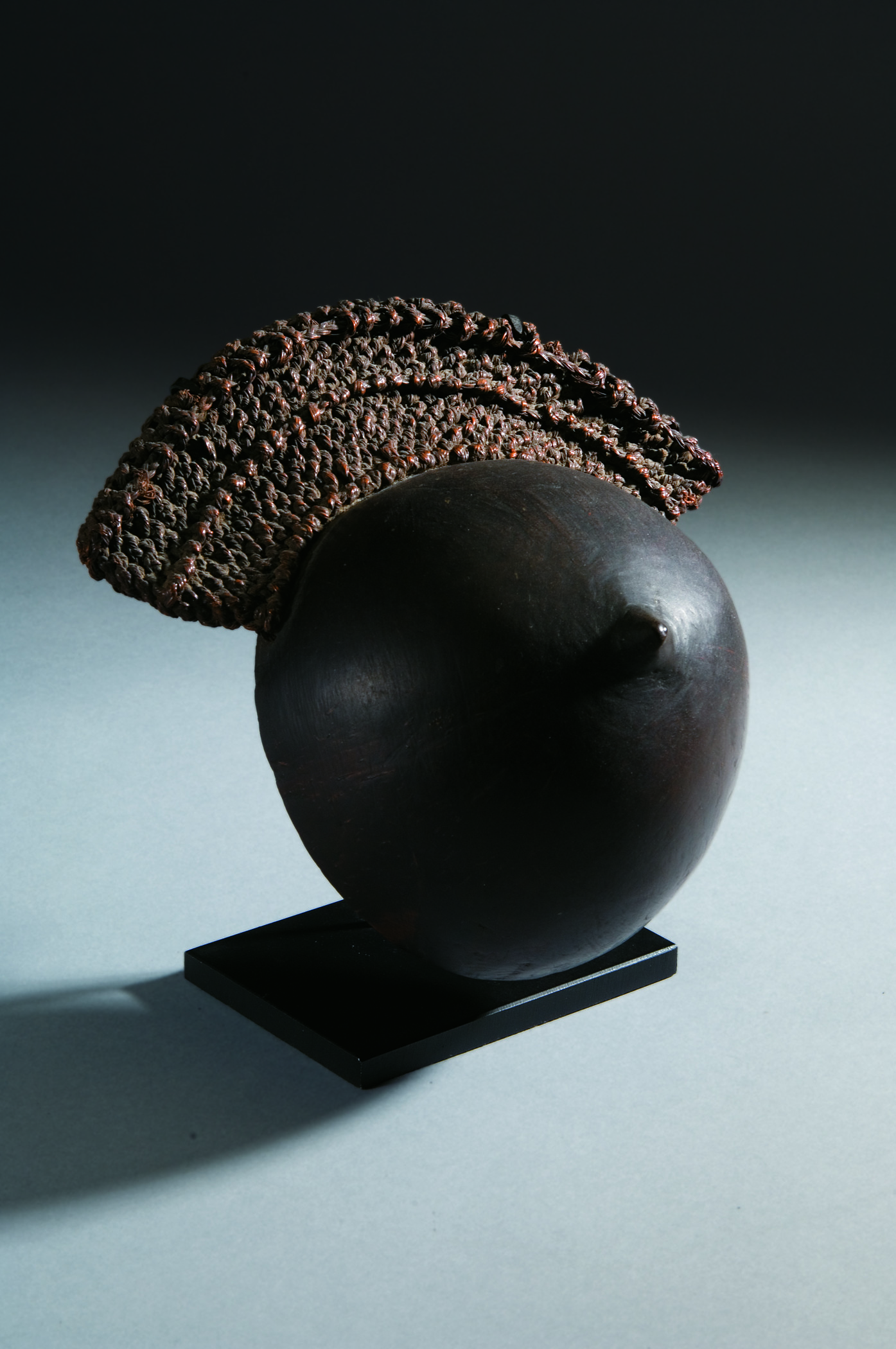 In addition to fish, another key ingredient in ika vakalolo is coconut cream. Fiji's bountiful tropical environment is home to abundant coconut trees. In fact, Indigenous Fijians have utilized the different parts of a coconut to the fullest, including the shell, leaf, and husk, to create various everyday objects as well as chiefly cultural heritage items. For example, this beautifully crafted cup (or bilo in Fijian) in the exhibition, from the early 19th century, is made from coconut shell and fiber.
Also in the exhibition, included in the "Voyaging section," is a semicircular and flat fishing basket (noke in Fijian) from the 19th century made with coconut leaf and hibiscus fiber. The coconut leaf was carefully woven together to create a handy basket for carrying small fish caught during daily fishing trips. Women wore these baskets around their waists, and the narrow opening at the top allowed the women to slide small fish into the hole without them falling out.
Now that we've learned about the two main ingredients in ika vakalolo—fish and coconut cream—and how they relate to works in Fiji: Art & Life in the Pacific, let's watch Chandra's video to learn how to make ika vakalolo (from scratch) at home! Put on an apron, and prepare a delicious Fijian meal in your own kitchen.
In Fiji, ika vakalolo is often eaten with root vegetables like cassava and taro (tavioka and dalo in Fijian). If you can't find these vegetables at your local grocery store, pair the dish with any starch of your choosing. Enjoy your meal!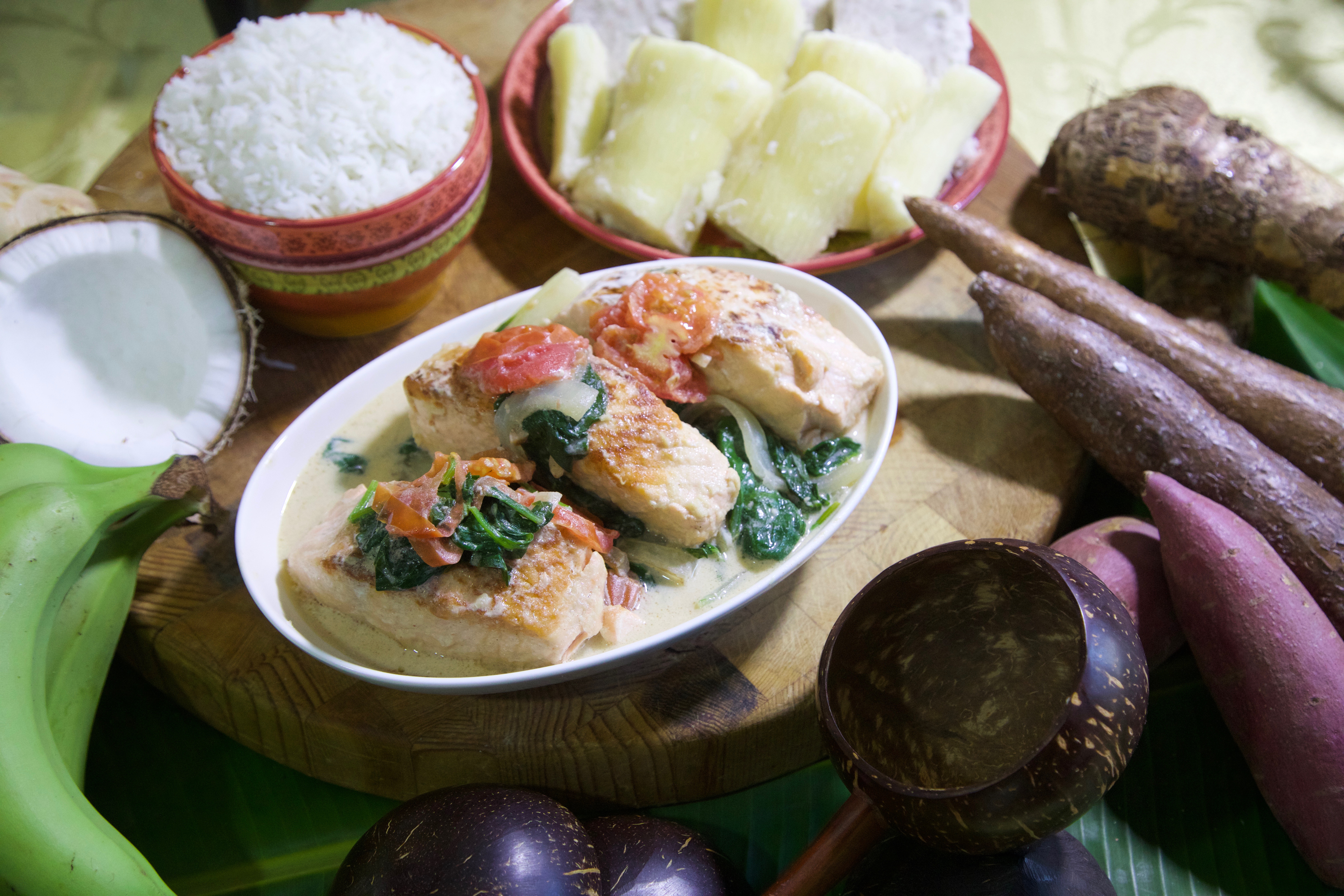 Recipe for Ika Vakalolo (Fish Cooked in Coconut Cream)
Serves 4
Ingredients:
4 tbsp vegetable oil
4 tbsp flour (wheat or white) with ¼ tsp salt
24 oz salmon fillet (or any fish), cut into four 6 oz pieces
1 onion, peeled and sliced in ¼ inch pieces
3 cloves garlic, peeled and diced
1–2 chillies (serrano or Thai), sliced optional
3 cups bok choy, roughly chopped in 2-inch pieces
3 cups baby spinach
¾ tsp salt
2 cups water
2 tomatoes, sliced in ¼ inch pieces
1 cup canned coconut cream
2 tbsp lemon juice
Instructions:
In a sauté pan, add the vegetable oil and heat on high for about a minute.
While the oil is heating, mix the flour with the quarter teaspoon salt then coat the salmon fillets on all sides with the flour mixture.
Place each salmon fillet in the pan and cook for two to three minutes on medium heat or until golden brown on one side, adjusting the heat if needed. Turn the fillets and cook the other side for another two to three minutes. When both sides are cooked golden brown, remove the fillets from the pan and place on a plate.
In the same pan using the oil left from cooking the fish, add the onion and the garlic. Sauté for about one minute. Add the bok choy, spinach, chilies, 3/4 teaspoon salt and water, then cook for about 2 minutes.
Place the fillets back in the pan, on top of the bok choy and spinach, then place the tomato slices on and around the fish. Pour the coconut cream evenly on top of the fish and vegetables. Cook for 4–5 minutes spooning the sauce onto the fish as it cooks.
Pour the lemon juice over the fish, then plate the dish placing first some of the vegetables and then a fish fillet on top. Serve with boiled cassava, taro root, or rice.