The artist Howard Smith passed away earlier this month at his home in Fiskars, a village outside Helsinki, Finland. I learned about Smith while researching the exhibition Scandinavian Design and the United States, 1890–1980, which will open at LACMA in 2022. The show is about the design exchanges between the U.S. and the Nordic countries over the 20th century and as such, most of the featured artists are Scandinavians who permanently settled in the United States, or Americans who spent periods of time in the Nordic countries, usually as teachers or students. Smith was nearly unique as an American who settled in the Nordic countries.
Smith was born in Philadelphia in 1928. Following eight years in the U.S. Army, he began studying at the Pennsylvania Academy of the Fine Arts in 1960. In 1962, a friend invited him to Helsinki to assist with a U.S.-sponsored pro-capitalism cultural festival. Smith later explained that his eagerness to travel came from a desire to escape the systemic racism he had experienced as a Black man in America, and the lack of opportunities to work as an artist in his home country. "I didn't leave with any pleasant thought about the United States," he recalled, "I was at an impasse. There was nothing further to do, so I went."*
Smith quickly found community in Finland's close-knit art and design circles. He met prominent figures such as designers Antti Nurmesniemi and Vuokko Eskolin-Nurmesniemi, Marimekko founder Armi Ratia, and architect Juhani Pallasmaa, and began receiving commissions for his work. A relentlessly creative artist, Smith worked in a wide variety of media, including drawing, painting, silkscreen, and textile and paper collage. LACMA has one example of his work, a printed textile of a vase of vibrant red flowers. It was part of a series of popular home decorations made by the Finnish textile firm Vallila, with cheerful images of flowers, birds, and landscapes in bold patterns and bright colors.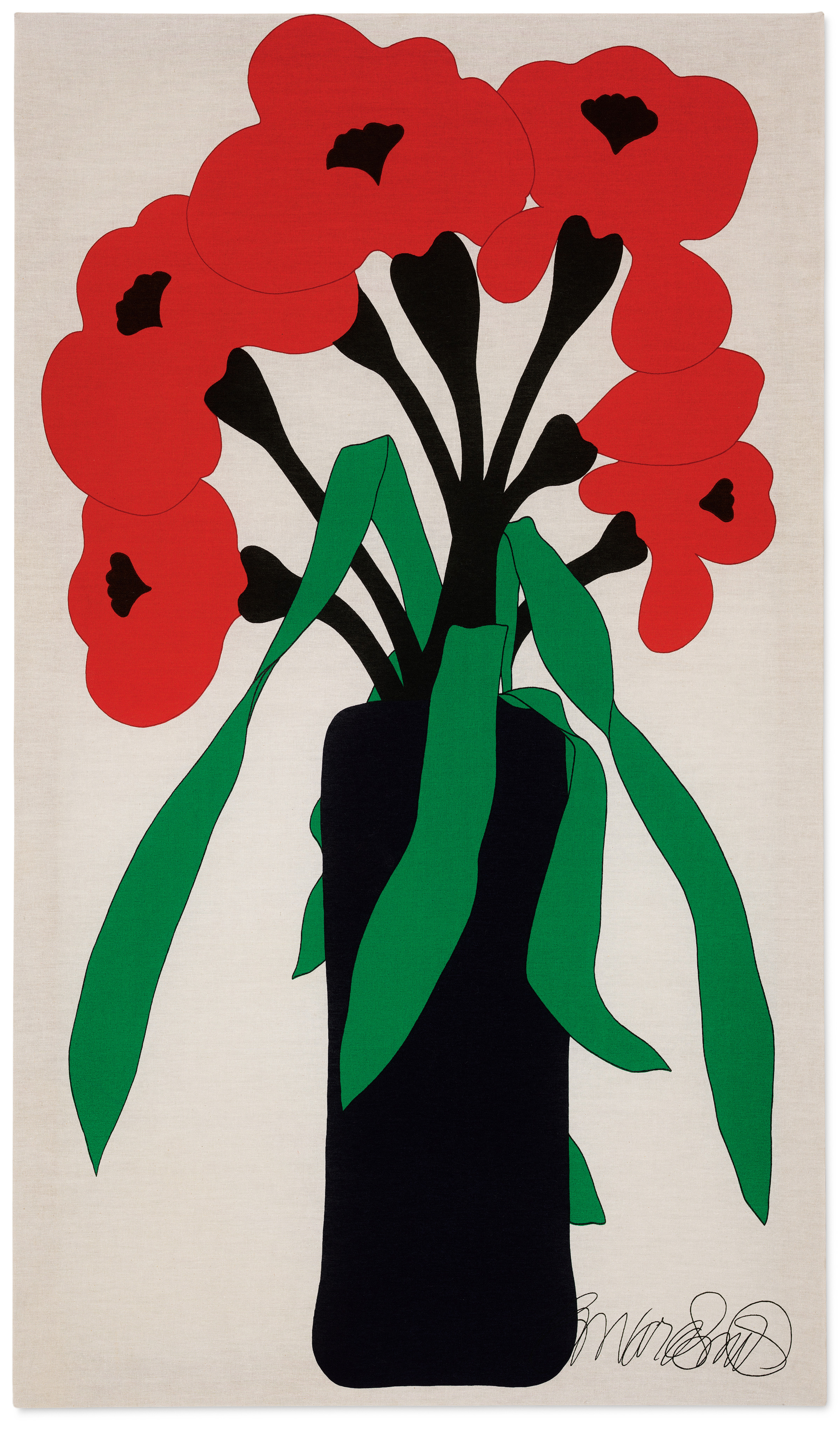 When Smith returned to the United States in 1976, he headed for California because, as he put it, he was ready for some good weather. He knew the renowned art historian Samella Lewis, who arranged for him to work as a lecturer at Scripps College in Claremont. Smith remained in the Los Angeles area until 1984. He continued to make and sell his art, exhibited his work at several venues in the Southland, and built a small, devoted following.
Smith moved back to Finland in 1984. In addition to his many media, he began making large steel and iron sculptures, and designed ceramics for the firm Arabia. His home in Fiskars, which he shared with his wife, the ceramist Erna Aaltonen, became a veritable museum of his work.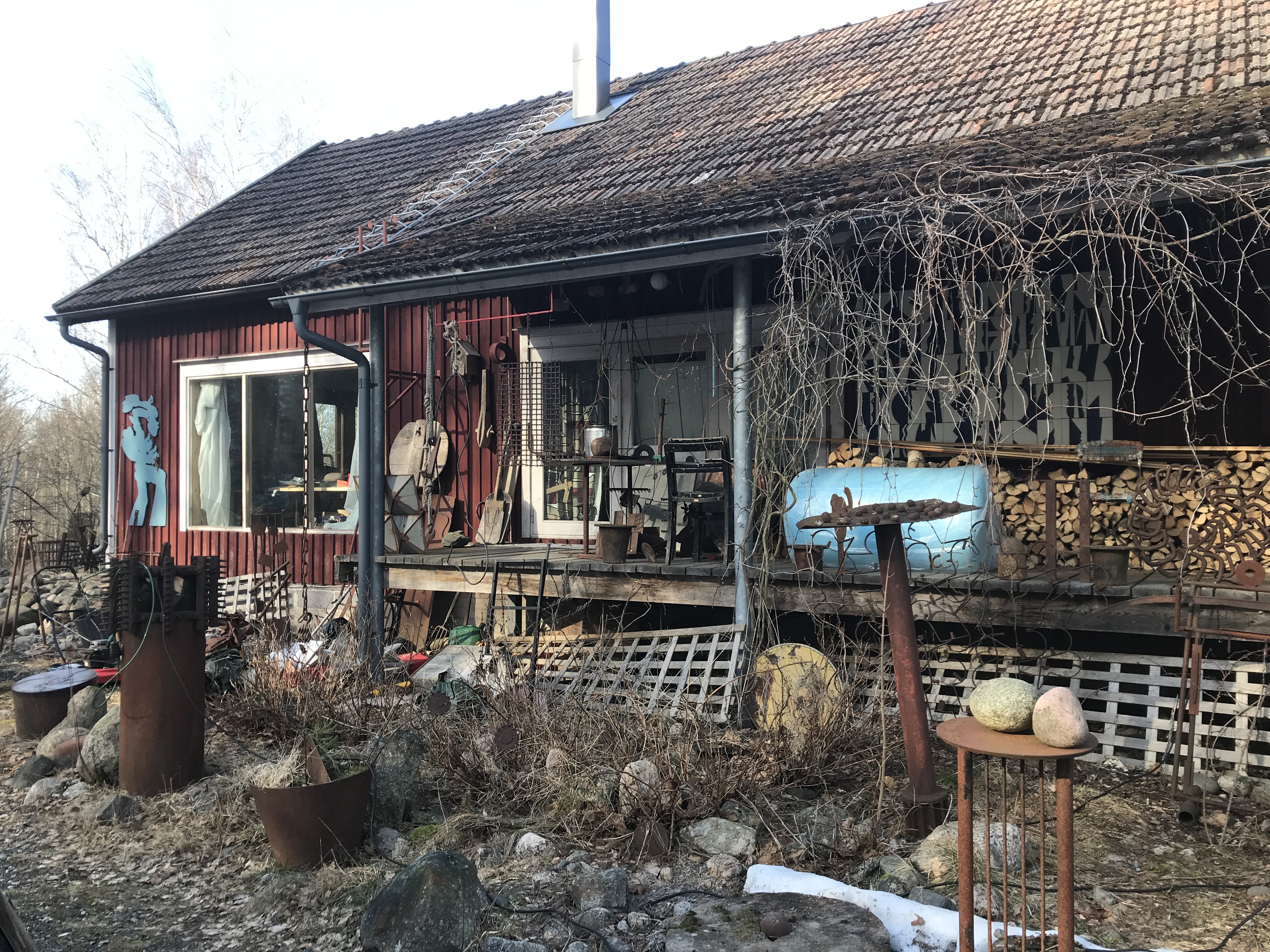 Smith felt that his time in Finland allowed him greater artistic success than would have been possible as an African American in his native country. He recalled that "one surely interesting thing made possible by my being in Finland was the cooperation of industry, whereas in America we know that the Black artist has little, if any, possibility to work in a creative way with any industry. There, I was able to accomplish a good deal."
*All quotes come from "BAQ Interviews Howard Smith," Black Art: An International Quarterly 1, no. 2 (Winter 1976).