When I was invited to collaborate with LACMA Senior Curator and Department Head of Modern Art Stephanie Barron to create a soundtrack for the reinstallation of the museum's Modern Art collection, it initially struck me as a simultaneously exhilarating and intimidating venture. The sheer number of works on view and the goal of distilling their historical and emotional expanses into sonic reflections seemed overwhelming. 
Connecting music to specific artworks could easily have been approached as an exercise in afterthought, with slapdash pairings of songs and paintings, but this was never an option for us. Barron and her curatorial team don't deal in the watered-down, and I can't stomach half-baked creative processes, so we went all in—honoring the art by matching individual pieces with complementary musical companions. Some art of course calls out for music in true tones.
Wassily Kandinsky was an artist for whom sound served as a spiritual guide. He famously said "music is the ultimate teacher," and his paintings were founded in color theories where distinct emotions and sounds were associated with specific shades and contours. Kandinsky articulated his art practice in terminology that mirrored musical modes: "Color is the keyboard, the eyes are the hammer, the soul is the piano with the strings." His works were harmonic compositions springing forth from his experience as a synesthete. For him, sound and color were united fields that, when blended into new compositions, proved transcendent. 
Although only two to four percent of people are thought to experience explicit synaesthesia, most humans absorb the world in a way that isn't strictly compartmentalized. Our senses are constantly overflowing into one another, influencing what we feel through the amalgam of their input. A taste can hit your tongue and travel to your mind, sketching an evocative scene that gives you goosebumps, channeling long-lost sonic memories aloft on phantom fragrances. Art is an especially powerful mode of provoking a wide-spectrum sensual response. The visceral experience of encountering a potent artwork can spark a cascade of thoughtforms that flow across your senses.
How, though, to approach pairing a specific artwork with a composition from the endless catalog of recorded sound? All art is really viewed from a subjective lens, and unless an artist has revealed direct musical links to their creations, finding appropriate audio pairings can feel like grasping in the dark, but through thoughtful investigation, it's possible for complementary connections to arise. I researched the multitude of works in the Modern Art collection in an attempt to uncover musical correlations, sometimes based on overt references, and other times on tangential historical narratives. Sometimes, song pairings were the result of delving into subliminal strata to discover correlations that resonated with the imagined psyches of artists, rather than solid reality. This might seem tenuous, but it's from within this dream zone that artists often create. 
In the end, Stephanie Barron, Assistant Curator of Modern Art Katia Zavistovski, Curatorial Administrator Marlon Franco, and I paired nearly 60 works featured in LACMA's Modern Art Galleries with music. These combinations were the result of a process that included lengthy email exchanges—swapping notes about the specific historical details and nuanced emotional contexts embedded within both the art and music. Our dialogue served as a mutually beneficial correspondence. The experience was a hyperspeed crash course in art history for me, and my musical offerings were received by the curatorial team with great enthusiasm.
We viewed this project as an opportunity for a symbiotic exploration of art history and musicology, peeling back the layers to reveal sonic bonds, and hope that when you visit LACMA's Modern Art Galleries your experience will be enhanced by listening to our audio pairings. (Don't forget to bring your personal headphones!) Here are just a few of the many musical connections we've forged, and if you'd like to learn more, join Katia and me for a virtual walkthrough of the galleries this Monday, October 25, at 7 pm. We hope this exploration of sound and visual art is as inspiring for you as it was for us.   
Pablo Picasso, Portrait of Sebastià Junyer Vidal, 1903
Musical pairing: "El río de mi Sevilla" by Lole Y Manuel 
According to Pablo Picasso's friends, the music that he cared most deeply about was flamenco, and he was especially enamored with cante jondo, the profound songs of the genre. The music's intertwined duality of sorrow and beauty coexists as a reflection of the human condition. Like flamenco, Picasso's Portrait of Sebastià Junyer Vidal elevates the melancholic atmosphere of the ordinary to the sublime, lighting a flame in the eye of the beholder.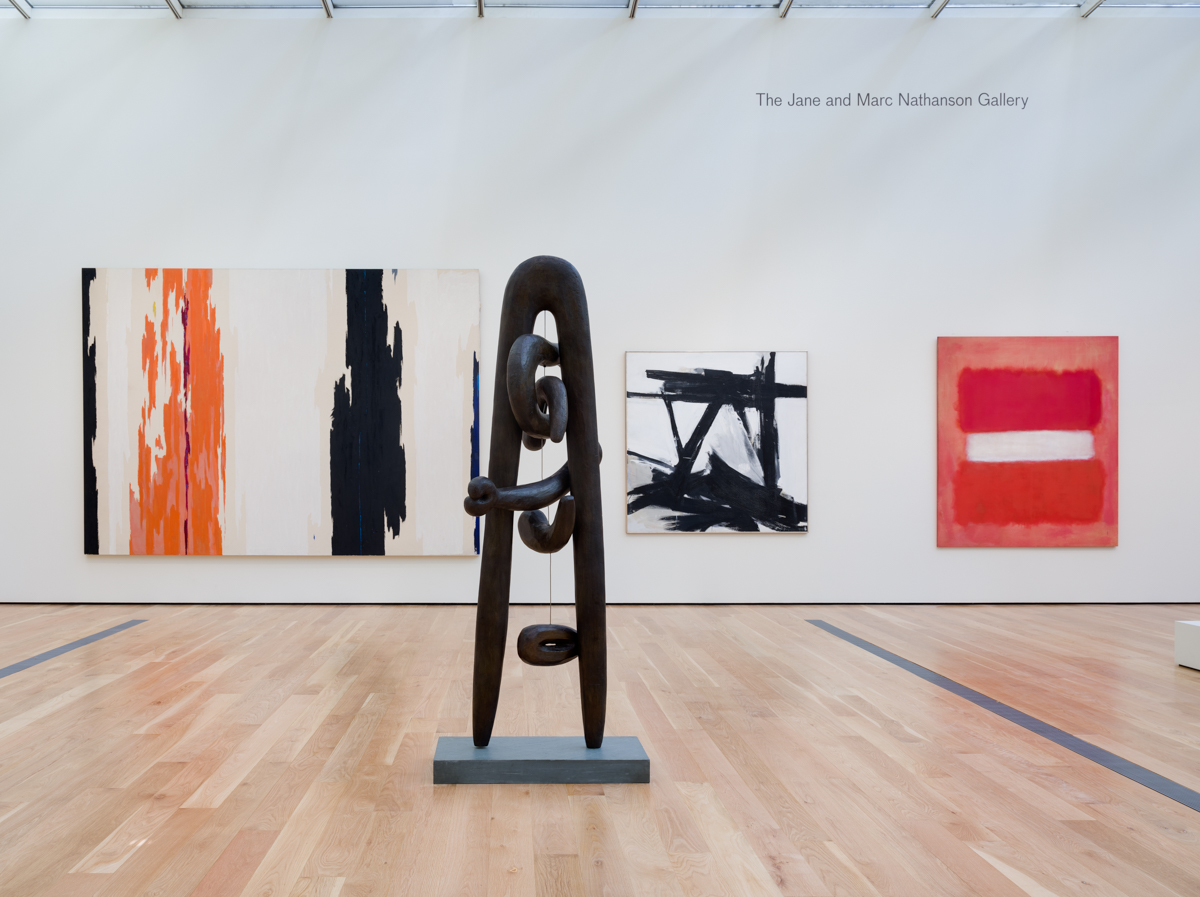 Isamu Noguchi, Cronos, 1947, cast 1986
Musical pairing: "The Seasons: 4. Spring" by John Cage
John Cage was an artistic nexus, his spirit spinning out into a web of direct and indirect influence. Those who came in contact with him often carried echoes of these encounters into their own work. Isamu Noguchi designed the costumes and scenery for The Seasons, Cage's first orchestral work and one of the countless collaborations with his partner, the choreographer Merce Cunningham. Noguchi's sculpture Cronos, from the same year, is imbued with a sense of innate motion that easily conjures Cunningham floating aloft Cage's kinetic music.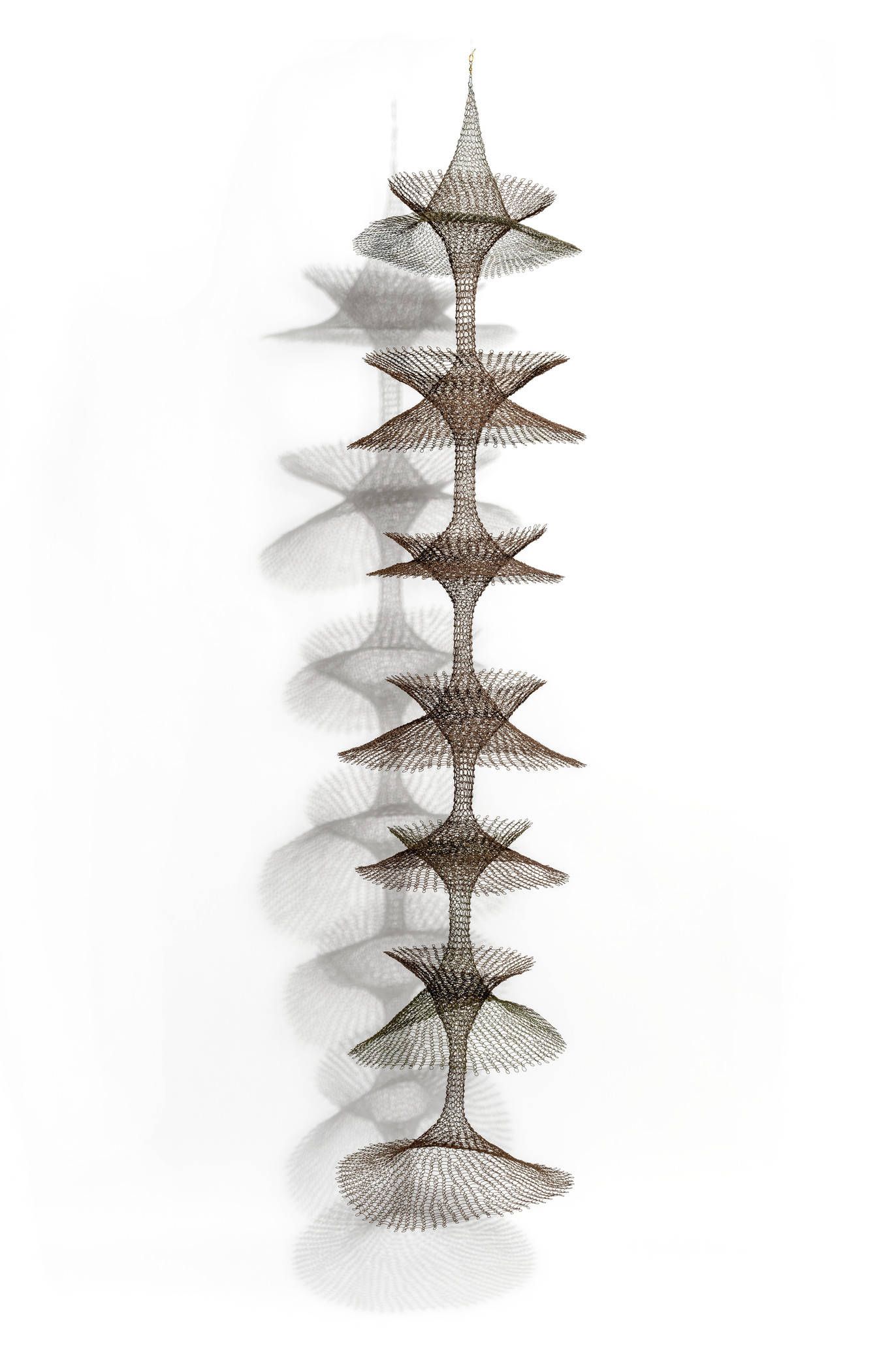 Ruth Asawa, Untitled (S.027, Hanging, Six-And-A-Half Open Hyperbolic Shapes That Penetrate Each Other), 1954
Musical pairing: "Fractal Mirror" by Meredith Monk
Meredith Monk's compositions are fluid organisms woven with an unmistakably human touch, and like Ruth Asawa's intricate wire sculptures, Monk's elemental sonic forms belie otherworldly energy. Both artists work in interlocking patterns that build from a cellular level into figures giving shape to the emotional contours of the soul. With its symmetrical vocal pattern, Monk's "Fractal Mirror" could easily make its nest in Asawa's looping mesh.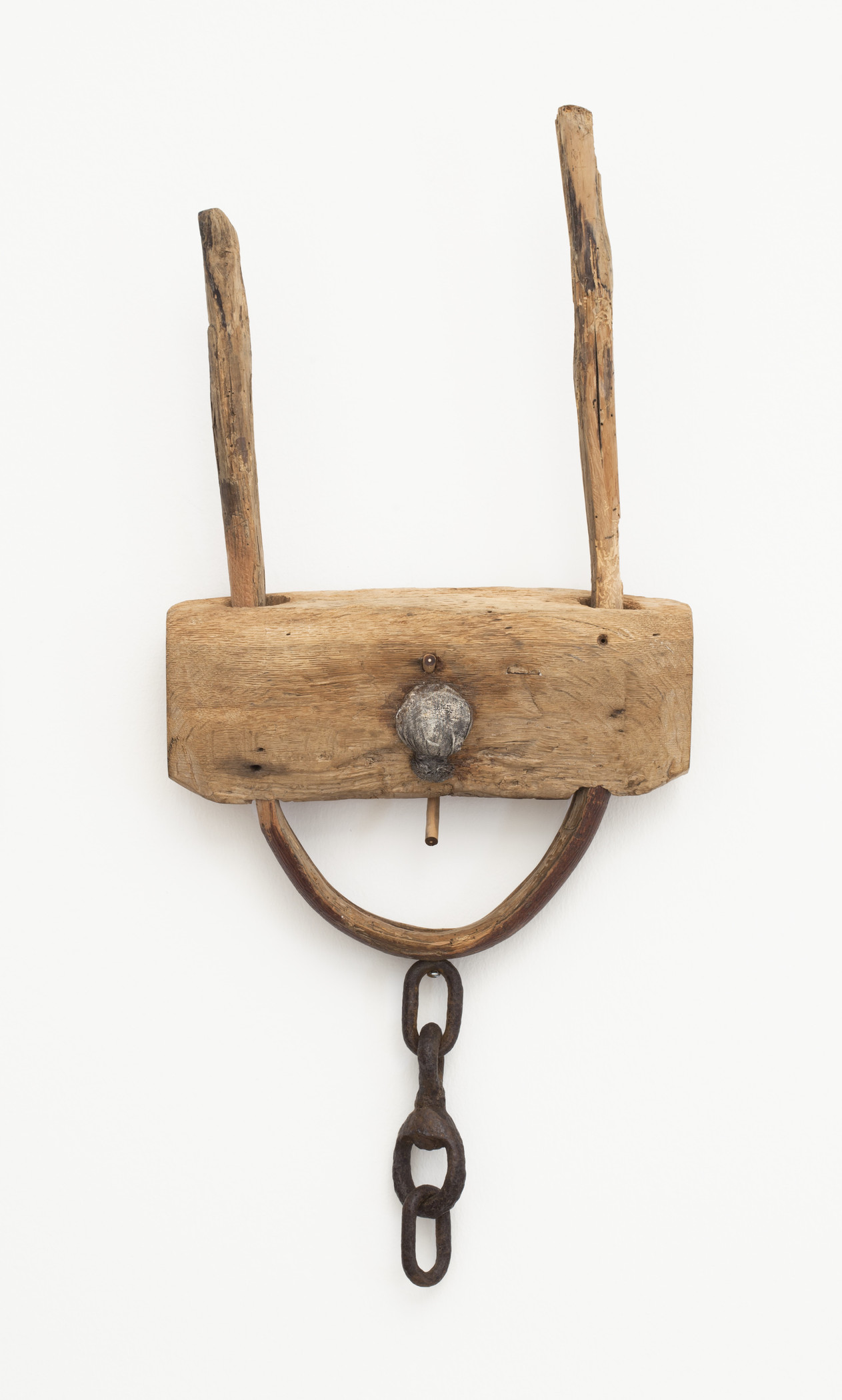 John Outterbridge, Asafetida Yoke, 2008
Musical pairing: "The Space Travelers Lullaby" by Kamasi Washington
Kamasi Washington's long collaborative history with the Watts Towers Arts Center, of which John Outterbridge served as director from 1975 until 1992, illustrates the saxophonist and composer's commitment to contributing to the community through his art. And like Outterbridge, Washington's work is firmly planted in the continuum of African American artistic expression as a tool for active empowerment. Their bodies of work are both infused with a purpose that transcends the raw materials from which they are constructed. Through their intentionality, wind, brass, wood, metal, and cloth transform into celestial beacons for social transformation.
A Sonic Tour of LACMA's Modern Art Galleries with dublab founder Mark "Frosty" McNeill and LACMA's Assistant Curator of Modern Art Katia Zavistovski will be presented on Monday, October 25, at 7 pm on Zoom. RSVP here.