We are saddened to note the passing of Claes Oldenburg, one of the most important American artists of the 20th century and a playful pioneer of Pop art. Oldenburg's remarkable and diverse body of work of the past 70-plus years reveals a rich and provocative visual language, and an intense engagement with and keen observation of the world around him. Characterized by its audacious, witty, and profound depiction of everyday objects, his work is easily recognizable and universally engaging. 
The Swedish-born artist came to prominence in New York in the 1950s and '60s, establishing himself with a series of "happenings," installations, and performances and going on to create life-size, expressive environments like The Street (1960) and The Store (1961), eventually developing a series of soft sculptures and proposals for "anti-heroic monuments" that would remain at the heart of his artistic career. These playful, audacious versions of colossal everyday objects—clothespins, erasers, ice cream cones—are now admired and recognized worldwide, but were genuinely unusual when they were made, standing out from the work of other Pop artists in Oldenburg's milieu. Unlike Jasper Johns or Robert Rauschenberg, who incorporated real objects in their work, Oldenburg never used found objects, saying, "I always rebuilt the whole thing. That way I had it both ways. It was a work of art and an object."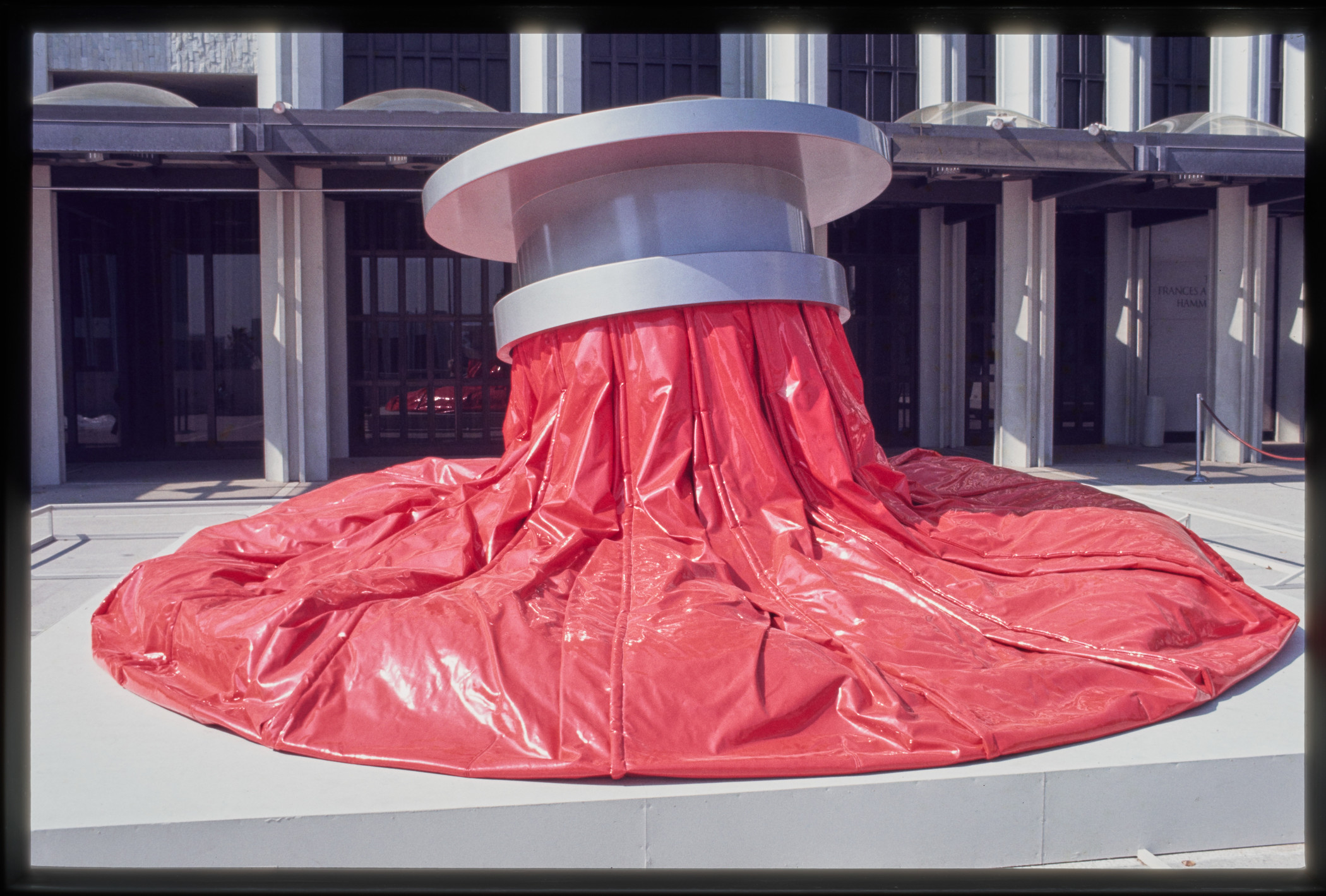 Oldenburg spent a lot of time in Los Angeles in the 1960s and '70s, creating prints at Gemini G.E.L. and participating in LACMA's groundbreaking Art and Technology program, resulting in two exhibitions: a presentation in the U.S. Pavilion at Expo 70 in Osaka, and an exhibition at LACMA in 1971. In collaboration with Gemini G.E.L., Oldenburg also produced Giant Ice Bag (1970), a sculpture animated by mechanical and hydraulic components allowing it to move and twist, which is now in the collection of the Centre Pompidou in Paris.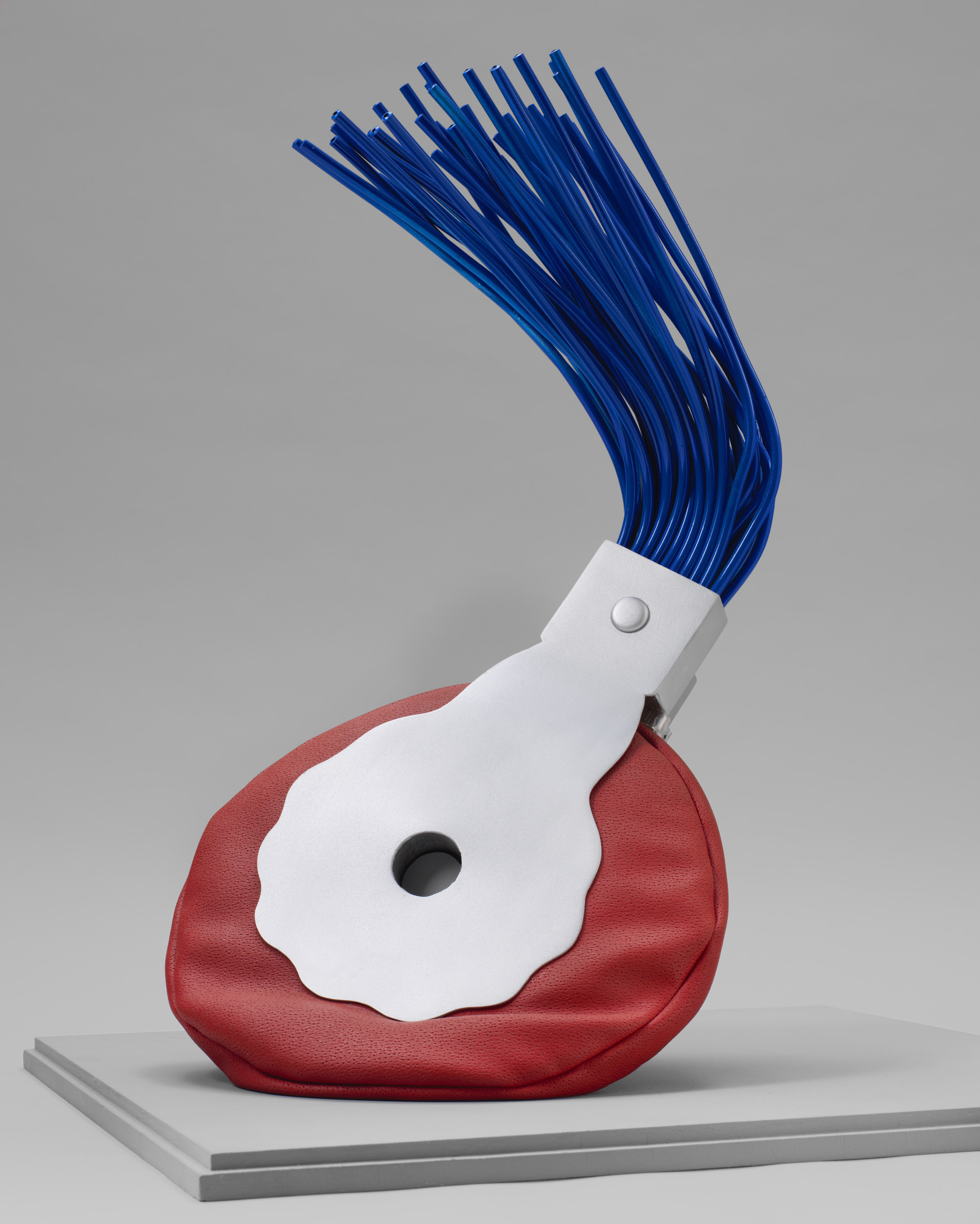 A number of lithographs Oldenburg made at Gemini G.E.L. would also be the genesis of some of his most emblematic works. A lithograph of a typewriter eraser led to a number of drawings and sculptures in varying scales and materials, including Typewriter Eraser (1970), currently on view in BCAM, Level 3, which was the basis for subsequent larger editioned versions. Notes (1968), a portfolio of lithographs and accompanying text pages, also in LACMA's collection, was on view in The Serial Impulse at Gemini G.E.L. in 2016–17. The artist's sketches and collected ephemera were artfully assembled and presented like a scrapbook of ideas for "monuments" that, Oldenburg said, "may be defined as objects or parts of the body increased to colossal scale and set in a landscape." With much of it inspired by Southern California, Notes is directly related to the artist's personal experience of L.A.
In 1977, Oldenburg married curator and art historian Coosje van Bruggen (1942–2009), whom he collaborated with for over 30 years in the creation of sculptures, drawings, and performances that would transform the everyday into the extraordinary. 
Oldenburg also had a hand in some more recent Los Angeles icons. His original design for a theater and library in the shape of a giant pair of binoculars was initially planned with Van Bruggen for an unrealized project in Venice, Italy, but in 1991, the structure came to fruition when architect Frank Gehry, a friend of the couple, used their design as part of a complex of buildings for the advertising agency Chiat/Day in Venice, California. Part artwork and part office building, the "Binoculars Building" remains as strongly tied to the mimetic architectural tradition of California as it does to Oldenburg's signature monumental sculptures. Another collaboration with Gehry can be found at Loyola Law School, where the architect's campus is completed by Oldenburg and Van Bruggen's 1985 sculpture Toppling Ladder with Spilling Paint.
An additional 16 works by Oldenburg are in LACMA's collection, including Baked Potato (1963) and the iconic Giant Pool Balls (1967). You can learn more about Oldenburg's participation in the Art and Technology program in this catalogue and listen to the artist in the April 22, 1971 lecture for LACMA's Contemporary Arts Council, "Oldenburg on Oldenburg."