Recently while looking through the book Photographing the LA Art Scene, 1955–1975, I came across an intriguing image: a 1958 photograph of artist John Altoon teaching a drawing class at Art Center. What caught my attention was that in place of a typical life-drawing setup (in which students draw from a nude model), the photograph shows easel-toting students grouped around two jazz musicians: a bass player and a drummer. John Altoon—looking very dapper in a jacket and tie—can be seen near the front of the class, attentively counseling a student as she draws the figures.
In a case of life imitating art, this photograph has become the inspiration for three special studio sessions taking place in conjunction with John Altoon. On Thursday, September 4; Sunday, September 7; and Saturday, September 13, LACMA is offering figure-drawing classes in which participants can draw jazz musicians as they perform in the John Altoon galleries (enrollment limited, follow the links above more information).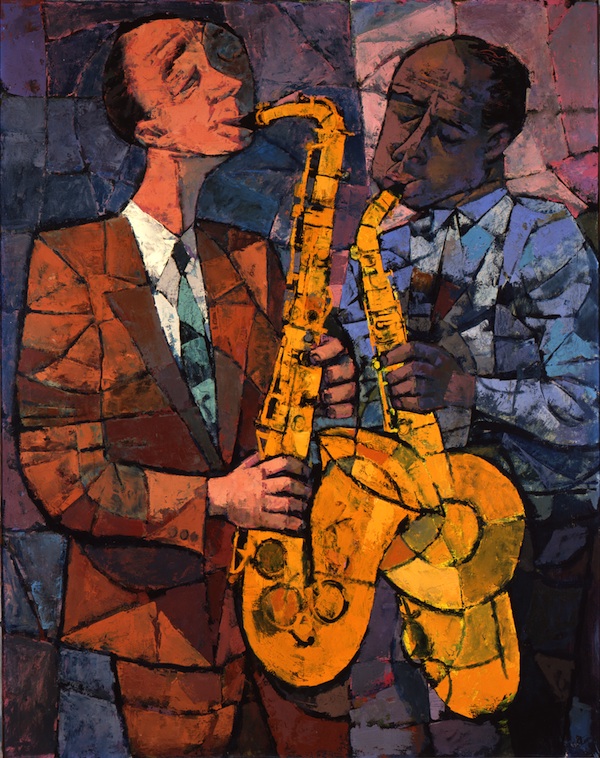 John Altoon, Jazz Players, c. 1950, collection Orange County Museum of Art, Newport Beach, California, gift of Stanley Marcus
Altoon himself forged connections to jazz in his own artwork: the earliest painting in the exhibition, Jazz Players, c. 1950, shows two saxophone players in a figure composition that appears to foreshadow his decision to use jazz musicians as models in the Art Center class. He also contributed five album covers to the West Coast Artists Series for Pacific Jazz Records, a Los Angeles–based record label. When Altoon's friend, noted jazz photographer William Claxton, became art director for the label, he invited a number of California artists, including Altoon, to create original artwork for the series. Altoon's album covers (four of which are now in LACMA's collection) included cover art for LPs by Russ Freeman and Chet Baker, Chet Baker Big Band, and the Jazz Messengers featuring Art Blakey.
Even if you aren't an aspiring artist, we hope you'll stop by and enjoy the sounds of jazz during final weeks of John Altoon. Participating musicians are Max Kaplan, JK Benjamin, Tyler Azelton, John Graves, Daniel Rosenboom, and Artyom Manukyan.
Left to right: The Jazz Messengers featuring Art Blakey, Ritual, 1957, cover art by John Altoon, design by William Claxton; Chet Baker Big Band, 1956, cover art by John Altoon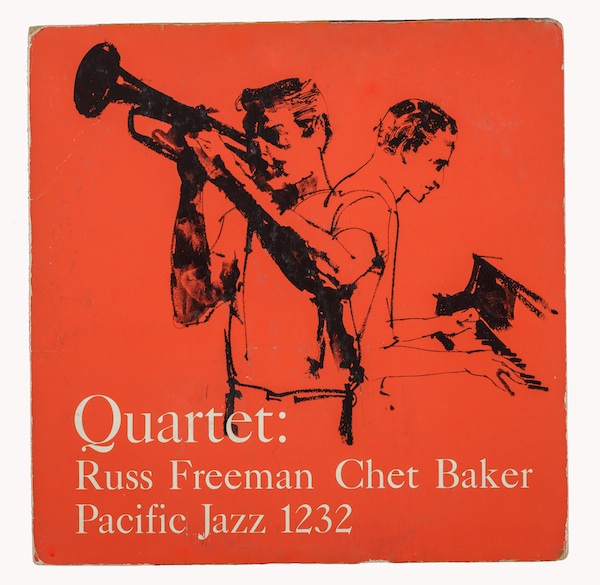 Left to right: Russ Freeman and Chet Baker, Quartet, 1957, cover art by John Altoon; West Coast Jazz, Solo Flight, 1957, cover art by John Altoon, design by William Claxton