As an extension of Larry Sultan's first retrospective, Larry Sultan: Here and Home, on view at LACMA, the museum proudly reinstalled Oranges on Fire in 15 signs throughout the Los Angeles area in neighborhoods spanning Van Nuys to Boyle Heights. Conceived and initially displayed in 1975, the image is one of Sultan and Mandel's most iconic outdoor artworks. See the billboard at the sites indicated on this map; more signs will appear in the coming months, and the locations will be updated here.
Installation of Oranges on Fire at the intersection of Venice Blvd. and Redondo Blvd. in Miracle Mile, 2014
"Coming from L.A., where most of the culture is automotive, and most of the images are things you don't choose to see, billboards are a powerful context for imagery. In fact, growing up in L.A., you'd drive down Sunset Strip and look at the billboards instead of going to art galleries. It's an awful thing to admit, but the advertisers were the visionaries of our time. They gave us notions of who we should become. Our myths of heaven and hell." —Larry Sultan
In Los Angeles, billboards are as ubiquitous as palm trees, but every once in a while, a sign compels you to pause. Between 1973 and 1989, Larry Sultan (1946–2009) and Mike Mandel (b. 1950) created 15 different designs for billboards, which were displayed at approximately 90 sites, mostly in California. The two met as graduate students in the San Francisco Art Institute's program for photography. Neither could relate to the program's traditional methods (established by Ansel Adams and Minor White in 1945) nor to the bohemian Beat culture of San Francisco. They were from Los Angeles; both had grown up with Bob's Big Boy hamburgers, the Sunset Strip, and the billboards. In search of an alternative to the practice of traditional black-and-white photography, the two homed in on the outdoor commercial format.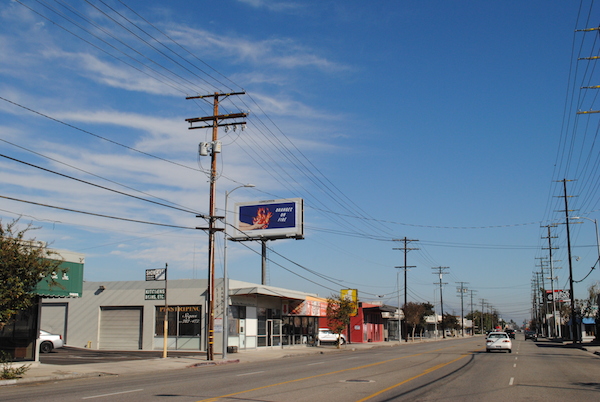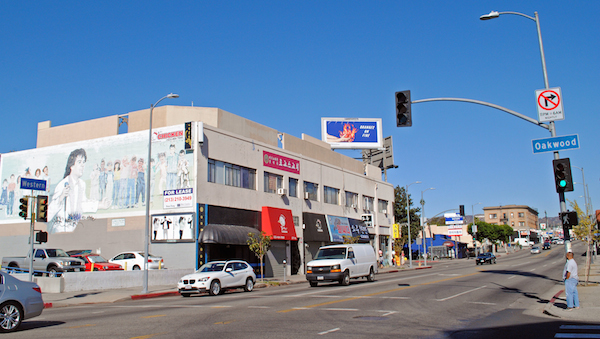 Culling from postcards, illustrated books, and magazine advertisements, Sultan and Mandel replaced traditional advertising slogans with bold text, satiric cutouts, and nonsensical symbols for exhibition on billboards. By mimicking advertising in form but not in function, passersby could be imaginatively engaged by the artists' imagery. For Sultan and Mandel, the billboard evoked their hometown, Los Angeles, while offering a means for art to undermine advertisers' mass prodding.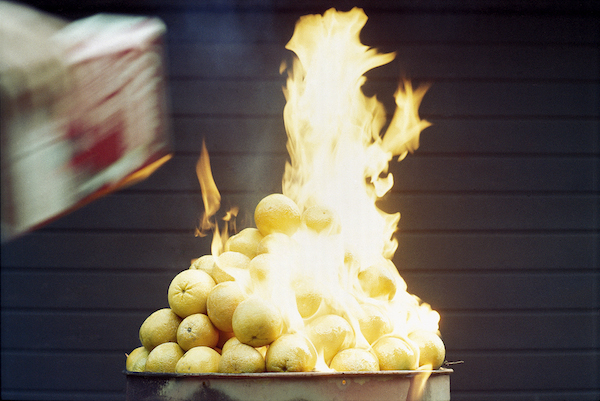 Oranges on Fire is one of the most iconic images by the artists. It was conceived and displayed in 1975 as a silkscreen on 10 billboards across the Bay Area, Santa Cruz, and Syracuse, New York. The image of burning fruit held by a pair of ominous hands amid a bold blue backdrop is whimsical and bizarre. While graphically compelling, the primary intrigue of the piece seems to lie in its ambiguous message: "Oranges on Fire." The fruit has a specific resonance with California and the state's once-pervasive orange groves (if not the embodiment of California sunshine itself), however, there is seemingly no straightforward interpretation of the artworks' message—and that is the point. 
"It was important to us that the billboards were anonymous, that they were like moles. They look like ads but they don't function as ads. So they weren't artists' billboards; they were just billboards that didn't make any sense." —Larry Sultan 
For example, a billboard depicting a map derived from the U.S. National Atlas with a series of arbitrarily placed graphs confuses its audience rather than informs them.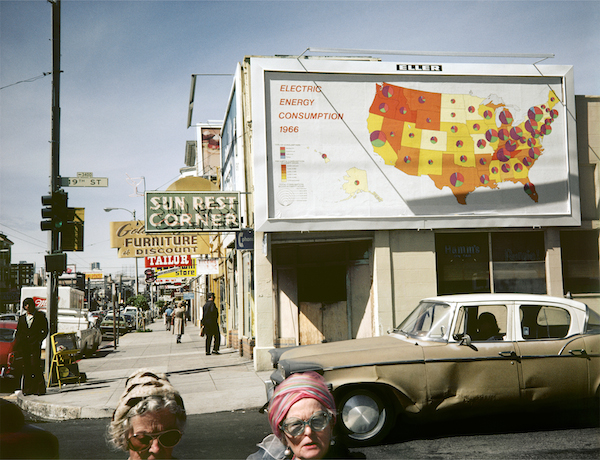 Ties arranged like snakes swarm a businessman: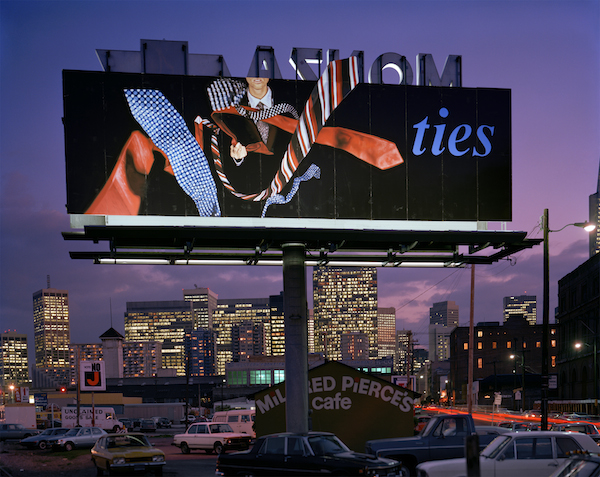 A repurposed cigarette advertisement announces "We Make You Us" in a manner that appears to rip through the billboard itself: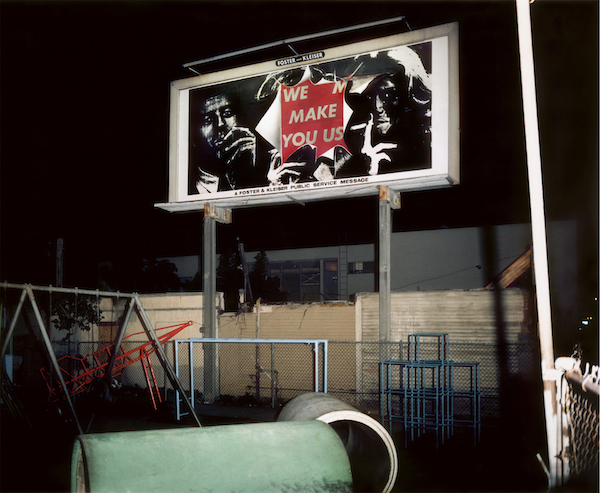 LACMA's 2014 presentation of Oranges on Fire can be seen in the city's busiest intersections and at its edges. The resulting juxtapositions to food vendors and traffic are as humorous and ironic as the image itself. Keep an eye out for Oranges on Fire to see the work as Larry Sultan and Mike Mandel intended—in the world.