Since 1966, the renowned Los Angeles print workshop Gemini G.E.L. has been a vital and innovative force in fine art printmaking and sculptural multiples, publishing the work of internationally celebrated artists. It was co-founded by Sidney Felsen, the late Stanley Grinstein, and master printer Kenneth Tyler along with Rosamund Felsen and the late Elyse Grinstein. From its inception, the workshop championed technical experimentation, providing artists with the means to produce groundbreaking work. Already in its second year, Gemini made history by printing Robert Rauschenberg's Booster, the largest hand-pulled lithograph ever made at the time. The monumental size of Booster heralded a shift in 20th-century printmaking toward works that rivaled the scale and potency of painting. Moreover, it earned the workshop its reputation for fostering great artistic achievement through a spirit of collaboration and embrace of technical innovation. Gemini has built on this formidable history for the past half-century and remains a highly influential and pioneering artists' workshop. 
Within years of its establishment, Gemini G.E.L. not only transformed American printmaking, but also helped to expand the Los Angeles arts community and inform the aesthetic sensibilities of our city's culture. Artists came from near and far, by invitation from Gemini and prompted by fellow artists. While Rauschenberg was working on Booster and 7 Studies, Frank Stella casually joined him at Gemini and made his first prints, Black Series I. Claes Oldenburg worked at Gemini for three months beginning in January 1968, producing Notes, and soon persuaded Gemini to produce its first sculptural multiple, Profile Airflow. In 1970, Stella suggested to Ellsworth Kelly that he also work at Gemini. Jasper Johns and Roy Lichtenstein were among other artists who worked at the newly established workshop.
All of these artists returned regularly to Gemini through the following decades. The mild Southern California weather was undeniably a draw, especially for New York artists between the months of November and April. But a truly invaluable asset was the technological resources that abounded in the aircraft, aerospace, and film industries. In Oldenburg's words: "Gemini gave you the feeling that they could do anything you wanted [. . .]. And Los Angeles was a sort of paradise of technology. . ." In addition to attracting artists from the East Coast, Gemini has also maintained enduring working relationships with local (or once local) artists like John Baldessari, Larry Bell, Vija Celmins, Frank Gehry, Joe Goode, Ed and NancyKienholz, Bruce Nauman, Ken Price, and Ed Ruscha, and continues to invite new artists from around the world to work in the studio. 

In its beginnings, Gemini operated a single lithography press in its original workshop at 8221 Melrose Avenue. By 1969, it had fully outgrown these premises, and the workshop moved a few blocks west to its current location at 8365 Melrose. It expanded further in 1979 with an addition designed by Frank Gehry. Gemini now operates nine presses, and has incorporated a second workshop on Fairfax Avenue. Management of Gemini has also expanded to include Felsen's and Grinstein's families: Sidney Felsen's wife Joni Weyl and his daughter Suzanne Felsen together with Ayn and Ellen Grinstein, daughters of the late Stanley and Elyse Grinstein, are all involved in the workshop's daily operations, making it a true family business. Over its 50-year history, Gemini has attracted 74 different artists and engaged more than 150 talented and resourceful printers to produce some 2,300 editions. It continues to be appreciated for its dynamic and collaborative environment and artistic integrity, supporting artists in their production of prints and sculptural multiples.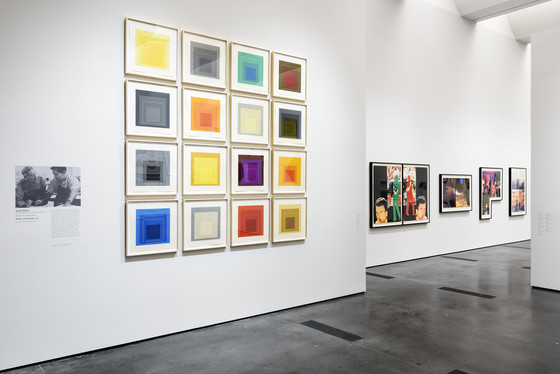 The Serial Impulse at Gemini G.E.L. explores print series from all periods of the workshop's production, from seminal works by Johns, Rauschenberg, and Stella to more recent series by Richard Serra and Julie Mehretu. 
"For centuries, artists have made multipart series, undertaking subjects on a scale not possible in a single work. This engagement was especially prevalent in the 1960s, as Conceptual, Minimalist, and Pop artists explored the potential of working serially. A series is, by definition, two or more unique and autonomous things possessing some commonality and organized sequentially. The principle that unifies and defines a series can be thematic, narrative, iconographic formal, structural, modular, conceptual, or something else entirely," remarks National Gallery of Art curator Adam Greenhalgh. 
Artists at Gemini G.E.L. have engaged a variety of approaches to serial production, resulting in some of the workshop's most significant publications. Indeed, more than 70 percent of the artists who have worked at Gemini have made distinct series there. This can be attributed to Gemini's tradition of inviting artists to the workshop for extendedperiods, enabling them to develop close working relationships with the printers and furthermore to conceive and realize ambitious and complex projects that often evolve in serial form. As Gemini's co-founder Sidney Felsen has remarked, "We encourage artists to do a body of work. […] I encourage them to stay as long as they will."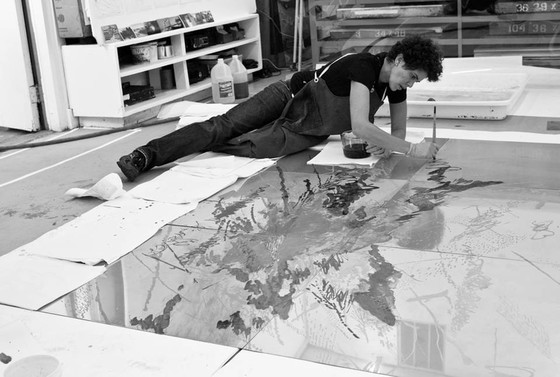 By presenting series in their entirety, this exhibition explores works that were conceived as a single project but, subsequently, seldom seen together. LACMA's exhibition presents a modified selection of 16 series—totaling 127 individual works—and highlights some of the numerous meaningful connections that have been forged between artists, Gemini, and LACMA during our respective 50 years. Shortly after opening at its Wilshire Boulevard location, LACMA premiered Gemini's very first edition— Josef Albers's White Line Squares—and has since collected and exhibited their editions. (Past exhibitions include Gemini G.E.L.: Art and Collaboration in 1987 and, more recently, Ellsworth Kelly: Prints and Paintings (2012) and Ed Ruscha: Standard (2012–13), both of which included many prints made at Gemini.) In 1978, Roy Lichtenstein visited Los Angeles and came to study Robert Gore Rifkind's collection of German Expressionist graphic art, now part of LACMA. The following year, he began to make prints inspired by the German Expressionist prints he saw by artists such as Erich Heckel, Ernst Ludwig Kirchner, and Karl Schmidt-Rottluff. The result was his Expressionist Woodcuts series of seven prints, published by Gemini in 1980.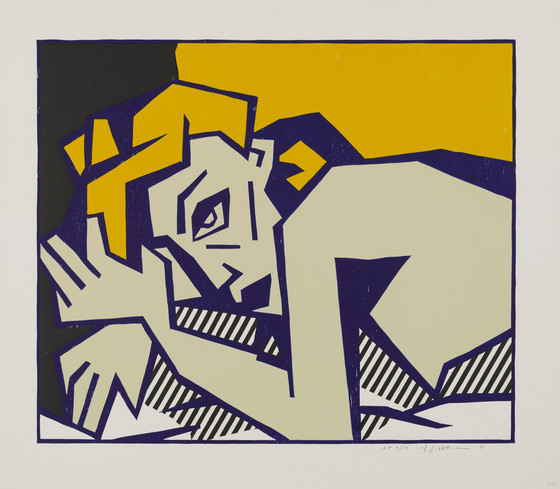 Notably, LACMA's exhibition features 24 of the 40 prints recently donated by Gemini, Dorothy Lichtenstein, and Sidney Felsen and Joni Weyl. The Gemini gift includes two complete series by Stella and Oldenburg, as well as prints by Albers, Ruscha, and Baldessari that allowed LACMA to round out series already in the collection. Dorothy Lichtenstein gave the entire Expressionist Woodcuts series by her late husband, and Sidney Felsen and Joni Weyl gave Test Stone #5 from Rauschenberg's very first Gemini edition—Booster and 7 Studies. The gifts acknowledge LACMA's longstanding recognition of Gemini's accomplishments and, from the museum's side, an ambition to further expand its holdings from this esteemed L.A.-based workshop. 
Many have remarked that Gemini is a place where almost anything would be attempted to help artists realize their ideas, and where there is the sense that anything is possible. Indeed, in its 50 years, Gemini has never ceased to expand the limits of printmaking and to support some of the most influential artists of our age. The Serial Impulse at Gemini G.E.L. celebrates this legacy.
The Serial Impulse at Gemini G.E.L. is on view through January 2, 2017.