If you've spent any time in Los Angeles, it's likely that you've encountered the work of Deborah Sussman. The signage in downtown's Grand Park, on Santa Monica city streets, and on the buses of Santa Monica, Culver City, and the Van Nuys FlyAway are all the work of the indefatigable Deborah and her firm Sussman/Prejza.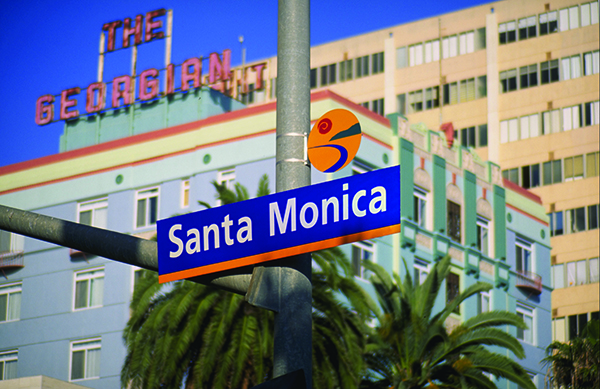 In 2014, LACMA curators began discussions with Sussman about the future of her archive. Fortunately, she had kept nearly everything she had ever worked on, so it was an extraordinarily complete record of her career. The materials were vast and diverse, including sketches, letters, photographs, models, as well as fully realized objects. Since LACMA collects art but not documents, we teamed up with the Getty Research Institute (GRI) on a joint acquisition—LACMA would take the finished work and the GRI would take studies and archival materials, allowing the complete record of Sussman's career to stay in Los Angeles and be available for scholars and students.
Sussman moved to Los Angeles in 1953 for an internship at the Eames Office, an experience that proved transformational. In an interview that she recorded for LACMA for the 2011–12 exhibition California Design, 1930–1965: Living in A Modern Way, she describes her feelings of excitement and intimidation upon arriving at this incubator of modern design, noting that the Eameses' work helped her to see that "the ordinary things of the world were suddenly extraordinary."
It turned out to be a perfect fit for the young designer, and what started out as a summer position became a full-time job. For four years, Sussman worked on toys, packaging, graphics, fair pavilions, and films. She would later credit her predilection for color and folk art to these formative years working with Ray Eames and frequent Eames collaborator, Alexander Girard.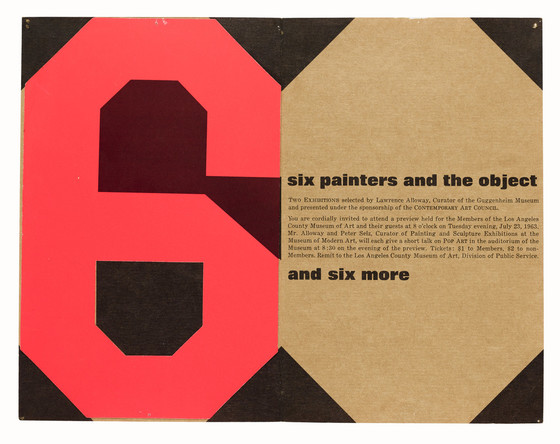 After a Fulbright fellowship at the Hochschule für Gestaltung (School of Design) in Ulm, Germany, Sussman returned to the Eames Office in 1960. Throughout the following decade, she took on several independent projects, including collaborations with LACMA. Her vibrant designs drew on the global artistic traditions she'd encountered in her travels, as well as new innovations in printing and materials. Her catalogue and invitations for the Six More exhibition at LACMA employed what she excitedly called the "brave new world" of fluorescent inks.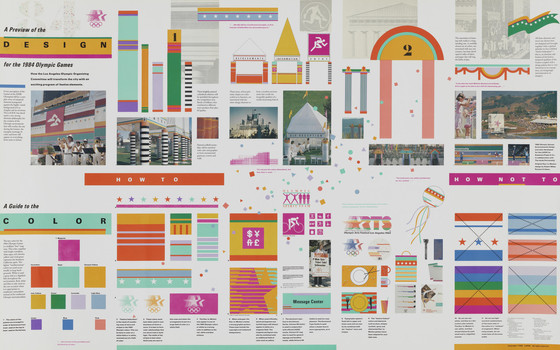 In 1968, she founded Deborah Sussman & Co., which became Sussman/Prejza in 1980, reflecting her professional partnership with her husband, architect Paul Prejza. An early innovator in environmental design and signage, the firm highlighted the individuality of each site by drawing inspiration from surrounding areas. In 1984, Sussman/Prejza collaborated with the Jerde Partnership on an inventive "kit of parts" for the XXIII Olympics in Los Angeles, unifying multiple locations with consistent color and design. One of the most memorable Olympic designs and an icon of its era, the scheme remains inspirational for designers today.
After a long illness, Sussman passed away in August 2014 as we were finalizing the gift. Prejza honored her legacy and donated more than 70 objects to LACMA in 2015. Some highlights include several original sonotubes (durable large-scale cardboard tubes that served as temporary architecture and signage) from the 1984 Olympics. They are now on view in the exhibition Found in Translation: Design in California and Mexico, 1915–1985, along with the related poster and design guide.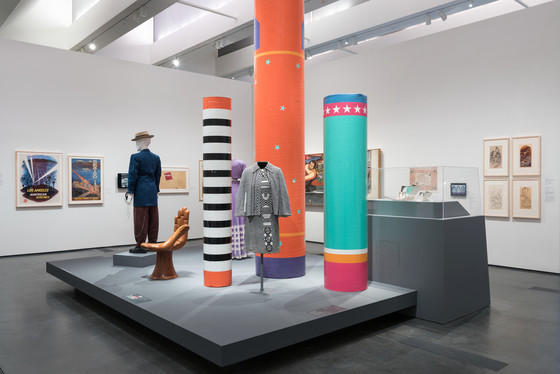 The donation also includes several rare designs that Sussman worked on while in the Eames Office, catalogues she designed for LACMA in the 1960s, and other objects from her independent design projects.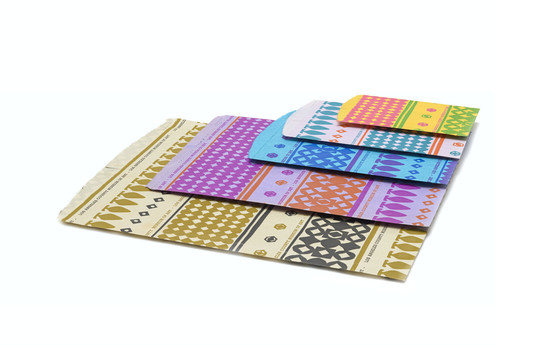 These generous gifts have ensured that Sussman's designs will live on at LACMA. And her presence still pervades the campus—like it does the rest of Los Angeles—thanks to one of her most beloved collaborations with the museum. The vibrantly colored, cut-paper shopping bags she created in 1965 were reissued in 2014, so visitors looking to bring home their very own Sussman design can stop by the LACMA Store.