Highlighting key sites featured in LACMA's exhibition Found in Translation: Design in California and Mexico: 1915–1985 (on view through April 1), this self-guided driving tour explores connections between California and Mexico. From the iconic Union Station to the esoteric Aztec Hotel, we'll share insights into the design of places throughout L.A. County. Here is part three of three: Koreatown, Hollywood, and beyond. Check out our previous posts for part one, downtown Los Angeles and part two, East Los Angeles.
Don't miss your chance to learn more about these locales and how interconnections between California and Mexico shaped the material culture of each place, influencing and enhancing how they presented themselves to the wider world. You have one week left to see this groundbreaking exhibition! Tag your photos with #FoundinTranslation.
KOREATOWN + HOLLYWOOD
CHAPMAN MARKET | 3451 W. 6th Street, Los Angeles, CA 90020
Chapman Market opened in Los Angeles in 1929. Designed by architect Stiles O. Clements of Morgan, Walls & Clements, the market was an early example of an auto-oriented establishment. Three large food stores anchored the complex, complemented by other stores, offices, and studios—all arrayed around a large parking lot. Such mini-malls are commonplace today, but this was a novel attempt to integrate new transportation with the shopping experience; unifying it all was the Spanish Colonial style. The building was lavishly ornamented with 17th-century Spanish Baroque details. The parking lot, with its tiled fountain, resembled a courtyard. Interest in the Chapman Market ran high when it opened, with the Los Angeles Times praising its exotic architecture, "flowery parkways," and "gay awnings" that made shoppers feel transported to "some delightful foreign city." But the Times also touted the market's modern core: "No foreign city, however, would be provided with the modern conveniences found here," from "huge electric ovens" to the central refrigeration plant. The reputation of the Chapman Market rested on these innovations—among them, a new use for Spanish Colonial style.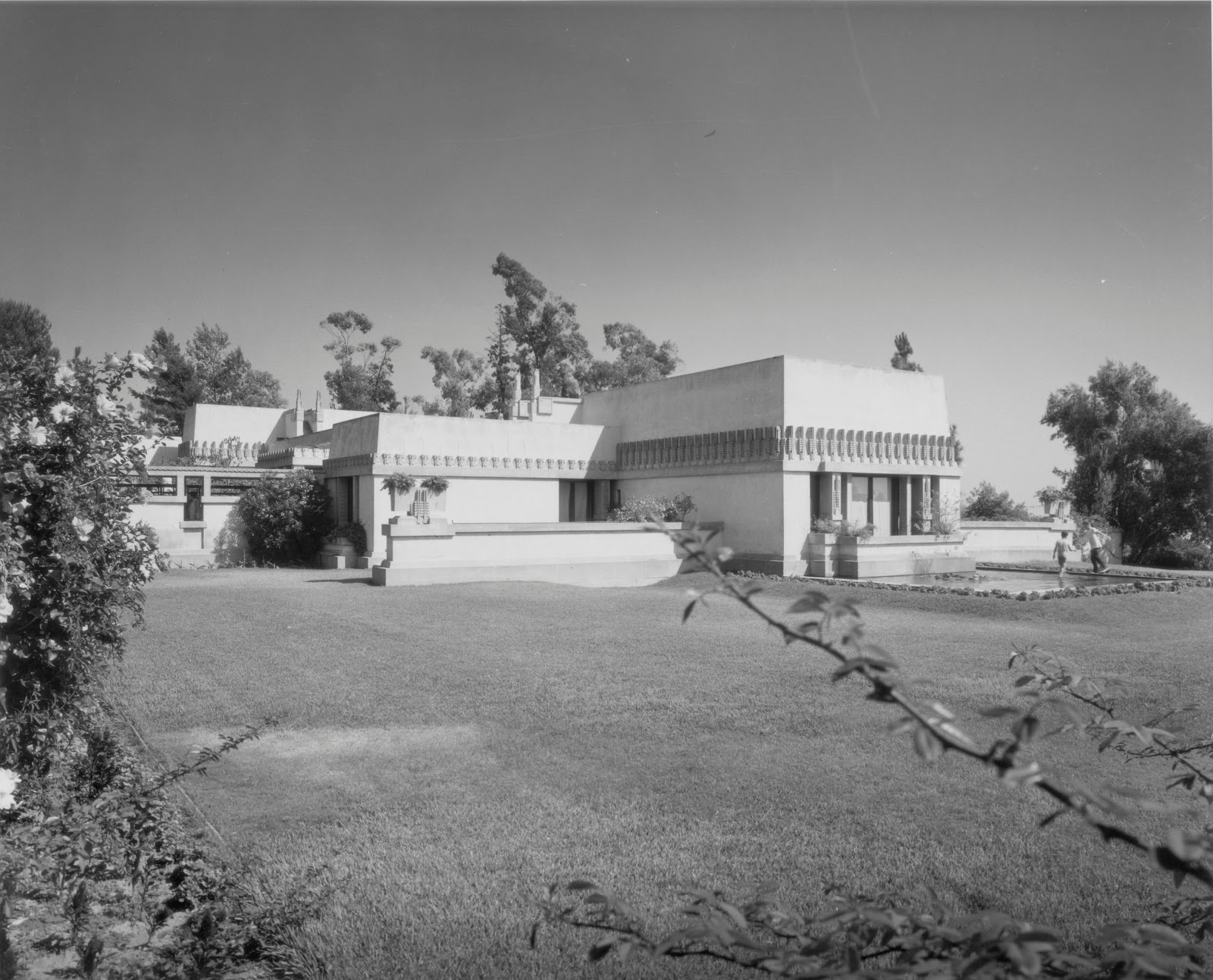 HOLLYHOCK HOUSE | 4800 Hollywood Boulevard, Los Angeles, CA 90027
Frank Lloyd Wright disdained what he called the "tawdry Spanish medievalism" of Los Angeles's Spanish Colonial revival architecture. Instead, he looked to pre-Hispanic structures to create a regional expression. He evoked rather than imitated Maya architecture with his design of Hollyhock House. The sloping hip roofs with pronounced eaves resemble those of the Palace at Palenque, in Southern Mexico. The decorative stonework at Hollyhock House (1919–21) and the "textile blocks" at Ennis House (1924) also relate to the dense patterning of Maya facades that Wright admired.
Wright did not travel to Mexico until 1952, though he did see the Maya casts in Chicago in 1893 and San Diego in 1915. Like any well-read architect of his day, he owned a wide range of sources, including John Lloyd Stephens's best-selling Yucatán travel narratives, illustrated by Frederick Catherwood, and other volumes on pre-Hispanic art. In a 1930 lecture Wright recalled that "as a boy, primitive American architecture, Toltec, Aztec, Mayan, Inca, stirred my wonder, excited my wishful admiration." Decades later in a letter to art historian Robert Goldwater, he was even more emphatic: "Had I not loved and comprehended pre-Hispanic architecture as the primitive basis of world architecture, I could not now build as I build with understanding of all architecture.
GREATER L.A. COUNTY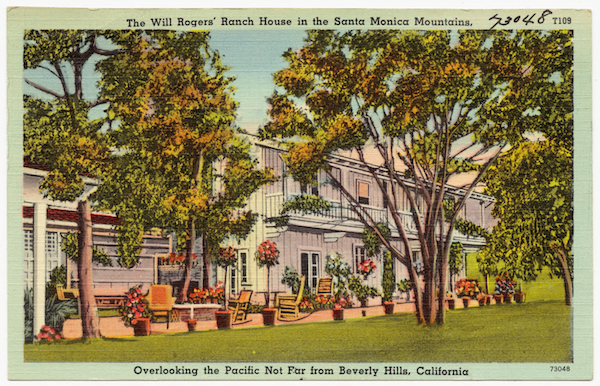 WILL ROGERS RANCH HOUSE AT WILL ROGERS STATE HISTORIC PARK | 1501 Will Rogers State Park Road, Pacific Palisades, CA 90272
During the 1920s, famed actor, humorist, and cowboy Will Rogers purchased what became a 359-acre ranch in Pacific Palisades. The rustic ranch house featured board-and-batten construction and a wide porch conducive for outdoor living. The home was outfitted with furniture produced by the Los Angeles company Mason Manufacturing. The Rogers family chose a line inspired by Spanish colonial forms, integrating heavy metal straps, course rope, and colorful tile. This "Monterey" furniture, named for the capital of Spanish California, conjured romantic associations with the state's rancho history. It was popular with Rogers and other actors like Clark Gable and Norma Talmadge, carrying additional ties to Hollywood glamour and fantasy.
Alongside the Monterey furniture, Rogers also had a suite of Aztec-inspired furniture acquired during his goodwill trip to Mexico in 1927–28. Probably manufactured in Jalisco, Mexico, the chairs and tables featured pyroengraving on the leather that was loosely based on Aztec sources, including Mexico's national seal. Revival furniture in the colonial and pre-Hispanic styles well suited the Rogers's ranch house, a place for relaxation and escape that evoked a time when California and Mexico were both under Spanish rule.
AZTEC HOTEL | 311 W. Foothill Blvd., Monrovia, CA 91016
Robert Stacy-Judd was the leading booster of the Maya revival in Southern California. The British-born architect arrived in Los Angeles in 1922 (via the Midwest and Canada) as a rather undistinguished although prolific practitioner. In California, he discovered pre-Hispanic art, after purchasing John Lloyd Stephens and Frederick Catherwood's popular 19th-century travel books documenting Maya ruins. Stacy-Judd soon transformed himself into a successful if eccentric salesman, showman, designer, and writer, developing elaborate theories about the Maya civilization's origins in Atlantis that resonated with clients who also embraced his ideas about the occult. He completed some of his most important revival buildings before he ever travelled to see the originals in the Yucatán in 1930; this included the Aztec Hotel (1924–25).
For this project, Stacy-Judd primarily referenced Maya forms (with imagination replacing archaeological fidelity). He used the name "Aztec,"however, reasoning that it was better known to American audiences. On the facade, Stacy-Judd created elaborate ornamental reliefs that evoked of those of Maya sites in the Yucatán. Inside bold murals of godlike figures, though possibly based on Central Mexican codices, are really neither Maya nor Aztec in style. The metal lamps and painted furniture (now lost) imitated no precursors: pre-Hispanic rulers had sat upon mats or low thrones in curtained rooms illuminated by torches, but they had little of what we would call furniture. The lobby's tables and chairs had tapering angles probably derived from the corbel arch typical of Maya stone architecture; notched or step-fret details (as at the base of the sofas) seem more Zapotec than Maya. The solar disks on the sofa cushions did reinforce the "Aztec" connection signaled by the hotel's name, but guests probably viewed the entire arrangement as generally pre-Hispanic or simply curious and exotic. Aztec Hotel is currently undergoing renovations; therefore, the interiors are not accessible, but the remarkably well-preserved facade is.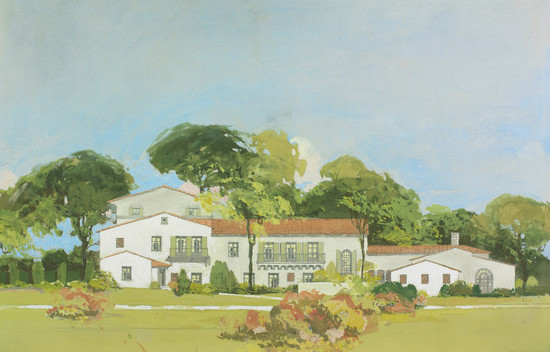 TOLL HALL AT SCRIPPS COLLEGE | Platt Blvd. just east of Colombia Ave., Claremont, CA 91711 (although best viewed from the the Central Quadrangle of Scripps College to the south of Platt Blvd.) 
The 1915 Panama-California Exposition in San Diego was the impetus for a statewide (and indeed, countrywide) craze for the Spanish Colonial as a style truly indigenous to the Americas. Bertram Grosvenor Goodhue's buildings for the exposition inspired architects throughout California to take up the style for college campuses, civic structures, homes, and hotels. Gordon B. Kaufmann of Johnson, Kaufmann & Coate designed the Scripps College campus as a great courtyard with stucco walls and structures surrounding Mediterranean-inspired gardens. The first building completed was Eleanor Joy Toll Hall (1927), a dormitory featuring picturesque courtyards and private balconies from which to enjoy the region's moderate climate. The building committee unanimously agreed that the dormitories of this women's college were to have "the appearance and atmosphere of a beautiful home." Kaufmann's design in the Spanish Colonial style certainly fit the bill, evoking the grand houses he had designed for wealthy Pasadena clients throughout the 1920s. With a single main entrance and large reception and dining rooms, Toll Hall was intended to function like a traditional home. Students would socialize in the building's public spaces, which were well appointed with Spanish Colonial-style furnishings.
The information above has been adapted from the exhibition catalogue, Found in Translation: Design in California and Mexico, 1915–1985, available in the LACMA Store. To learn more about these sites and design dialogues across the border, get your copy today.