Devyn Galindo is a Los Angeles-based photographer whose work is featured in A Universal History of Infamy: Those of This America  at LACMA's satellite gallery at Charles White Elementary School. For Pride Month, we caught up with Galindo to talk about the queer artists that inspire her, the communities she highlights, and the experience of seeing her work at Charles White Elementary School.
I loved seeing your work in Those of this America and I know that a lot of your work focuses on communities of color and queer communities of color. I wanted to ask if this has always been a focus in your work and throughout your artistic journey.
It's definitely always been a focus from the very, very beginning of my work. I just reflect my friends and myself and the community that's around me and want to see more images of folks like us. So that's always been a theme of my work, for sure.
I've seen that you use social media as a tool to connect with others. Can you tell me a little bit more about that? I've seen the casting calls you put out for people you're specifically looking to photograph.
Yeah, I spent quite a bit of time shooting models and seeing different packages come through and a lot of it never reflected me and my community. And I just wanted to break the mold and shine a light—shine my lens toward communities I care very much about and that are underrepresented… And Instagram has just been such an amazing tool to be able to connect to other people in the community, in the QPOC community.
Being able to cast from that and hitting people up over DM [direct message] and being like, "Hey, you're amazing, your energy is amazing. Would you ever want to meet up and take some photos?" Just super organic like that. You end up making lifelong friends that way, too. I love photographing people again and again, building that relationship and that connection with them. You have to build the trust around it and having somebody who looks like you or comes from the same community that you do, [that] does translate and makes for more honest, authentic work.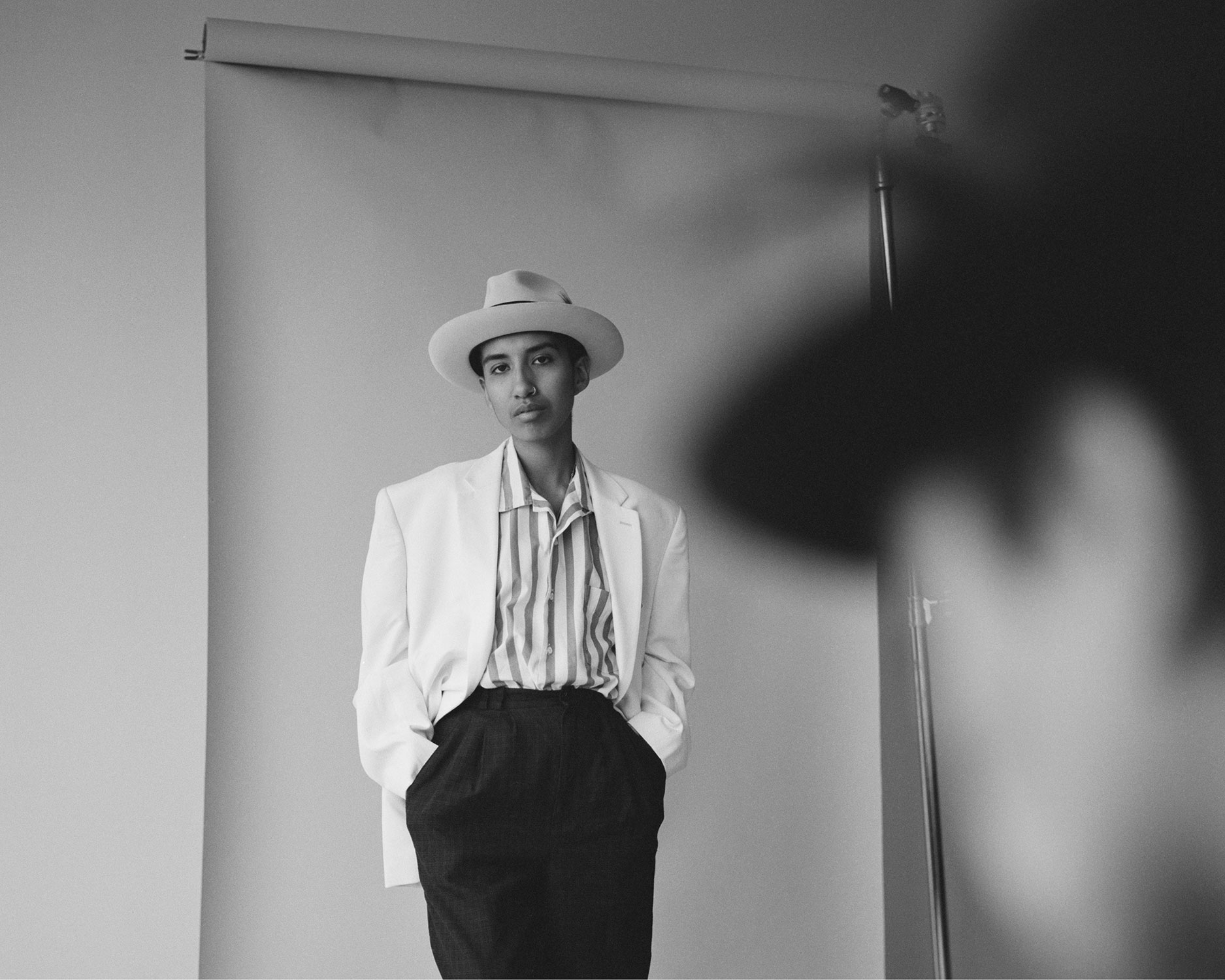 And it's also like you're creating a relationship with them even outside of the photograph.
Yeah, definitely. Anyone that I'm shooting—not anybody—but most people, I kick it with outside of shooting. Most people I like to go to shows with them or go to art galleries, go to libraries, go to the park. I like it to feel like we're building a friendship as well.
In thinking about how you said there was a lack of queer communities reflected in art, I wonder what some reactions are to your own work from other people who maybe felt the same?
I feel like I've had people hit me up and be like, "Hey, thank you so much for creating this." Or: "It's nice to see people who look like me in photos" or "thank you." It's been a genuinely positive reaction to seeing more people represented. And not from a voyeuristic sense of, "Oh this is a trend now, we're going to shoot a bunch of POCs or we're going to shoot a bunch of queer and trans folks." It's really organic and from the same community, so I feel like people in general feel safe and comfortable to open up. And I don't ever take that for granted. I just try to shine the best light possible that I can on folks. 
Who are some of the queer artists who have inspired your own work? 
Oh, man. Too many. Catherine Opie. I love Laura Aguilar's work. I love Collier Shore's work. I feel like they're definitely my faves.
Those of this America is exhibited in a gallery within an elementary school. What's the experience of seeing your work on display there?
It's really powerful to see the work attached to a school. I feel personally connected to the youth and working with them. I work with Las Fotos project when I can and just cultivating the younger generations to have access to art is a big deal to me. So to have it there is very special. I'm just happy that more kids will have access to that.
I see—on so many people's Instagram stories—young kids on field trips going to see it. That's so beautiful that that's the audience they're aiming for, first and foremost. I have it tattooed on my arm: invest in the youth. That's very much what I'm about so it was super special to see that at Charles White Elementary. 
See Devyn Galindo's work in  A Universal History of Infamy: Those of This America, on view at Charles White Elementary School through October 6, 2018.