When Curator Emerita of American Art Ilene Susan Fort and I discovered that a Charles White retrospective was being organized, we both thought, without a doubt, this show has to be seen in Los Angeles. Not only was this an opportunity to have an exhibition featuring an artist who had not had a major retrospective in over 30 years, but White—a 20th-century artist who sought to depict African Americans through a lens of dignity, humanity, and heroism despite the country's long history of racial injustice—left a major impact on Los Angeles and the art world.
Charles White: A Retrospective is a survey exhibition featuring 100 objects—paintings, drawings, prints, and photographs—that span the artist's career. Organized by The Art Institute of Chicago and The Museum of Modern Art in New York, the venues mirror the cities where White lived throughout his lifetime. The show also focuses on those three cities: Chicago, his birthplace and where he received his initial art training at the School of the Art Institute of Chicago; New York, where he spent more than a decade teaching, exhibiting, and practicing social activism through his art; and finally Los Angeles, where he settled in Altadena and continued his art instruction at the Otis Art Institute (Now Otis College of Art and Design).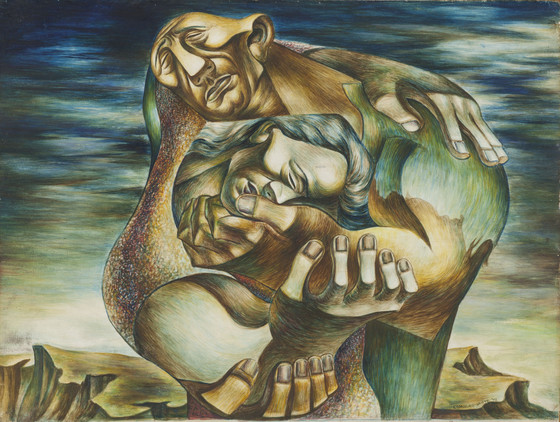 When I first started in LACMA's American Art department in 2006, I had just gotten my feet wet in the art history world, and while trying to familiarize myself with the American Art permanent collection of works by the likes of John Singer Sargent, Mary Cassatt, and Winslow Homer, I was also reading in depth about other artists, particularly artists of color—Henry Ossawa Tanner, Jacob Lawrence, and Robert Scott Duncanson. Shortly after, LACMA acquired Charles White's The Embrace, the first painting by the artist to enter the permanent collection. I would stare at this painting often, looking at White's use of blues and greens in the background, the expressive and oversized depiction of his subjects' hands, and the similarities I saw in Gustav Klimt's The Kiss.
Around the same time, LACMA's partnership with the Charles White Elementary School began, a unique collaboration that would help foster art education among students. The school is located at the original Otis Art Institute campus where Charles White was the first African American faculty member. Little did I know, this would be the start of my ongoing research of African American artists in Los Angeles, with mentions of Charles White always remaining in my periphery.
Over time, I had friends who moved to the Altadena area, where I would spend July 4th evenings watching fireworks on a grassy field which I later found to be named—you guessed it—the Charles White Park. Maybe all these references over the years were subtle hints that I would be working on this exhibition, but Charles White's contributions were overwhelmingly clear not just to the city of Los Angeles, but to LACMA as well.
When it was confirmed we would present the show at LACMA, I discovered the connections between Charles White's art and his social practice in Los Angeles, particularly his attempts for inclusivity at the height of the civil rights movement. Through the efforts of LACMA's Black Arts Council, White lectured here in 1969. His continued activism, teaching, and unmistakable artistic style remind us to hope for—and participate in—making a more diverse, equitable society.
It has been my great pleasure to have worked on this exhibition. While Charles White: A Retrospective closes this Sunday, June 9, his legacy lives on, and you can still see his impact through Life Model: Charles White and His Students on view at Charles White Elementary through September 15, and Plumb Line: Charles White and the Contemporary at the California African American Museum through August 25.